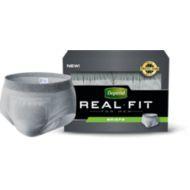 For people experiencing urinary incontinence, maintaining discretion is crucial. You want to be fully protected from bladder leakage, yet also steer away from the usual bulky white diaper that may make you feel even more uncomfortable or embarrassed.
National Incontinence now carries four new Depend products that are designed to look more attractive and feel more like regular underwear. These protective underwear were created specifically for men and women to reduce the stigma often associated with incontinence and adult diapers.
The Depend Underwear variety packs contain two pairs of three different colored or printed briefs. The men's pack comes with striped, waved, or gray-colored briefs. The women's pack contains pastel-colored or floral-printed underwear.
The Depend Real Fit Briefs for Men features an elastic waistband to resemble the same look and feel as regular men's underwear. The Depend Silhouette Brief for Women is peach-colored and also has an elastic waistband. Both products use a quiet cloth-like fabric that creates a slimming effect so that it doesn't look like you're wearing any incontinence product at all.
Aside from the difference in appearance, these briefs are easily pulled up and down and offer the same protection and comfort as its non-printed and non-colored counterparts. All briefs are breathable and are available in Small/Medium and Large/Extra Large.