Vintage brides walk this way! Get your gorgeously lace-begloved bridal hands on one of these little bags of loveliness. Our latest competition is dead easy, and the prize is out of this world!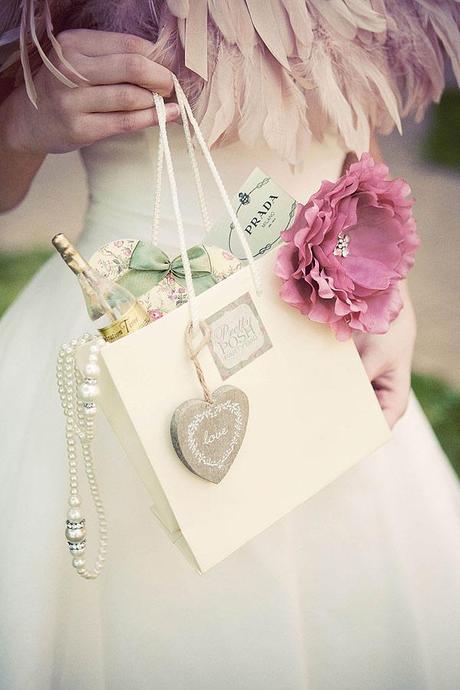 Gorgeous Pretty POSH Party Bag with contents! Photo Credit: www.katylunsford.com
This is a Pretty POSH party bag. POSH party bags make ideal gifts for bridesmaids or any special ladies on your wedding day or hen do.
The label on the front can carry a personal message, or the recipient's name, and inside they will be spoiled with pretty, pearly, vintagy loveliness!
Lianne from POSH Party Bags explains, 'Traditional bridesmaid gifts are often items that can be used on the day of the wedding itself, such as a necklace, so we have selected a beautiful long pearl and crystal necklace, a flower corsage, a sample of Prada perfume, champagne bubbles, a hanging heart and some bonbons in a vintage box."
Order Pretty POSH Party Bags for your wedding day and each bag will cost just £20. (RRP on the necklace is £20 alone!)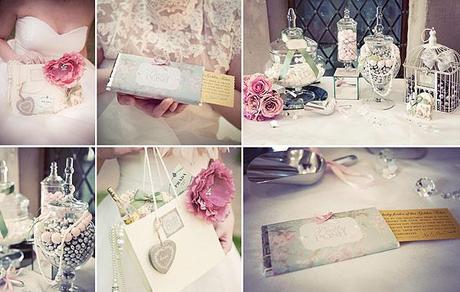 Pretty POSH Party Bags. Photo Credit: www.katylunsford.com
It gets even more exciting when you choose Pretty POSH Party bags for your wedding: the range includes Pretty POSH chocolate bars with golden tickets and a gorgeous candy buffet as shown in the images above.
These beautiful bars can be used on your tables to act as the guest's name card and favour in one. Alternatively you can have a generic message on all the bars. Due to their popularity a golden ticket can be inserted into special guests' bars (or guests chosen at random) to announce they're going to receive a gift. ie You could put one in all the bridesmaids' bars to announce they're going to receive a Pretty POSH party bag!
Win your very own Pretty POSH Party Bag!
To win a Pretty POSH Party Bag (which includes the necklace, corsage, Prada perfume sample, champagne bubbles, hanging heart and bonbons) simply answer this question correctly in the comments box below.
Who won a golden ticket once before:
Charlie out of Willy Wonka's Chocolate Factory
Prince William and Kate Middleton
Barney the big purple dinosaur
A winner will be selected at random on the 31st of May and Lianne from POSH Party Bags will send you your prize!