New Carpet or Carpet Allowance? This is a question I face when I meet with clients to do a home staging consultation or any home staging service for their home.
I find that most clients do not want to spend the money up front to buy new carpet much less have the hassle of moving all the furniture. It is easier for them to give a carpet allowance or reduce the price. I understand that but I cannot say I agree.
What I find is that many times the buyer cannot get past the ugly or worn carpet. It sends an instant message that the home is outdated or not taken care of. Plus, many buyers want "move in ready" and they can get it now with the amount of inventory on the market.
I usually advise my clients to spend the money and get new carpet. There are so many deferred payment plans out there now that you have six months if not a year to pay for the purchase. PLUS, buyers will reduce the price at least 3 times the amount that the actual carpet will cost. This is true for most any improvement or repair needed.
I also get the argument from homeowners that "this way the buyer can get what they want". If the seller gets a nice neutral carpet it doesn't matter. It's new, it's fresh, it's clean and the buyer can always replace it with hot pink carpet if they like but at least they don't have a reason to reduce the price.
Here is a prime example; I got a call to do a home staging consultation on a home that was on the market and getting horrible feedback. I made numerous suggestions, most of which the homeowner implemented and it looks like a different home. One of those suggestions was replacing the carpet in the Master Bedroom.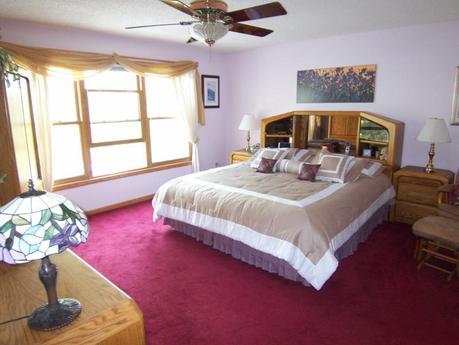 The homeowner had replaced the carpet up the stairs and the hallway but stopped at the Master Bedroom to save money and the hassle of moving all the furniture out. They were offering a carpet allowance instead. I told them my thoughts and STRESSED the importance of actually replacing it. They followed through and here is the difference. The room looks twice as big and you do not notice the outdated furniture as much.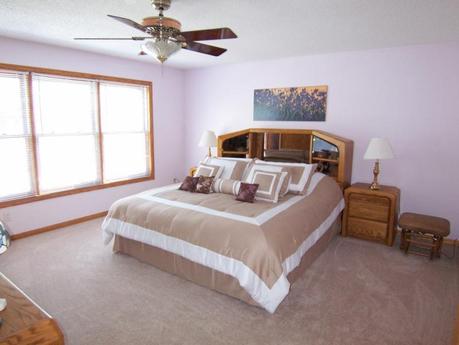 I also advised them to take down the veils on the windows to open up the room and show off their wonderful wooded lot.
So if you want my opinion on new carpet or carpet allowance......new carpet.
Shar Sitter, owner Rooms With Style Home Staging and Redesign Minneapolis MN.
CHSE and APSD Home Stager Pro Trainer