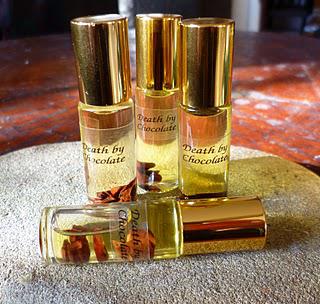 Finally found the right bottles to package my perfume oils in!
I've been looking for a while...
I love the round perfume atomizers I use for the alcohol based eau de parfums...and the smaller ones for the full size bottles of perfume oils...but I just wasn't happy with the little oil bottles...and a lot of people seem to like the idea of small bottles...
Plus we can't ship alcohol based perfumes overseas, so we're selling more and more of the oil bsed perfumes...and people do like roll on bottles....but the simple black lidded ones just don't look elegant and beautiful enough to do the content of a high end natural perfume justice...and the little cute ones I was useing, apart from not being roll ons, where very pretty, but didn't really match the range...and I do like consistency!
And then I found these.....and of course have now filled them with flowers and spices fitting to each scent!
Happy happy happy!