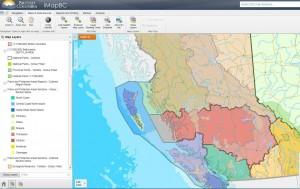 Today the Province of B.C. launched a new version of iMapBC. This popular public mapping tool can be freely used to visualize and analyze hundreds of geographic government datasets. Content includes location of municipalities, public and private property, land use tenures, heath regions, roads, rivers, and topography.
 iMapBC users will find the tool is more intuitive and easier to use. It provides familiar ways to display and analyze data as well as enhancements such as:
Browse additional content

Use the application with a variety of different web browsers

No more time outs of your working session

Faster overall responsiveness

Modernized user interface
 As a reliable source of up-to-date and authoritative data, iMapBC helps inform a broad range of decision makers from oil and gas companies to First Nations. This means they spend less time doing paperwork both inside and outside government, and more time developing projects that generate jobs for British Columbians.
iMapBC can help simplify the regulatory process for the province's expanding oil and gas industry, a major driver of the provincial economy. For example, before oil and gas companies can start work, their development plans must be approved by the BC Oil and Gas Commission. To obtain approval, their plans must include actions to protect the rights of others in the area, such as landowners or other tenure holders. This could range from guide outfitters to other oil and gas companies.
Oil and gas companies often contract geomatics consulting firms such as the Focus Group to create development plans. The Focus Group's geomatics staff like Jessica Nelson depend on iMapBC for up-to-date information on surrounding tenures. Government staff use iMapBC to regularly update land tenure data. "iMapBC is a great tool for planning," Jessica says. "It's good the data is all in one place and everyone is referencing the same database from a regulatory standpoint. If the Oil and Gas Commission sees things represented in two different ways it may end up in a project approval being stopped or delayed. If the data is the same and from the same source it creates a lot less confusion." According to Jessica, iMapBC's value is simple: "Time and money. The less time you spend doing research the better. The less time you spend making plans that may not go through because you are not aware of the surrounding tenures the better."
iMapBC also makes it easy for individuals like Cleve Lowry to work his mineral claim and meet regulatory requirements for his placer mines. Cleve has been prospecting for precious minerals in B.C. for 43 years. Every year he travels from his home in Calgary, Alberta to work his placer mineral claim at Adams Lake, near the town of Sorrento. Out in the field he takes samples for minerals or might find a geologically important feature, such as a fault. He inputs the latitude and longitude point locations of these finds into his GPS. When he returns home, he loads the locations into iMapBC and creates digital maps to guide future backcountry exploration. While government staff are quick to add new sections of logging roads into iMapBC, Cleve will also take coordinates in his GPS, and then roughly draw the roads. "iMapBC lets me get the new roads in there pretty fast," he says.
Cleve also uses the maps he creates in iMapBC to complete the annual mineral assessment work to retain his claim, a requirement from the Province of B.C. to ensure mineral claims are actively worked. Previously, Cleve would annotate printed maps and submit them to the Ministry of Energy and Mines as evidence of his activity. This was a time-consuming process for him and the public servants responsible for assessing his submission. Using iMapBC, he now can do all of the work digitally, saving time and money.
On the west coast of Vancouver Island, the Maa-nulth First Nation uses iMapBC to be informed about activities occurring in their traditional territories. When the Maa-nulth receives referrals from forestry companies about new logging plans, they can assess the plans using iMapBC, view the planned harvest areas along with other information, such as the locations of streams and previously logged areas. The Maa-nulth also use iMapBC to view the locations of the trap lines and guide outfitters tenures within their territories, as these are activities similar to hunting and fishing rights the Maa-nulths protected under treaty. Since being introduced to iMapBC in a session hosted by the Ministry of Aboriginal Relations and Reconciliation and DataBC, the Maa-nulth have found iMapBC a useful tool. "Our members are excited about iMapBC with access to real-time data that is really oriented to our users," says Ron Frank, Maa-nulth Resource Advisor. "It's an eye-opener for some of our younger members to see how much tenure and activity there has been out on the landscape."
Whether you're a long-time user or brand new to iMapBC, try it out. Look for it, and other applications on the DataBC Website. We welcome your feedback so please let us know what you think.
p.s. We're also working on an HTML5 version for mobile and tablets