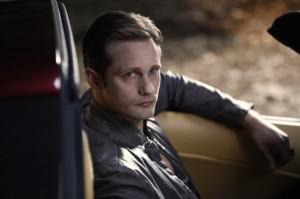 Our favorite True Blood viking has been busy during his break from filming HBO's True Blood. Alexander Skarsgård (who plays vampire Eric Northman) is not only currently filming What Maisie Knew, but the next film in the pipeworks is called The East. Now it has been announced that he will also be starring in the indie movie called Disconnect.
This movie is the first full-length film by director Henry-Alex Rubin, who is most famously known for his documentary Murderball. Skarsgård will star as a former Marine who gets involved in an extra-marital affair after his wife shuts him out emotionally.
Other stars include: Frank Grillo, Colin Ford and Michael Nyqvist. The screenplay is written by Andrew Stern and centers around a group of characters and how technology has impacted their lives.
Skarsgård is certainly keeping himself busy! What do you think, will any of you be catching these at the movie theater?
Sources: Variety – Alexander Skarsgård wants to 'Disconnect'
IndieWire Blog  - Alexander Skarsgård Will 'Disconnect' In New Film From 'Murderball' Director Henry-Alex Rubin
(Photo Credit: HBO, Inc.)