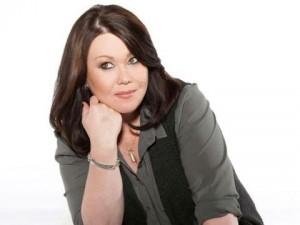 Jann Arden
One of my favorite Canadian entertainers, and people, Jann Arden, is set to release a new album April 29 (tomorrow) and is heading out on a national tour in September.
The new album, Everything Almost, her 12th (not including Greatest Hurts, other compilations and Live Albums) and first in 3 years is also her first album of original music since Free in 2009.
Jann Arden became a household name in Canada 21 years ago with her breakthrough album Time For Mercy which was responsible for the monster hit "I Would Die For You", her success continued a year later with an even bigger album Living Under June which has since gone 5x Platinum in Canada and Gold in the USA.  With songs like "Could I Be Your Girl" and "Insensitive" the album quickly launched Jann Arden into Canadian Music Super-stardom.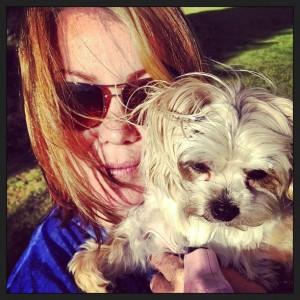 Jann with Midi
Seeing Jann live, which I have on more than one occasion, is so much more than a concert.  Thanks to social media everyone knows that Jann has quite the funny bone, her live act is no different.  As she cranks out hit after hit of sing along songs, because we all know the words, she also knows how to keep the mood light and the crowd in hysterics.  The last time I saw Jann live I was also one of the event promoters for a show in Pembroke, Ontario in 2007 as she toured to promote her first album of covers, Uncover Me.  Although Jann and I follow each other on social media we had a near miss last summer in Calgary.  I had just left the Calgary tower and was entering the Calgary Stampede grounds for the first time and while posting a photo to my Instagram account noticed that Jann had just posted a photo from the Calgary tower a few blocks away. One thing is for certain, her best friend and confident Midi will be along for the ride.  Likely one of the most popular and most famous dogs in the music business after the incident with VIA a few years ago, perhaps this time Midi will be treated like a star!
As Jann sets out on the road this fall watch for her in a venue near you and do yourself a favour and go.  She's a wonderful woman, amazing artist and funny as hell and her show is a guaranteed good time.  If you don't come out smiling at the end of the night you aren't human.
Here are the Canadian tour dates so far (we have learned that Jill and Kate will be opening for Jann on the Eastern leg of the tour starting in Thunder Bay on September 15):
September 4 – Royal Theatre, Victoria
September 6 – Orpheum Theatre, Vancouver
September 8 – Northern Jubilee, Edmonton
September 9 – Southern Jubilee, Calgary
September 11 – TCU Place, Saskatoon
September 12 – Conexus Arts Centre, Regina
September 13 – Centennial Concert Hall, Winnipeg
September 15 – Thunder Bay Community Auditorium, Thunder Bay
September 16 – Sudbury Arena, Sudbury
September 18 – Hamilton Place Theatre, Hamilton
September 19 – GM Centre, Oshawa
September 20 – Budweiser Gardens, London
September 22 – Centre in the Square, Kitchener
September 23 – Massey Hall, Toronto
September 25 – National Arts Centre, Ottawa
Tickets for all dates go on sale on Friday morning at 10 local time.
Jann's first single off of Everything Almost is called "You Love Me Back" it's available to download on iTunes now.  Here is the lyric video for the song!  For more about Jann visit her online: http://www.jannarden.com.  If you don't already be sure to follow Jann on Twitter, she'll have you busting a gut laughing.