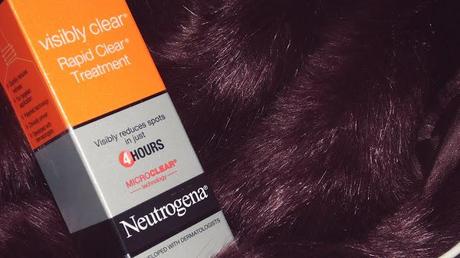 Neutrogena Visibly Clear Rapid Clear Spot Treatment - £3.99
After all the hype that has gone about over the blogger and youtube community over the months about the  Origins spot treatment - i didn't want to pay the price for it when i only get a few breakouts here and there. After using the dermalogica version which i loved but was a little to harsh on my skin i decided to pick up the Neutrogena Spot Treatment. In boots at the minute there is 3 for 2 on all make-up, beauty and accessories so i thought i would pick this up along with my other to products.
This treatment once a thin layer is applied over the breakout is meant to visibly reduce the size and redness of the breakout within just 4 hours. Once applied i found that it stung a little but after a few seconds it faded away and wasn't noticeable when the gel had dried. Depending on how bad the breakout is depends on how fast the treatment will work.
My experience with the product - i had a huge friend pop up to say hi on my chin so i applied this morning and night. Within two days i noticed the swelling had reduced and also the redness, and for the whole 3-4 days i didn't apply any make-up i found this helped as it kept my skin clean. It did  make my skin a little dry around the area but moisturiser can always solve the problem. Otherwise i would say this is a good spot treatment for the price and would say give it a go. Thumbs Up.