So last to last week I traveled to Pattaya and Bangkok with my friends and what fun times we had! Pattaya is a crazy crazy place specially Walking Street. No wonder all guys seem to love that place! In Coral Island we did not really see any coral but spent a nice time relaxing on the beach. One day was spent petting tigers and watching them play up close and personal at the Tiger Temple in Kanchanaburi and Bangkok was obviously a shopping heaven. We just went crazy at MBK Mall and Chatuchak Market buying clothes, bags, accessories etc. This time I did not buy any makeup except for three neon nail polishes. Ya even I'm shocked at my will power!
Anyway this is not really a travel post so I will talk about my vacation in detail another day. Today I'm talking about a product which really saved me from the intense heat and humidity in Thailand. Not that I come from the mountains but the heat there was quite unbearable. Some days it was very dry and hot and on some days extremely humid. I knew that I would be out whole day so I needed extra sun protection and that's why took the new Neutrogena Ultra Sheer Dry-Touch Sunblock with SPF 50 ( Rs 499 for 88 ml) along.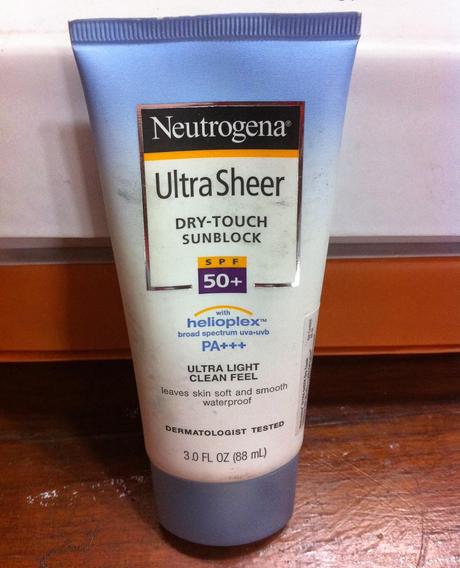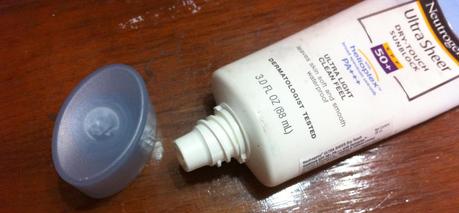 Ultra Sheer Dry-Touch Sunblock SPF 50+ is a revolutionary, dermatologist-tested formula that contains Helioplex technology, the latest breakthrough in UV protection.
Helioplex delivers unbeatable UVA protection. It works better to help prevent damaging UVA rays from penetrating deep under skin's surface. Dry-Touch technology absorbs excess sunscreen oils, leaving a clean, lightweight, non-shiny finish.
This product is:
Waterproof
Sweatproof
PABA-free
Non-comedogenic (won't clog pores)

The sunblock lotion has a light non greasy texture that applies and spreads evenly. If a sunscreen/sunblock does not break me out into a sweat immediately after applying, it will automatically get a lot of brownie points from me and thankfully this one does not. Like all sunscreens, I apply it about 15-20 mins before going out and the lotion absorbs easily without leaving an oily film on top of the skin. I will not say that it absorbs into a matte finish but there's no greasiness either which makes it a good option for those with oily skin.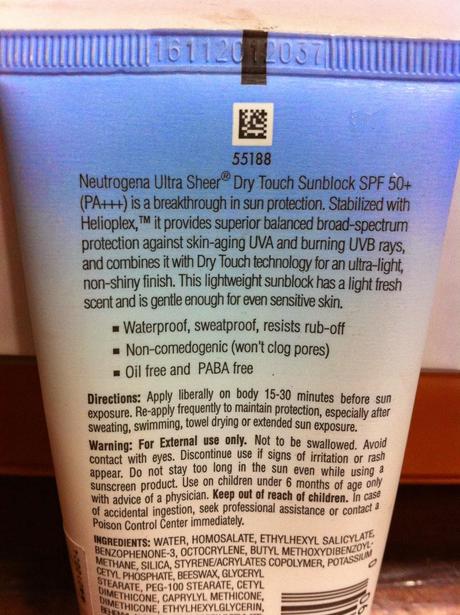 I know that sunscreen needs to be reapplied after every 2-3 hours for maximum protection but I've been guilty of not doing that on many occasions and specially when outside. Even during my vacation, I used to forget reapplying and would stay out the whole day wearing just one layer of sunscreen applied in the morning. Thankfully the waterproof and sweatproof lotion stayed put for nearly 6-7 hours.  I expected a lot of tanning but the Ultra Sheer really worked its magic to prevent that. It's not that I did not tan at all. The sun and the sea cannot really prevent it but it was a lot less than I had anticipated. 
The Neutrogena Ultra Sheer Dry-Touch Sunblock with SPF 50 is a great product and I've tested it in quite extreme conditions so I can vouch for its efficiency. It can be used on both oily and dry skin and it does not lead to breakouts or make the skin look white and appear oily. At Rs 499, it is definitely expensive but the product does work so I am ok paying that price to protect my skin. Would recommend it if you want to try out a new sunscreen.

Have you tried Neutrogena Ultra Sheer Dry-Touch Sun Block SPF 50+? How was your experience? Do share in the comments  below.
P.S - PR Sample. Honest review.