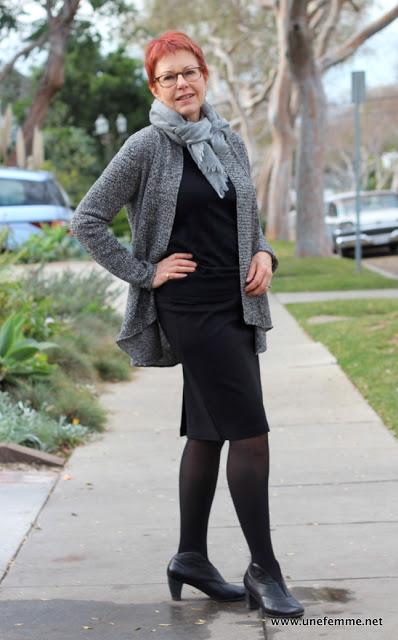 Some shopping trips you just get lucky. I'd set out last weekend to replace my black pencil skirt, and hit the jackpot on the first try. This season's
Eileen Fisher ponte knit pencil skirt
hits all the right notes: simple, knee length, and in a nice substantial fabric that doesn't wrinkle (even after sitting at my desk all day, as it turns out). And at the same time, I spotted this cardigan which nicely fills the role of a non-black neutral "third piece" to lighten and add interest to my black basics, an item I've been searching for for
ages
. It's a linen/wool blend which will be wearable 9 months out of the year here, drapes beautifully, and the black and ivory weave satisfies my Need For Tweed.
This was one of those instances where it paid to shop in person rather than online. Had I seen and ordered this sweater online, I would have gone with the Petite version. But when I tried it on in the store, the Sales Associate thought the proportions weren't quite right, and convinced me to try the corresponding size in Misses. She was right, and the longer length worked better.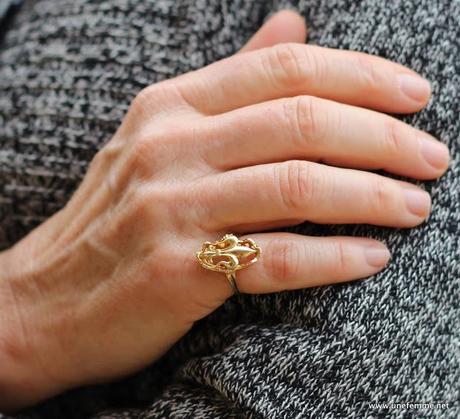 Yes, you CAN wear a pinky ring without looking like a Mob Boss!
Is this gold vintage 
fleur-de-lis
pinky ring not
gorgeous
?? It's from
Beladora 2
, and one I've had my eye on for a while. I was inspired by
Belle's post on BHB modeling several different styles of pinky rings
. If you have thick fingers like I do, wearing a smaller piece on the pinky keeps it from looking too diminutive. Again, proportion is everything.
Cardigan: Eileen Fisher,
here
.
Sweater: J.Crew Tippi, here.
Skirt: Eileen Fisher, here.
Boots: purchased in 2008, similar.
Scarf: Eileen Fisher, similar.
Tights: DKNY, here.
Earrings: Majorica, here.
Pinky Ring: gifted, from Beladora 2. More gorgeous vintage rings here, and here.
The scarf tie above is a slightly sloppy version of one I'll show you on Monday.
Bon weekend!
Do you wear pinky rings?
Disclosure: actions taken from some hyperlinks in this post may generate commissions for www.unefemme.net.
~All original content property of http://www.unefemme.net This work is licensed under a Creative Commons Attribution-NonCommercial 3.0 United States License.