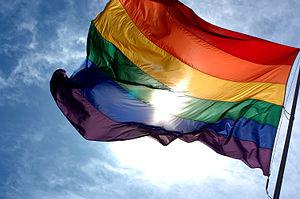 Image via Wikipedia
06/24/2011
The last day of the conference, a group of LGBT bloggers rounded up by Ian Finkenbinder of One Angry Queer decided to put together a "It Gets Better" video. Even though, I'm not huge on being videotaped or photographed – I had to throw my two cents in (the bourbon probably helped too) and talk about how being LGBT has shaped my world from start to finish.
It is a little long but the video is awesome and a testament that if we can come together to share our own personal stories, we have the ability to be unstoppable.
The blogger list is taken from Carlos' blog. He also put it all together, so give him a great, big round of applause!
Markos Moulitsas @markos – straight ally
Pam Spaulding @pam_spaulding
Scott Wooledge @Clarknt67
Tom Torres @_floatingworld
Evan Haliburton @evanhaliburton
Viktor Kerney @wondermann5
Mark Snyder @ColageNational
Jason Haas @jasonlhaas
Zack Ford @zackford
Andy Szekeres @AndySzekeres
Cynthia Wright @cynisright
Noah Baron @noahbbaron
Joe Sudbay @JoeSudbay
Phil Reese @ReallyPhilReese
Christopher Edwards @xtopher1974
Daniel Villarreal @hispanicpanic79
Alvin McEwen @holybullies
Carlos A. Quiroz @CarlosQC
Jake Weinraub @jakeweinraub
Mel England @melengland
Scottie Thomaston @indiemcemopants
John Aravosis @aravosis
Michael Rogers @MichaelRogersDC
Ian Finkenbinder @OneAngryQueer
Aside from that, my hair! OH MY GOD – at least my skin looks good though.