06/16/2011
Being that I haven't participated in an African American caucus since I was college (hey, I live in Atlanta – we can have a caucus everyday), I wasn't quite sure what to expect, even though I was excited to exchange thoughts and ideas with (hopefully) like-minded individuals.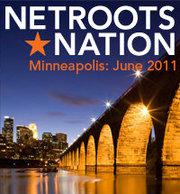 Netroots Nation
Well, I am here to report that even if I didn't get as much from the meeting; I engaged in some exciting post-caucus conversations and established some new contacts.
The caucus was led by Jack & Jill blogger Cheryl Contee – who acted as ringleader and kept us all on task. One of our first topics dealt with Tracy Morgan – the LGBT bloggers in the crew spoke up against Morgan and those that attempted to uphold him, most notably Roland Martin. That conversation helped shape the flow and feeling of the rest of the hour that we had.
While, I'm happy to see progressive black minds in such a white dominated arena – it pains me that with such a small cohort it is obvious how separate we remain on certain issues. Although, LGBT is not the most accepting issue in the black community – we need to stop making excuses for those that demean in order to make a joke, entertain or make money. Morgan deserves all the flack that he is getting and we – as black people – should be coming at him harder than the (predominately white) LGBT media.
Regarding taking our resources to the next level, these ideas were brought up:
The need to have more organizations speaking on behalf of the African-American community
That problems arise when there is only one voice for our community
We need focus on local leadership funneling into national public policy
We also discussed the need to update our spokespeople – Al Sharpton and Jesse Jackson need to be retired and we need to appoint a more diverse (in thought and appearance) African American collective that can speak intelligently for our issues. The caucus also discussed that unlike the gay community, we don't hold our own to task about the tomfoolery that we seem to let permeate our community.
I'm for one quite tired that we support those that lower the quality of our collective community and I'm tired of being ignored as a queer, black woman and I refuse to let that keep happening.