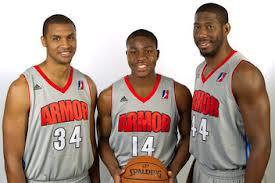 These three guys (from left: Scott, Uzoh, Mays) are the core of the Armor and might be called up to the big-league squad later this season if they keep playing this well.
The Nets' D-League affiliate, the Springfield Armor, started off their season the right way last night by defeating the Canton Charge, the Cavaliers' affiliate, in an overtime opener on the road. Kevin Jones of the Charge led all scorers with 31 points in addition to grabbing 16 boards, second-highest in the game to the Armor's James Mays, who had 17 rebounds on the night and scored 23 points. Mays, as you may remember, was a training-camp invitee with the Nets who was cut just before the regular season began.
Fellow invitee Carleton Scott added 13 points for the Armor in the win and former Net and D-League draft-day acquisition Ben Uzoh had a double-double, notching 16 points and 10 boards to go along with six assists. The Armor traded for Uzoh a few weeks ago in exchange for a draft pick, a move which appears to have worked out well already.