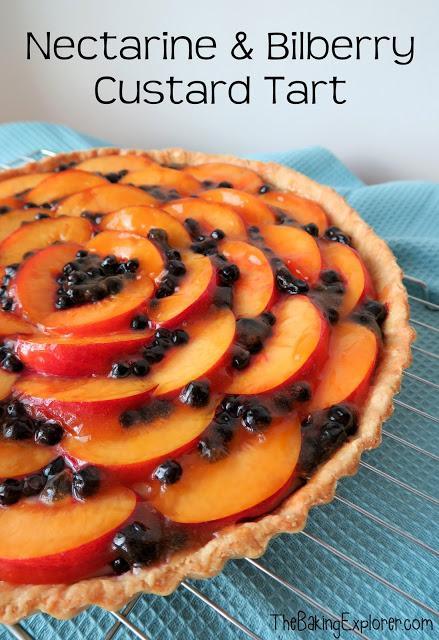 I think of myself as quite knowledgeable when it comes to food so when I haven't heard of something it really intrigues me. I'd never heard of bilberries before, so I really wanted to try them. The bilberries were kindly given to me by Angela from
Only Crumbs Remain
. She picked them herself and if you are a bilberry fan or are interested in baking with them you will find lots of bilberry recipes on her blog! They are a foraged berry and come from the same family as blueberries and blackberries. I've never seen them in the shops before, so do let me know if you've ever seen them sold anywhere. Otherwise look out for them on your next country walk! I decided to pair them with nectarines in this tart as the bright orange color is a great match to the dark blue bilberries, and they also taste delicious!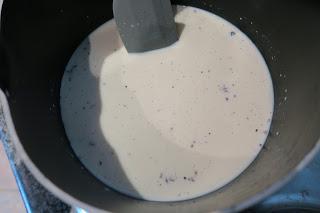 I started by making the creme patisserie custard filling as it takes several hours to cool. I started by heating 500ml whole milk with the seeds from a vanilla pod until it reached boiling point. I then took it off the heat and poured it into a jug.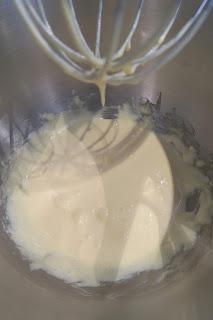 In my food mixer I whisked up 6 egg yolks with 140g caster sugar until pale and thick. I added 45g cornflour and mixed it in, then I poured the warm milk in with the mixer still going.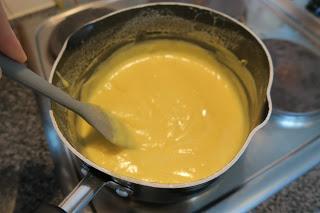 I poured the mixture back into the pan and heated it up whilst continously stirring. When it started to thicken, I started whisking it to keep it smooth and stop any lumps.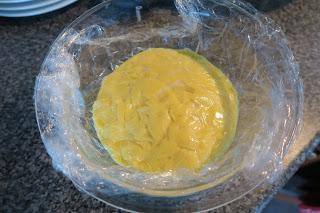 I put it in a bowl, and covered it with cling film. I made sure the cling film was touching the creme patisserie so that a skin doesn't form on it. I left it in the fridge overnight to cool.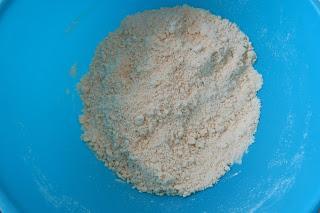 To make the pastry I rubbed 170g butter into 350g plain flour until it resembled breadcrumbs.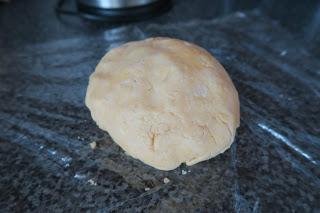 I added 2 eggs and mixed to form a dough. I wrapped it in cling film and chilled it in the fridge for 30 minutes.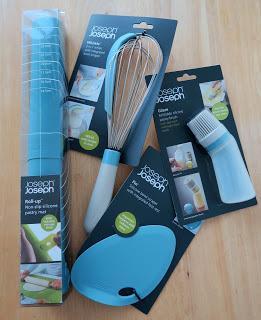 To roll out the pastry I decided to try out an item from the new
Joseph Joseph
baking range. If you haven't heard of Joseph Joseph before, they are a family business ran by twin brothers. Their focus is on the whole user experience of their products, they combine design, function and quality materials to make their range.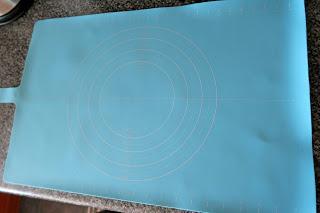 I tried out their
Roll Up Non-Slip Silicone Pastry Mat
. The mat features a handy rolling size guide printed in circular shapes, as well as sizes along the sides. It also has an integrated strap so you can roll it up, fasten it and store it easily.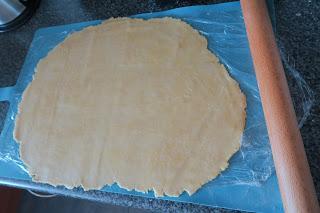 I rolled out the pastry and the size guides on the mat were really helpful - I don't know why I haven't bought one of these already as I do make pastry quite often!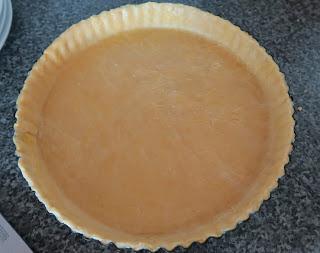 I lined my 23cm tart tin with the pastry and pricked it all over with a fork.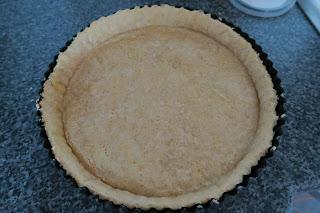 I lined the pastry with baking paper then poured in baking beans, I blind baked it on 180C/106C Fan/350F/Gas Mark 4 for 15 minutes.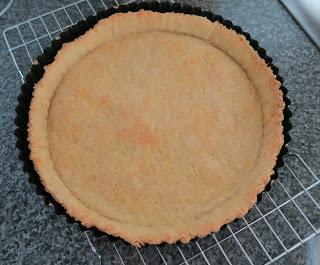 I then removed the baking beans and baked it again for 10-15 minutes until the bottom was fully cooked and it was golden brown all over.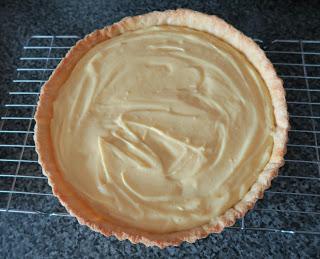 When the tart case was fully cool I filled it with the creme patisserie and smoothed it out.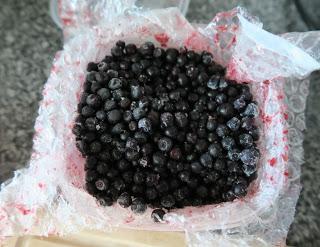 I sliced up 5 nectarines and arranged them in circles on top, and I placed the billberries in the gaps. The bilberries freeze really well and I still have more to use.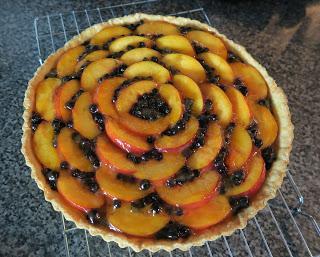 To glaze the tart and keep the fruit fresh whilst also creating a lovely shiny appearance, I warmed up 5 tbsp apricot jam in a pan. I then sieved it to remove any lumps, and used a pastry brush to generously brush it all over the tart.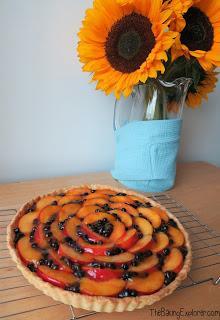 And the tart was ready! It's best to eat this straight away, although it will last a few days if kept in the fridge.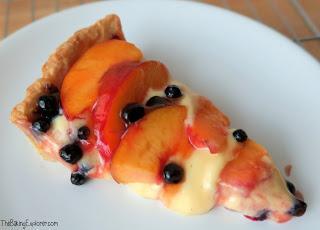 It was a bit messy when cut but the sweet creamy custard and delicious fresh fruit soon distract you from the appearance. It was my first taste of bilberries and I have to say they go very well with custard. The pastry was also perfectly crisp which is just what you need for a tart like this as it holds the wet filling in place without any leaks, not a soggy bottom in sight!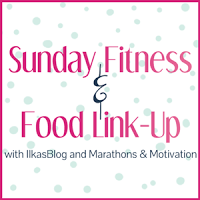 I'm linking up with the Sunday Fitness & Food Link Up hosted by
Ilka's Blog
and
Marathons & Motivation
.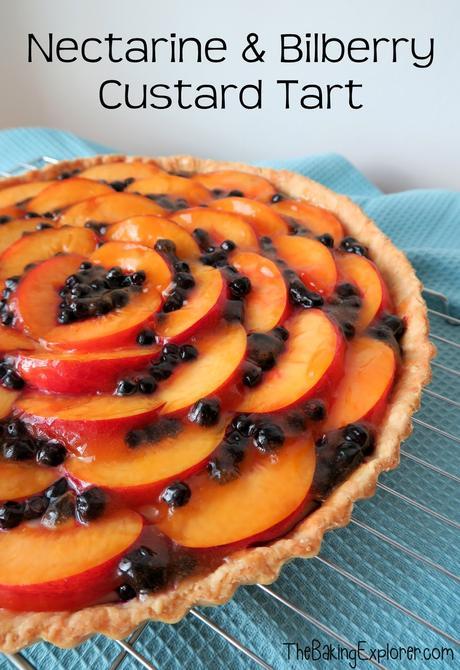 Nectarine & Bilberry Custard Tart
August-30-2016
Ingredients
500ml

Whole milk

1

Vanilla pod

6

Egg yolks

140g

Caster sugar

45g

Cornflour

350g

Plain flour

170g

Butter

2

Eggs

5

Nectarines

70g

Bilberries

5 tbsp

Apricot Jam
Instructions
Start by making the creme patisserie custard filling. Heat the whole milk with the seeds from a vanilla pod in a pan until it reaches boiling point. Then take it off the heat and pour it into a jug
Using an electric mixer whisk up the egg yolks with the caster sugar until pale and thick. Add the cornflour and mix it in, then pour the warm milk in with the mixer still going
Pour the mixture back into the pan and heat it at a medium-high heat whilst continously stirring. When it starts to thicken, whisk it to keep it smooth and stop any lumps
Sieve it required to remove any lumps, then put it in a bowl and covered it with cling film. Make sure the cling film is touching the creme patisserie so that a skin doesn't form on it. Leave it in the fridge overnight to cool
To make the pastry rub the butter into the plain flour until it resembles breadcrumbs
Add the eggs and mix to form a dough. Wrap it in cling film and chill it in the fridge for 30 minutes
Roll out the pastry and line a 23cm tart tin. Prick it all over with a fork
Line the pastry with baking paper then pour in baking beans (or dry rice if you don't have them) bake it on 180C/106C Fan/350F/Gas Mark 4 for 15 minutes
Remove the baking beans and baked it again for 10-15 minutes until the bottom is fully cooked and it is golden brown all over
When the tart case is fully cool fill it with the creme patisserie and smooth it out
Slice up the nectarines and arranged them in circles on top, then I place the billberries in the gaps
To glaze the tart, warm up the apricot jam in a pan. Sieve it to remove any lumps, and use a pastry brush to generously brush it all over the tart