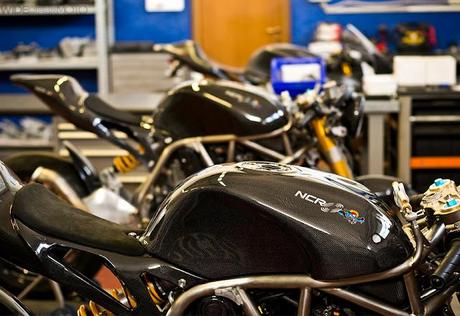 They say the Ducati Desmosedici RR is a MotoGP bike for the street. That's pretty intense.
So when the NCR M16 first appeared, I admit that I thought the Desmosedici-engined special, a bike lighter and more powerful than Stoner's actual MotoGP-championship-winning Ducati, was a little bit over the top.
Who except maybe Buzz Aldrin could harness that kind of power-to-weight ratio? 

However, I was lucky enough to be shown around the Poggipolini factory and NCR workshop by Michele Poggipolini, NCR's CEO, and I've since changed my mind. The M16 isn't an over-the-top extravagance, it's really a very logical culmination of the skills and passions of two companies who've joined forces to build the fastest, lightest, most performance-focused Ducati's on the planet
. So making Ducati's most powerful machine better isn't really over the top, it's just what NCR does!
In the words of Michele Poggipolini, NCR is a way of showcasing what we can do; our technology and capabilities. Considering Poggipolini's bread-and-butter is designing, developing and producing parts for Formula-1, aerospace, and the elite supercars (Bugatti Veyron included!), that makes the bikes that thunder out of the Bolognese factory very special indeed.
Here's the story: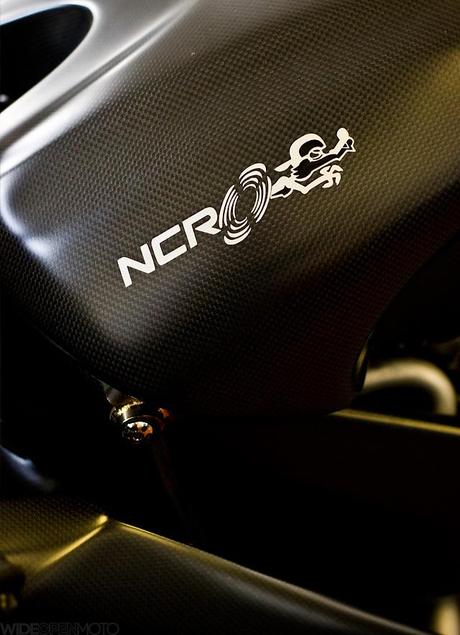 NCR began in 1967 in a workshop close to the Ducati factory in Borgo Panigale, Bologna by Giorgio Nepoti, Rino Caracchi and Luigi Rizzi who began tuning Ducatis for racing; eventually becoming Ducati's external racing-division in the 1970s. You've probably heard of NCR through the beautiful Ducati 900NCR with which Mike Hailwood won the 1978 Formula 1 World Championship at the Isle of Man, beating the colossal Japanese factories. They've also been heavily involved in World Superbike racing over the years, preparing Doug Polen's championship winning 851 Ducati as well as WSBK bikes for Xaus, Bostrom, Chili and Laconi.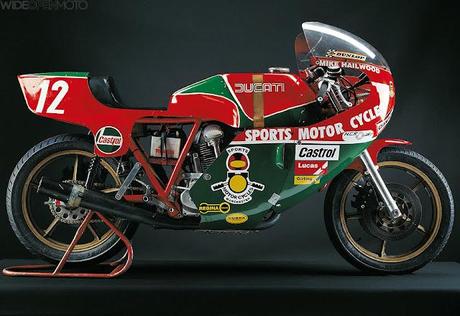 Mike Hailwood's F1 World Championship winning NCR900.
In November 2001, NCR was taken over by the Poggipolini Group, who's involvement in the design and production of specialised high-tech, light-weight parts for the motorcycle, Formula 1, aerospace and supercar industries gave it an ideal knowledge-base to further develop NCR Ducati as well as providing a true manufacturing center to deliver the same high-performance parts to the everyday street rider. Poggipolini had in fact, been involved with NCR right from the start; providing them with many of the parts used to create their motorcycles, so it was fitting for them to continue the story. 
In 2006, Joe Ippoliti was brought in as partner in NCR; becoming the COO of NCR as well as chief designer. His work can be seen in the gorgeous M16 and M4 models as well as the countless special components in the NCR catalog.
As I discovered this technology is impressive. The company's forté is titanium, however aluminum and carbon-fibre also feature heavily (currently there are plans to create an in-house carbon-fibre manufacturing centre). Parts are generally produced 100% in-house in order to better control quality; from design to CNC machining the billet material, heat-treatment, forging, thread-rolling for fasteners, to surface finishing and final inspection. Every part is produced according to aerospace and ISO standards;- those which end up on the latest Boeing 777 through to the aftermarket Ducati parts available to the public.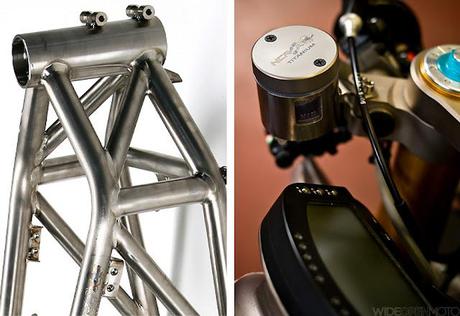 Welds on this frame haven't been finished in any way; they're amazing. / Master cylinder available to public.
Rapid prototyping is also used extensively; Poggipolini has actually developed and patented their own laser-sintering powders to optimise the process. Generally a part can be produced from start to finish in an impressive 8 weeks including design time, manufacturing, and standards approval. According to Michele, there are plans underway to bring this down even further. The Formula 1 division operates 24 hours a day.
(Understandably most of the Poggipolini factory was a photographic no-go-zone,
though you'll find a few shots here).

The parts are truly jewel-like, an opinion also shared by Michele. You've heard the term 'bike-bling" but this stuff really resembles bike-jewellery; no fake-gold chains here, this is the real deal. Many of the options and accessories for Ferrari and Lamborghini are produced by Poggipolini so it would have to look good! Interestingly, Poggipolini also work with McLaren, Porsche and Bugatti, producing parts for the fastest and most beautiful cars in the world.
This aesthetic consideration is also influenced in turn by Poggipolini's technology. For example, not being satisfied with laser-etching the NCR logo onto titanium parts, the designers have devised a way of tuning the laser to heat the metal to just the right temperature to color it either red or blue to match the printed 'speedy dog' design!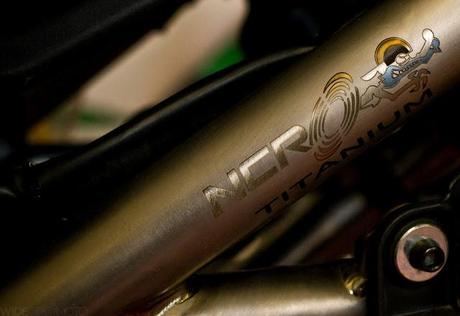 Logo is coloured by heating the titanium to just the right temperature during the laser etching process.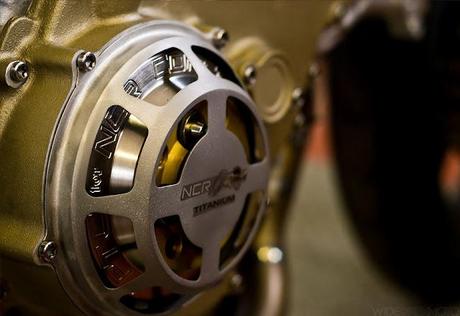 NCR clutch on the M16.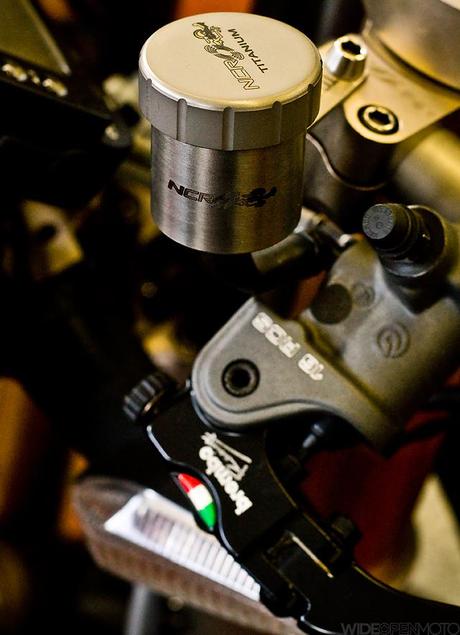 The master cylinder on the M4 prototype was machined on a 100% manual lathe by company founder Calisto Poggipolini, who at 80 years of age still works 3 days a week at the factory.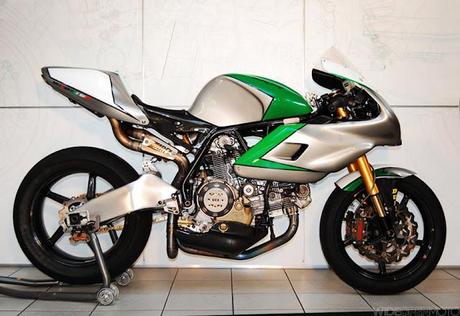 The Millona OneShot. A highly focused 125kg / 116hp package with development input from Frankie Chili!
The NCR 1200cc engine gives you 132hp!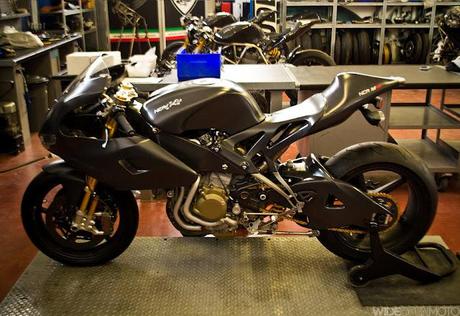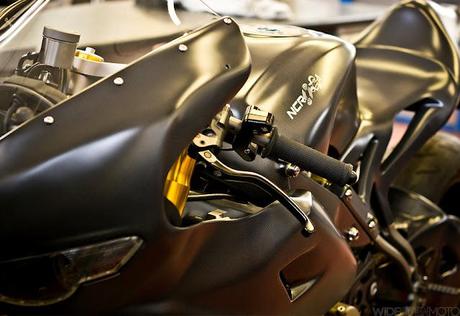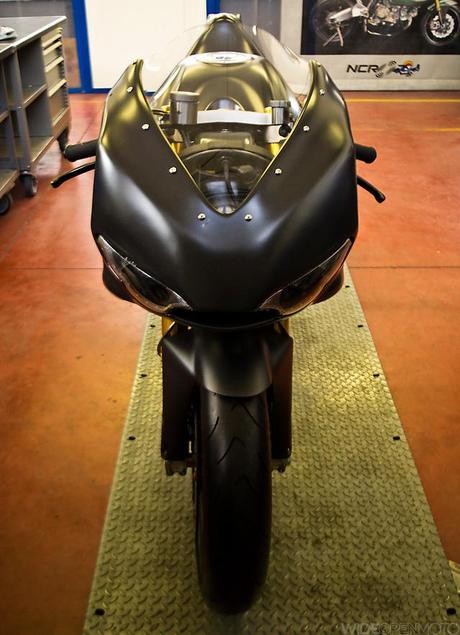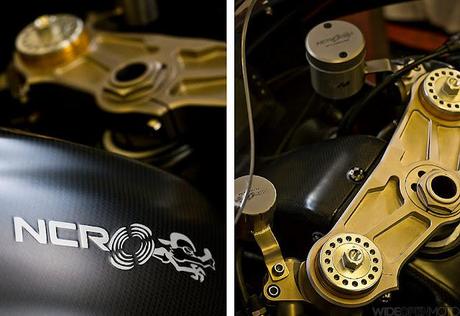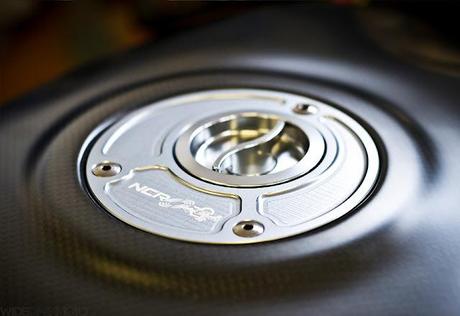 Some details of the NCR M16- if you have a spare Desmosedici engine in your garage...More photos here.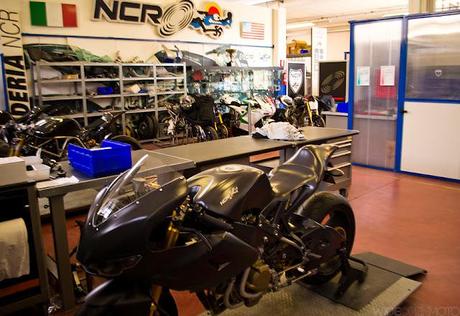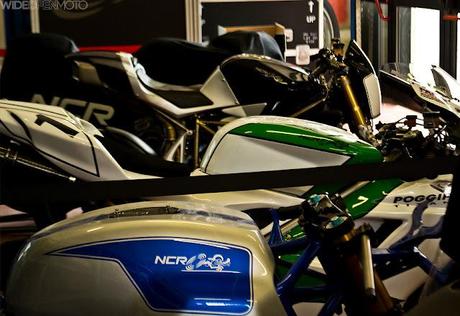 The workshop. I'd like to live there, I'm not going to deny it...
The knowledge, capability and passion of the Poggipolini group gives NCR incredible resources to produce amazing motorcycles. Until now these have been either concepts, dedicated race-bikes or highly tuned road-going Ducatis. However their latest project is set to put, for the first time, an entirely NCR designed/made, Ducati powered motorcycle on the road; with rego plates, lights and an unprecedented ability to lose your license in record time! 
This new chapter of the NCR story will be covered in our next episode;
NCR & Poggipolini Group - Part 2
.
As always, check out the
additional photos on facebook
.
A huge thank you to Michele Poggipolini.