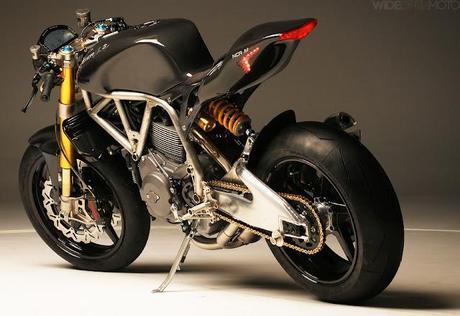 If you didn't actually read Part 1, then do it before reading this one. It's a matter of like, quantum physical mechanichisms or somethink. Someone once told me that if you type the word 'Google' into Google and hit enter, the internet explodes in your face. Similar thing here, so play it safe; don't mess with space/time continuums and what-not.
A new chapter is beginning at NCR. Previously, these power-to-weight-ratio miracles have been confined to the track; whether publicly available track-beasts like the Millona, or World Superbike Ducati's prepared for big name riders like those you would have read about in Part 1. NCR badged machines on the road have previously been heavily modified Ducatis, but haven't actually been no-holds-barred, out-and-out NCRs in their own right.

Well, there is a prototype machine currently being prepared for release. It's has buttfulls of power, weighs less than Kate Moss (and is much better looking). And the most exciting thing to be added to the spec sheet? Licence plates. What happens if you take a motorcycle 7 years of racing development (NCR Millona) and make it road-registerable? The NCR M4 and WideOpen was fortunate enough to get a sneak-peek.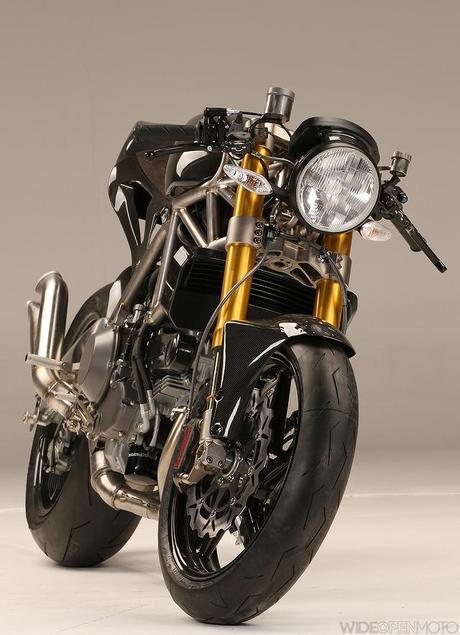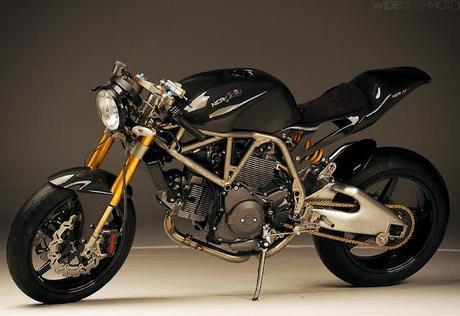 Traffic light warriors beware, subtle styling hides a bike which will take your Monster to the cleaners.
The NCR M4 comes in two versions; the M4, and the M4 ONE SHOT. They are both based around a tuned Ducati Monster 1100 EVO engine, but that's where Ducati stops and NCR begins. The M4 uses a slightly tuned and mostly Ducati-made engine putting out 107hp and 115Nm of torque. The M4 ONE SHOT uses a highly tuned Monster-donk full of beautiful NCR titanium bits; billet crank, con rods, NCR-EVR slipper clutch among others.This engine puts out 132hp and 145Nm of torque; from an air-cooled Ducati!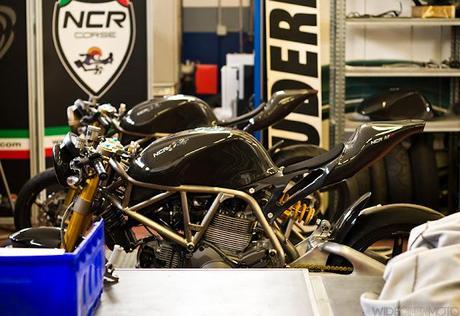 Two prototypes under development in the NCR assembly workshop.
Its when you start comparing these power figures with the weight of the motorcycles that things start getting downright nutty. The M4 weighs in at a measly 130kg (286 lbs) with oil and battery. The M4 ONE SHOT: 126kg (278lbs)!
These incredible weights are achieved with the extensive use of carbon fiber and titanium. The frame, triple clamps and all fasteners are NCR titanium. The tank, wheels, instrument cluster, airbox, oil-cooler housing and fenders are carbon fiber. The swing arm is an NCR aluminum item.
The parts which haven't been made by NCR are of course, all top of the line; Ohlins suspension and Brembo radial discs. The instrument module is a AiM MXL item which allows lots of race-bike style data logging to record your fastest times getting down the local shops for milk.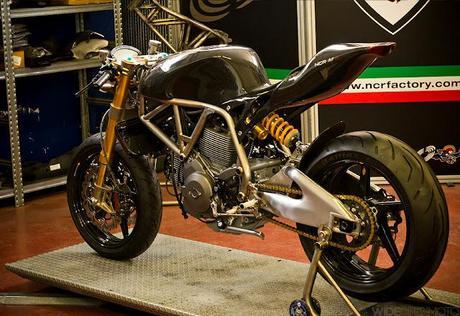 Prototype 1 with carbon fiber street tail. License plate yet to be mounted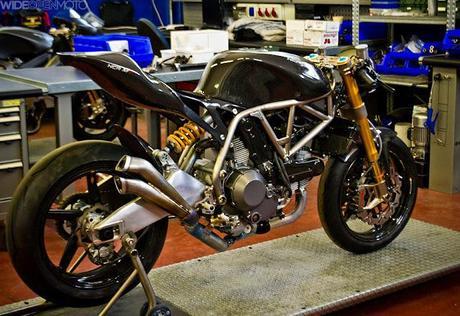 Prototype 2 with race tail. No lights and license plate, ready for your track day.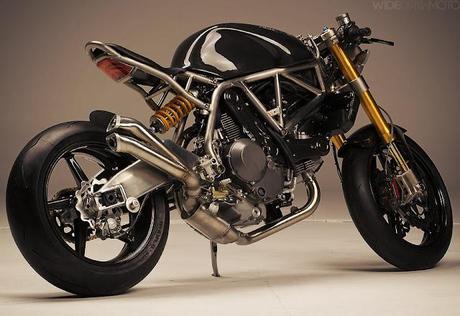 M4 with stock titanium sub-frame; available as an aftermarket component.
The research, development and production the M4 is managed inside NCR and the Poggipolini Group. The motorcycle and its components are designed in-house using CAD/CAM and rapid manufacturing techniques. Once the bike has been completely designed and simulated virtually, each component is rapid prototyped internally from the tank to the oil cooler giving the opportunity to test in real-space before final production. This process allows unprecedented customisation, giving the customer control over his unique bike.
The M4 is obviously intended for track use as well as street. It's modular design means that
the stock titanium rear sub-frame
can be swapped for a beautiful self-supporting carbon fiber race or street tail
by removing only five bolts. The front headlight & instrument cluster can be changed to a mini, half, or full-fairing setup by undoing only two bolts. With quick connectors on the electrical components, the M4 can be changed from street to track trim in 5 minutes.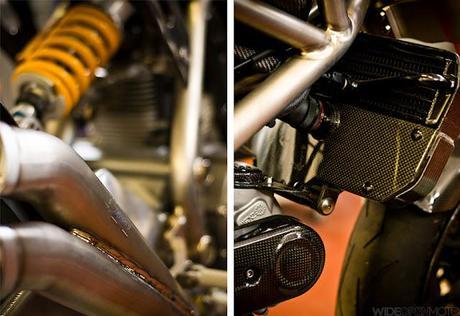 Exhaust and Ohlins shock / Electrical modules are hidden in a carbon fiber compartment under the oil cooler
.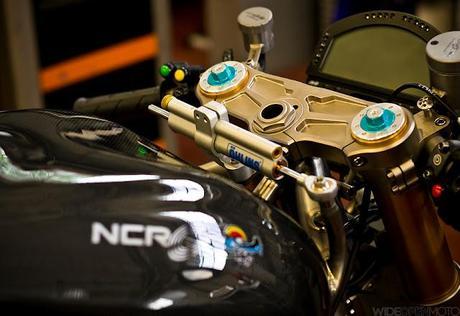 NCR titanium triple clamps and top-of-the-line everything else.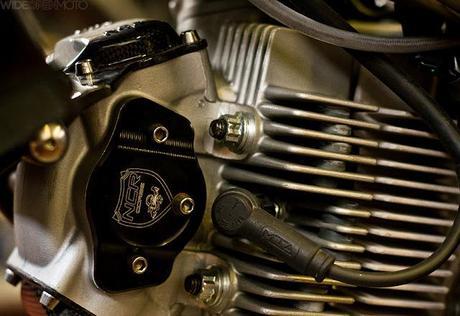 Machined and laser-etched NCR cam cover.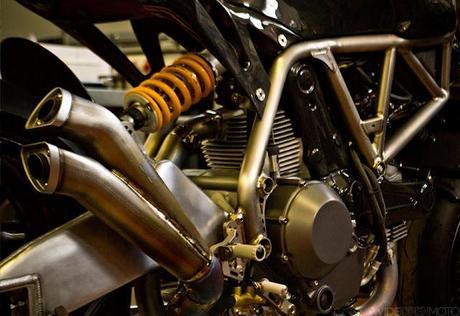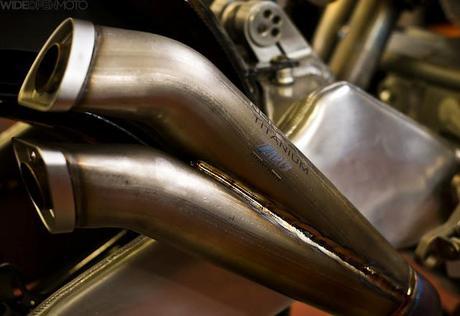 NCR designed muffler looks trick and has removable baffles Bwahahahahah! (manic laugh)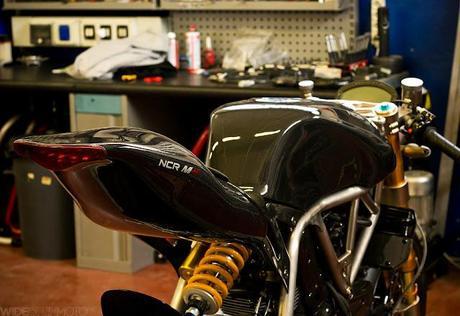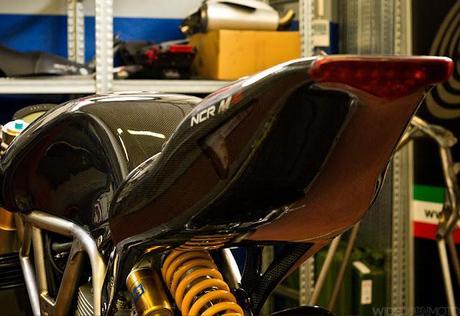 Self-supporting carbon fiber street tail; sexy curves and does away with titanium rear sub-frame.
The Joe Ippoliti designed M4 is all curves. It's really at odds with the angular styling of today's sports bikes. It looks subtle but purposeful; the curves never create a sense of 'flabbiness' and it's a style which will quite likely age gracefully.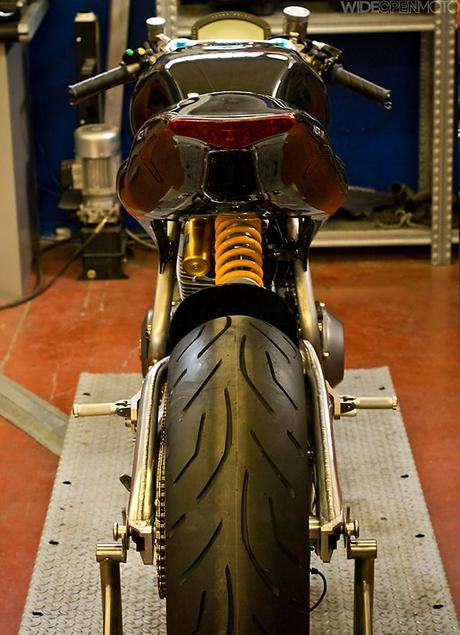 The M4 must be a surreal riding experience. Its impressive power-to-weight ratio would of course make things exciting, but its 126kg must make the handling mind-bending. It would make returning to a conventional motorcycle seem like jumping aboard a Hippopotamus!
The M4 is expected to sell at around
€
40,000. The M4 ONE SHOT;
€
60,000. I'm not going to drop the it's steep but you get a lot of motorcycle for your money line because in fact you don't get much motorcycle at all in terms of weight, and that's the point. The M4 is covered in lightweight bespoke parts and the best off-the-shelf bits available.
Every customer will have his bike custom built to his unique specification, this 'tailor-made' approach is a rare if not unique approach adopted by NCR and the hours put into each bike are considerable.
The M4 will be road registerable in the
Italian, European and North American markets.
If you've got the cash then there's very little on the market which compares with the M4 in terms of road-legal, physics bending power-to-weight ratio motorcycles. Be prepared to compete in your fair share of Traffic Light Grands Prix though, because the rest of us wont be able to resist having a crack at it...

Many thanks to Michele Poggipolini.