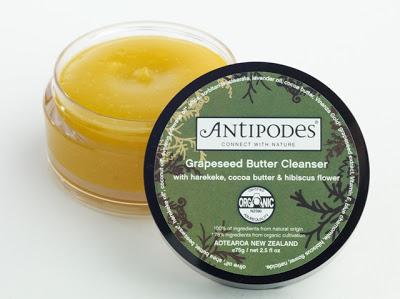 Everyone in the natural cosmetics environs is talking about Antipodes, a New Zealand organic brand, but I personally have never taken the risk to purchase something. 
Why am I talking about taking risks? Simply because it's a pretty expensive brand. It is very appealing, its products have high ratings on the web, but I still consider these cosmetics to be exaggeratedly high priced. For these reason, Grapeseed Butter Cleanser is on my wishlist of the products that call my attention but I probably won't ever get. 
Let's just take a look at the ingredients: 
Olea europaea (olive oil), butyrospermum parkii (shea butter), cera alba (beeswax), phormium tenax (harakeke) oil, cocos nucifera (coconut oil), oenothera biennis (evening primrose oil), aqua, silica, lavandula officinalis (lavender) oil, theobroma cocao (cocoa) butter, vitis viniferia (grapeseed) extract, tocopherol, matricaria chamomilla (chamomile) extract, hibiscus sabdarifa (hibiscus) flower extract, fragrance 
Ok, so 75ml of this butter cost around 30€. What a hell? I am conscious that most of the ingredients used are organic, but this doesn't justify stratospheric pricing. It is an oil based cleanser, which contains olive oil, shea butter and beeswax with a good election of some other nourishing oils and vegetal extracts, plus the adding of silica (to make it not feel so oily on the skin?!). 
In the end, this is a pretty nice cleanser, I have to say I'd love it and maybe it will be my everyday cleanser when I am a 40something business woman :). 
By now, I just can tell you, this is easily reproducible at home, so if you feel you are not too lazy to try, just let me know and I'll post my homemade version. I have to say that probably, making it on your own, will cost around 5€ for 75ml... such a great deal :D