In today's world we are constantly exposed to many things that can cause skin sensitivity: allergens, pollution, outdoor activities, low temperatures, intense heat, perspiration, long airplane trips, aesthetic medical procedures, etc. At any given time, anyone's skin can feel irritated or sensitized; even the healthiest, most balanced skin can become fragile under certain circumstances. At some point, we have all suffered occasional problems with redness, inflammation, stinging, rashes, burning or extreme dryness (although certainly those with delicate or reactive skin are more prone to this type of issue).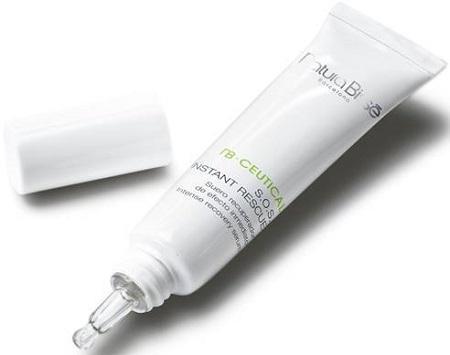 Natura Bisse SOS Instant Rescue
NATURA BISSÉ has created a revolutionary multifunctional cosmetic that provides instant relief to irritated skin. It is the go to product for any skin discomfort.  Skin Protectant S.O.S. INSTANT RESCUE is a serum able to immediately and comprehensively address the domino effect of skin sensitivity. An ultra-effective formula that includes a powerful combination of soothing and softening ingredients such as the innovative Phytocutan© (calendula).   An exclusive in the cosmetic industry, Phytocután© has been created by a prestigious medical group with a patented extraction system to provide an unprecedented soothing effect that effectively repairs damaged skin.
Natura Bisse SOS Instant Rescue
Skin Protectant S.O.S. INSTANT RESCUE is a smart formula with an intensely refreshing texture that breaks the vicious cycle of inflammation, eliminating the signs of skin discomfort and minimizing skin's sensitivity to the different sources of irritation. Skin Protectant S.O.S. INSTANT RESCUE provides progressive repair that also counteracts the constant attacks on our skin that cause cumulative damage, such as shaving, hair removal, or inclement weather, making it suitable for women and men of all ages and any skin type.  In addition, thanks to an advanced formula that includes powerful ingredients, both organic and biotechnological, Skin Protectant S.O.S. INSTANT RESCUE offers intense, soothing hydration which boosts its healing benefits.
Refreshing, highly decongestant and soothing, aloe vera also preserves skin's hydration. It is an excellent antioxidant and noticeably promotes collagen synthesis. The gel used in Skin Protectant S.O.S. INSTANT RESCUE is obtained from ecological crops in the Canary Islands (Spain) and is processed less than 24 hours after the leaves are cut, which better preserves its properties and makes it especially rich in active components.
Natura Bisse NB·Ceutical S.O.S Instant Rescue LAUNCHES: February 2016, PRICE: $125.00, AVAILABLE from www.naturabisse.com