To celebrate the launch of the new L'Oréal Paris Colour Riche Matte Lipstick, the #1 global beauty brand is leveraging National Lipstick Day to showcase that people's lips can be bold in more ways than one.  On July 29, everyone is invited to take part in the brand's largest National Lipstick Day initiative by showing off a bold hue and sharing bold words on social media. The #ReadMyLips social media campaign brings to life L'Oréal Paris' iconic tagline, "Because You're Worth It," and the brand's longstanding belief that all people have something worthy to say.
"Conversations around National Lipstick Day have traditionally been focused on best-sellers and general lipstick facts," says Anne Marie Nelson-Bogle, SVP of Marketing, L'Oréal Paris USA. "As a brand that has supported the individual beauty and intrinsic worth of all people for over forty years, we wanted to participate in and elevate the conversation by not only celebrating our newest Colour Riche lip launch but even more importantly, people's powerful words. The Colour Riche Matte Lipstick are ultra-rich, ultra-comfortable and available in a spectrum of 16 gorgeous matte shades, allowing everyone to find a favorite shade and help make their lips bold in more ways than one."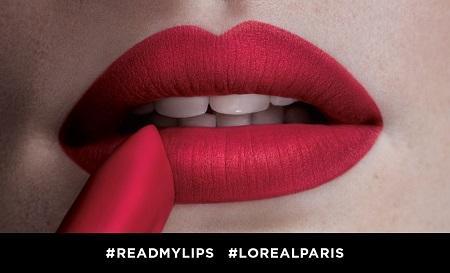 ational Lipstick Day – L'Oréal Paris Colour Riche Matte Lipstick
The brand's powerhouse roster of celebrity spokeswomen. Along with brand experts and social influencers, will come together on National Lipstick Day. To show off their favorite lip shade and share empowering messages on social media.  Everyone can easily join the campaign. By uploading photos or videos of themselves wearing a bold lip color. Sharing why their lips are bold in more ways than one. Whether helping to advance an important message. Championing a cause or sharing an inspirational quote. To participate, posts should tag @lorealmakeup using #ReadMyLips and #lorealparis.
By using the #ReadMyLips and #lorealparis hashtags. Posts will be aggregated to create a global platform. Where people's voices can be seen, heard and shared. Additionally, L'Oréal Paris will further elevate select posts on their own global social channels. As wel as showcasing both the bold looks and meaningful sentiments people are expressing, helping to inspire and encourage others.
National Lipstick Day – L'Oréal Paris Colour Riche Matte Lipstick
Colour Riche Matte is L'Oreal Paris' first matte lipstick collection. The products are formulated with pure-color pigments. To create intense color, while blurring gels and mattifying ingredients creates a soft-focus and matte effect on lips.  Formulated with jojoba oil for smooth comfort. Lips are left feeling soft, smooth and wrapped in rich on-trend color and finish. The collection is available in a spectrum of 16 gorgeous shades.