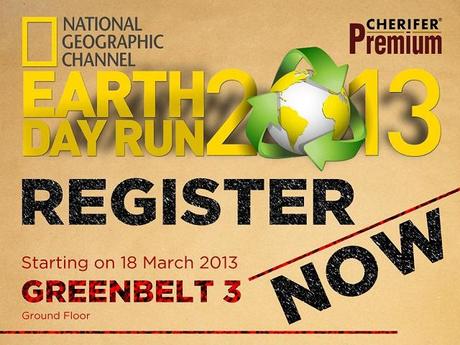 Last weekend ago, Meowth and I dropped by at Greenbelt to have us registered for NatGeo's Earth Day Run. Reaching the registration area, we learned that there's only 3km and 21km slots remaining and the 5km and 10km have been sold out. Bummer! Meowth was forced to register for the half-marathon category and ditching the original plan of doing ten kilometers.
On top of that, 21km registrants have to be satisfied with getting a "small" singlet. They've already ran out of other sizes. Good thing is that we are participating the event to support its advocacy. We liked the idea that the organizers will be planting 3 trees under your name. To those who haven't registered but intending to, there's good news! Organizers of the NatGeo Earth Day Run 2013 have decided to add 2,000 new race slots! These additional slots were made available starting this week on a first-come, first-served basis
Here's the breakdown for your reference:
3km = 400 slots
5km = 700 slots
10km = 400 slots
21km = 200 slots (race kit with complete inclusion)
and
21k = 300 slots without race singlet at a lower registration fee of PHP780
Other important information:
1. Online registration have been closed as slots intended for it have already been sold out.
2. Once these 2,000 additional slots have been sold-out, registration at the Greenbelt 3 kiosk will already be closed.
3. 300 slots for 21km with a lower registration fee of PHP780 is available without a race singlet, all other race inclusions meant for 21k however will still be provided.