I just read an article on SB Nation (http://www.sbnation.com/nba/2011/11/30/2601137/nate-robinson-oklahoma-city-thunder-buy-out/in/2239055) that Nate Robinson and the Oklahoma City Thunder are working on a buyout that would make him a free agent. He would be well coveted by several teams, although his stock has dropped considerably the last few seasons, that people forget how well he played. Before a run in with Knicks coach Mike D'Antoni (http://www.youtube.com/watch?v=kOhLgApNrgM) and being traded away from New York, he averaged 17.2ppg in '08-'09. He also finished third in Sixth Man of the Year award, behind the Nuggets J.R Smith and eventual winner Maverick Jason Terry.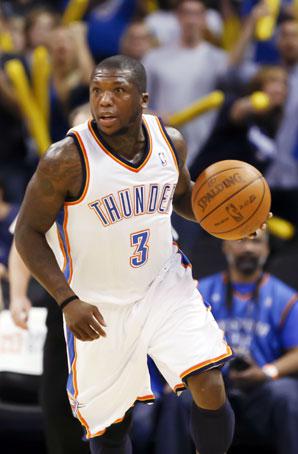 My favorite memory of him is after being benched by D'Antoni for an entire month, came off the bench and exploded for 41 points. The Knicks traded him away a month later to the Celtics, where he played well in a limited role. He joined Kendrick Perkins in the move to the Thunder, but received only 7.5mpg through 4 games. Robinson is requesting a buyout from the team as, clearly, the Thunder has no desire to include him in their rotation. Despite being a fan favorite wherever he plays, it is rumoured he is temperamental occasionally, which would lead teams to avoid him.
Ultimately he is an offensive threat at 5'9" and there will be teams that will gamble on his attitude to take on his skills as a starter or a sixth man.  Robinson is used to this role, having started only 72 games over the 397 he has participated in, so don't be surprised to see him resume his dynamic scoring off the bench. He's only 27 and just entering his prime and teams lacking scoring will definitely make him an offer. Milwaukee, Charlotte, New Jersey, New Orleans and Atlanta had the worst offenses last season and getting Robinson would improve this issue. I personally like the idea of Robinson signing with the Bulls as their sixth man, which would be intriguing. Moving Derrick Rose to shooting guard and Robinson coming in at the point would present a versatile backcourt. He is already familiar with head coach Tom Thibodeau from his days in Boston. All the Bulls would need is a decent starting 2 guard and they would have one of the better benches in the league. He would be a nice addition in Charlotte, what with their rebuilding project, and provide some scoring and veteran leadership. New Orleans doesn't seem likely, although he could be a possible answer at point guard if Chris Paul leaves the Hornets. For Milwaukee and Atlanta, he would provide that sixth man role that both teams could definitely use. Even if Jamal Crawford does return to the Hawks (however unlikely) Robinson could be the backup point guard and give them a scoring punch. The Bucks need as much scoring as they can get, with Brandon Jennings and Stephen Jackson as the only players who can create their own shot. Regardless of the team Robinson joins, he will make an impact.