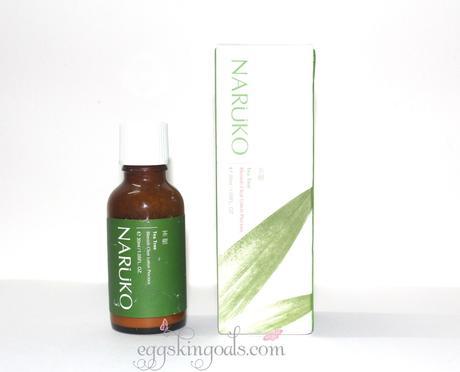 Only reason I wait for summer is mangoes! Especially for those , and Cherukurasam ones. And how can I forget Mango pickle that we eat all year! But the twist here is, for every mango I eat, I get a pimple on my face. But I won't stop eating mangoes because I pamper my tongue more than my skin - and spend rest of the seasons saying sorry to my skin 🙁
But this summer I found a perfect product that kicks those bloody red painful acne out of my body in just 2 days. Yes! It is Naruko Tea Tree Blemish Clear Lotion Precious.
A small introduction about the brand Naruko:
Naruko is a Taiwanese skincare brand. Their products are very affordable with some quality ingredients. The brand has different skincare lines like Tea Tree, Apple seed, am+pm etc. that target different sin concerns. Tea tree line targets acne, Apple seed line is for dark spots, am+pm line is for anti aging. All products from this brand has an exclusively patented ingredient called Phytoferulin that is formulated with 11 different plant extracts. All Naruko products are cruelty free. Also their packaging is environmental friendly. The boxes look plain and simple from the outside, and has beautiful flower design inside. You can make pencil holders and other useful items with the Naruko packaging. You can see instructions inside the box on how to make them.
Read more about the brand below (Image taken from narukoboutique.com)
Controls excessive oil production and prevents acne formation. This treatment combines 2% concentrated Salicylic Acid, Sulfur, Zinc, and Magnesium Aluminum Silicate.
Use after morning and evening facial cleanasing. Shake the bottle evenly. With a cotton swab, take a small amount and apply it on the acne area. Wait 10 seconds for it to dry then continue with your usual skincare routine.
You may also choose to use after the usual skin care routine or after applying makeup by dabbling a small amount in the acne area.
For users with serious acne problems, increase usage by applying 2~4 times a day.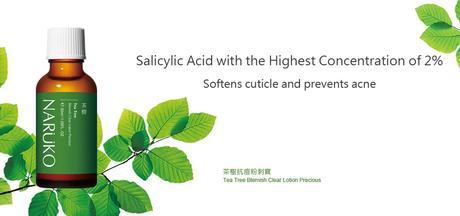 Image taken from here
Active ingredients (W/W):
Salicylic Acid 2%, Sulfur 0.025%
Other Ingredients: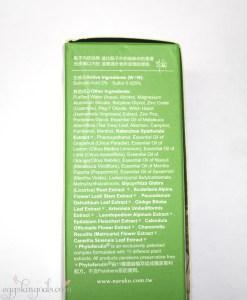 Purified water(Aqua), Alcohol, Magnesium Aluminum Silicate, Butylene Glycol, Zinc Oxide(Calamine), Peg-7 Olivate, Witch Hazel(Hamamelis Virginiana) Extract, Zinc Pca, Pentylene Glycol, Essential Oil of Malaleuca Alternifolia(Tea Tree) Leaf, Allantoin, Camphor, Panthenol, Menthol, Kalanchoe Spathulata Extract*, Phenoxyethanol, Essential Oil of Grape fruit(Citrus Paradisi), Essential Oil of Lemon(Citrus Medico Limonum), Essential Oil of Lime(Citrus Aurantifolia), Essential Oil of Orange(Citrus Nobilis), Essential Oil of Niaouli(Malaleuca Viridiflora), Essential Oil of Mentha Piperita(Peppermint), Essential Oil of Spearmint(Mentha Viridis), Lodopropynyl Butylcarbamate, Methylisothiazolinone, Glycyrrhiza Glabra (Licorice) Root Extract*, Scutellaria Alpina Flower/ Leaf/ Stem Extract *, Peucedanum Ostruthium Leaf Extract *, Ginkgo Biloba Leaf Extract *, Artemisia Umbelliformis Extract *, Leontopodium Alpinum Extract *, Epilobium Fleischeri Extract *, Calendula Officinalis Flower Extract *, Chamomilla Recutita (Matricaria) Flower Extract *, Camellia Sinensis Leaf Extract *
*Phytoferulin is an exclusively patented complex formulated with 11 different plant extracts.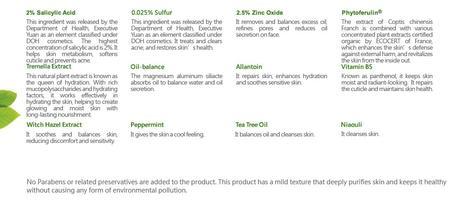 Image taken from here
So this product contains 2% Salicylic acid which is the reason I am excited to buy this. Salicylic acid is a Beta Hydroxy Acid (BHA). It helps in reducing acne by not only exfoliating the surface of the skin but also penetrates deep in to pores and pushes the inside gunk to the surface of the skin. That is why it is used widely to reduce break outs, whiteheads, and blackheads.
Do NOT use this product if you are allergic to Asprin.
It also contains 0.025% of Sulphur. Sulphur helps in drying out the acne quickly and exfoliates the dead skin cells, oil, and dirt. It is also known to prevent the spread of acne causing bacteria. Sulphur is also much gentler, and less irritating than the Benzoyl Peroxide.
According to cosDNA analysis, Butylene Glycol, Zinc Oxide, and Camphor are listed as acne triggers. Sulfur, and Camphor are listed as irritants.
Naruko Tea Tree Blemish Clear Lotion Precious Review:
When I first read the name of this product, I thought it was actually a lotion that I can apply to my whole face. But I was wrong, this is one of those spot treatments that shrinks, and dries out acne faster.
This spot treatment/lotion comes in an amber colored glass bottle. Half part of the bottle contains oily liquid, and other half contains powder. The directions of most spot treatments like this say- not to mix the liquid and powder, but for this product, the directions say to shake the bottle before use. I followed the directions as it is and shook the bottle gently for 2 to 3 times, or until the powder and liquid mix together.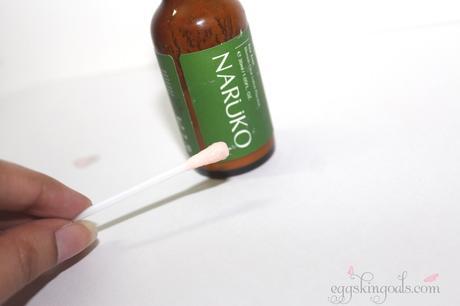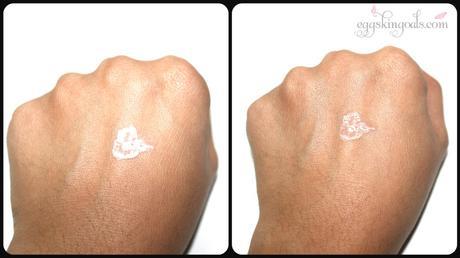 At this point, the lotion looks like a thick white liquid. Remove the cap, and dip a clean cotton swab and take it out. You can see the white cotton changed to pink color. The pink color is mostly due to zinc oxide. Now apply the liquid with cotton swab on the desired area. At first, you will have a very cooling sensation on the applied area until the lotion dries. This is due to menthol in the ingredients list.
After 5 minutes, the lotion dries out completely. In case you are sensitive to fragrances, you should know that this lotion has a strong peppermint smell that lingers even after the lotion dries out. I am not sensitive to fragrance, in fact I am happy that this has peppermint smell rather than alcohol smell which is common in most of the spot treatments.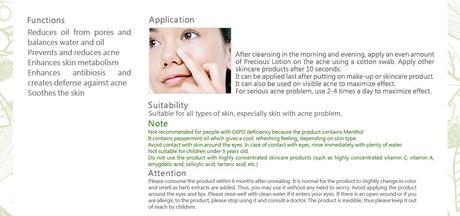 Image taken from here
I use it before going to bed. I apply it on the cleansed skin and wait till the lotion dries. Then I continue with the rest of my routine. It reduced the redness, and size of the pimple overnight. After applying for 2 consecutive days, it has completely flattened my pimple, and did not leave a scar other than a small dark spot. I have to work on it with Vitamin C and AHA for a few days though.
You can also use it over make up, or on other skin care products if you want. But do not use it more than 4 times a day, which might makes your skin sensitive. It does not prevent acne, but cures it quickly without making damage to your skin layers. Use the product within 6 months after opening.
You can buy Naruko Tea Tree Blemish Clear Lotion Precious from eBay.com for $13.49
What do you use to spot treat your acne?
Do share your tips.
By the way, this is what I made with Naruko Tea Tree Blemish Clear Lotion Box, and stored my favorite earrings, and hair clips.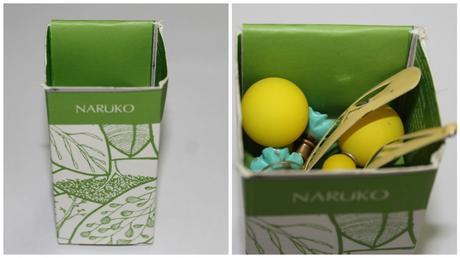 **Disclaimer: This product is bought with my own hard earned money, and all opinions are entirely my own. There are NO affiliate links in this post**