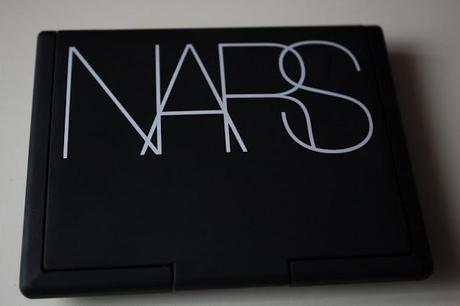 NARS Laguna Bronzer - £25
If you're a big fan of Bronzers or you're looking to invest in a good Bronzer, you may want to read on. I first heard of this Bronzer years and years ago when I first found out what a Beauty Guru was but never really took an interest because I didn't tend to splash out on Make Up as I never saw the point. Only since I turned 17 have I really been getting into high-end Make Up and I am in no way implying that high-end Make Up is always better, I just think the majority of the time it is. I love brands such as MAC and Estee Lauder (I'm a Double Wear obsessive).. But NARS had never really been accessible to me [it was but I never knew it was].
Anyway, I'd heard about NARS Laguna Bronzer on Anna's blog [ViviannaDoesMakeup] and my MAC MSF Natural was just not that natural -looking anymore. I had to find a Yellow-toned Bronzer rather than Red-toned. Trust me.. There's a difference.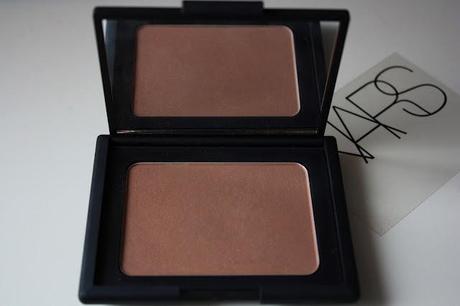 This Bronzer is such a dream to use. It isn't to pigmented so you don't end up using too much and looking a bit like someone out of TOWIE. It's the perfect shade as well because it's totally build-able so can be enhanced to be darker if you wish. It has a slight shimmer, but nothing too dramatic (I personally hate shimmery skin products). The shimmer in it is hardly noticeable but looks amazing once applied because it just makes you look that much more defined and healthy.I tend to put it around the side of my face and underneath my cheek bones to create a contour. I've edited this images slightly to show you most obviously where I've put the Bronzer.
I've heard NARS Bronzers/Blushers tend to last a long time (so I was told "hmmm") so hopefully it will without cracking once I've hit pan.
I'd recommend this for anyone light skinned to medium/dark because as I said, it's build-able but also applies lightly for those who don't need too much. I've been looking a lot more naturally tanned lately and I believe it's down to this. No more red Bronzers for me from now on because I believe I've found 'The One' - Let's hope it stays that way!