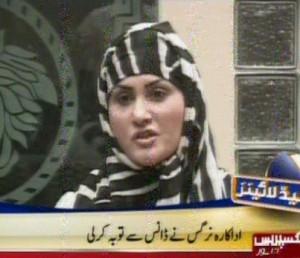 Stage actress Nargis wants to be a Muslim cleric
Swashbuckling Pakistani film and stage actress Nargis has said adieu to the showbiz and she now wants to be a Muslim cleric.
The 38-year-old actress, who is famous for her sizzling dance, on Wednesday astonishingly appeared on different media channels in scarf and said she had returned to the religion and repent for her sins from Allah.
Nargis announced to break the ties with the people associated with showbiz field and said she will soon start the Aalima course. She also expressed the hope that the actresses who put her on a pedestal will do the same.
"I am in touch with Maulana Tariq Jamil, famous Muslim cleric, in order to learn Islamic teachings," she said. "I have started wearing scarf and will soon start taking classes in a seminary in order to become a Muslim cleric."
Nargis, taking the oath on Quran, denied the allegations of having relationships with criminal gang and her involvement in the murder of a trader named Shehzad. She also demanded the transparent investigation of Juna Butt case.
Having started her career as film actress in November 1992, Nargis acted in many movies but later turned herself to stage. She appeared regularly in Punjabi stage shows in Faisalabad, Lahore, Multan and other cities of Punjab.
In recent years the people associated with the showbiz industry are commonly tilting towards religion. Last year famous pop singer and musician Shiraz Uppal and TV actress Sara Chaudhry had quit their respective fields and promised to devote their lives for preaching Islam.