Perhaps we were expecting a short sale. Then again maybe we were a little short sighted in our projections. Maybe our extra attention on the auction of Napoleon's engagement ring brought new attention to it, and increased expectations. Whatever the reason, the anticipated price of Napoleon Bonaparte's engagement ring to his beloved Josephine has risen from $16,000 to $20,000 in an auction scheduled to take place in Paris on March 24th.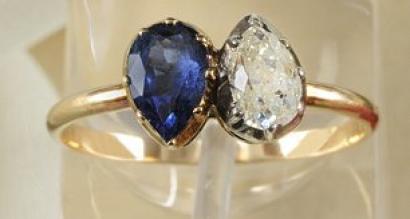 via Forbes
It is by most accounts, an ordinary ring but it certainly did the trick as Josephine gave Nap a resounding YES and the two were married within two days. It may have been she was looking for some help with her two kids from a previous marriage, but never the less the two were married promptly. It is the stuff of legends.
It may not have taken Napoleon long to realize he got the short end of the stick as just two days later he left to lead the French Army in Italy. Two kids, a new wife, trouble finding clothes that would fit may have contributed.
Sadly the two were divorced within years after Josephine, who apparently has no fertility problems with her previous spouse, could not conceive a child with Napoleon. He went on to marry again but apparently did not forget his first love. Accounts have him uttering her name in his dying breath. Yes, they were complimentary utterings.
So this leader, lacking of stature but excelling in ambition, died without the love of his life in his arms. The engagement ring he lured her with however, is up for the highest bidder, and the expected price seems to be escalating. You want to be a part of the activities? Be in Paris on March 24th. Just don't get caught short of cash.