Sunday was the Naperville Doll Show. Held at the Marriott Hotel in Naperville, IL, the show is usually attended by vendors who have older, vintage dolls for sale, though a few come with Barbie's or other modern style dolls, like BJD's. To be honest, not much at this show really tugged at my heartstrings this time around. I went in with a plan to look for an affordable twist n' turn Skipper, but didn't see any at decent prices. Other than that, I was just looking for things that called to me. Both me and my mom went into the show with the intent to get two Sasha's re-strung, which we got done by Alice's Doll Workshop.
So, what treasures did we take home with us? I picked up two Skipper's in need of outfits, a Malibu Skipper and Teen Skipper. My mom picked up a Barbie in need of a little TLC, too. She also found this strange Barbie accessory. It's a Barbie sized bike that attaches to your bike. For a dollar, it was sold!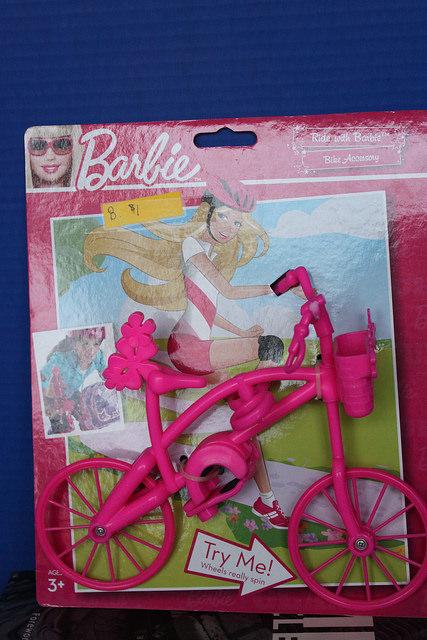 More interestingly, we picked up two AvaStars. AvaStars made its debut November of 2014 in a Missouri mall kiosk in the Saint Louis Galleria. It eventually expanded to two other locations, Oakbrook Town Center (Illinois) and Kenwood Towne Center (Ohio). The gist of AvaStars was that you'd go to the mall kiosk, get your face scanned by 3D modeling software and two weeks later, you'd get a doll customized in your likeness! It was a little costly at $40 bucks a doll, but the concept was a solid one.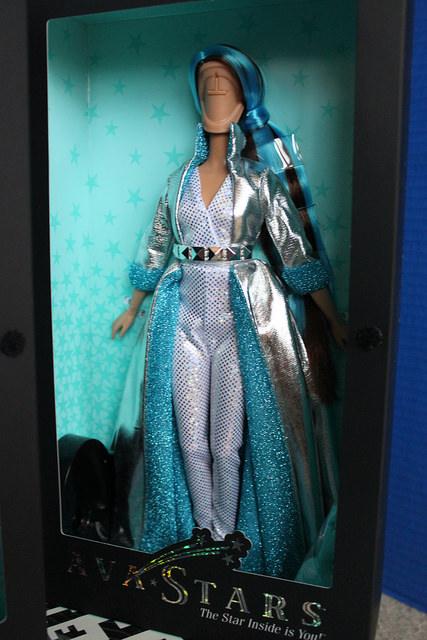 I'm kicking myself for never driving down to Oakbrook Town Center to try this, but who would have expected the company to fold after only 7 months on the market in late June 2015? Anyway, at the show, one vendor had two uncustomized AvaStars on display and they were too weird not to pick up. (Plus, they were only five bucks.) These are dressed dolls with rooted hair and no faces.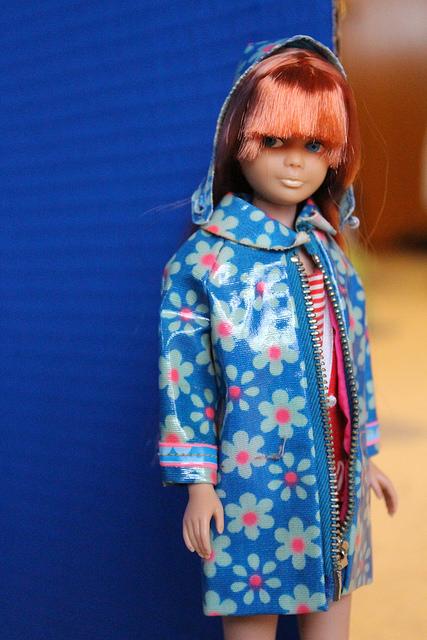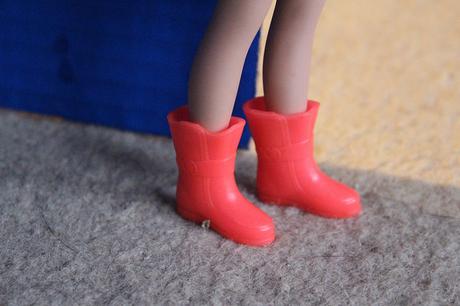 As a Skipper collector, I have a sad number of clothing options for my dolls, so occasionally, I like to pick up something to slowly add to that part of my collection. I picked up Flower Showers #1939 from 1967. It's so cute and looks great on Skipper!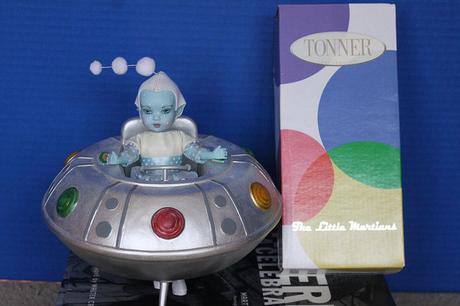 In a rare occurrence, my mom picked up a Tonner doll at the show! This doll is part of the The Little Martians line. This is Sunspot, a convention piece from 2007. What really sold her on this piece was that it came with the UFO!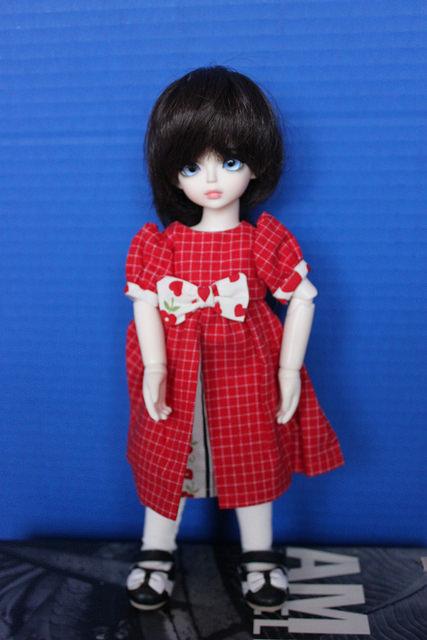 My mom took one of her Christmas BJD's to the show in hand-me-down clothing and a thinning wig and she left with a brand new outfit  and much cuter wig! The outfit is from Wee Designs and the wig is from Purple Plum (though their website seems to mostly have wigs for real people). Wee Designs has some darling outfits for all sizes of dolls. They're really well made, too! I even bought one for my last acquisition, a new ball jointed doll, or BJD.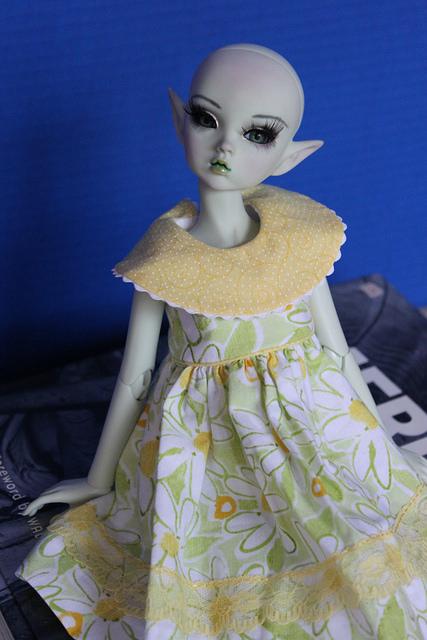 I spotted this green resin BJD in Gigi's Dolls booth when we first looked around the room. Then, I kept on noticing it as we did our many laps around the vendor's tables. Finally, after not finding any big ticket items, I went back and inquired about the BJD and decided to go for it. I haven't treated myself to a BJD in years, so I don't feel bad about spending a little extra money on her.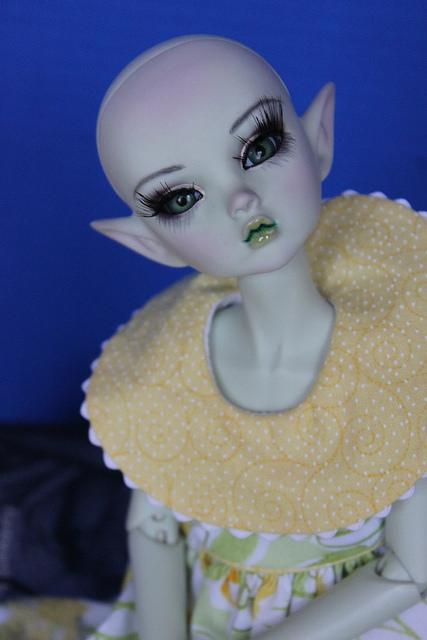 I've always liked the green resin. On top of that, this BJD has a great face up with super cool eyelashes, great shading and the perfect green eyes, so I don't have to do anything extra to fix her up or customize her. We, nor the vendor, couldn't find any branding on this BJD at the time of purchase. However, after posting our haul on YouTube, eagle eyed viewers told me she is a Garden of Dolls Nabiya. Apparently, Garden of Dolls used Bobobie to cast their bodies, which makes sense, as both my mom and I thought the feel of this new BJD resembled our Bobobie BJDs. I got a really good deal on Nabiya, judging from what I'm seeing on eBay and other sites.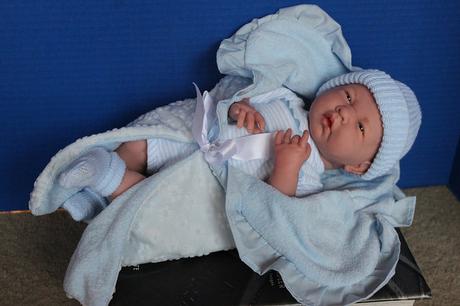 My mom has always liked the Berenguer Baby I reviewed a few years back, so one of her bigger purchases was this newborn set with a baby boy and accessories!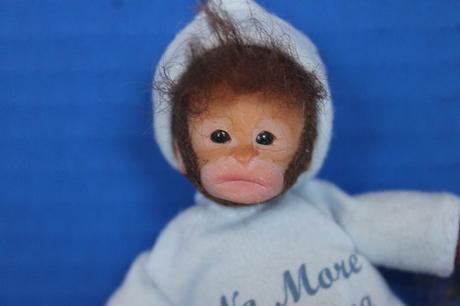 She also bought this little miniature monkey for her BJD's.
So, overall, it wasn't a bad day of shopping. I would have liked to have found more deals, but we left with things that neither of us regret. Have you gone doll shopping recently? What did you buy? What do you think of the things we picked up at the Naperville Doll Show? Share your thoughts in the comment area!
Advertisements
&b; &b;
January 30, 2018. Tags: Shows. Uncategorized.