Alex Smith
He's either one of your favorite actor-comedians or one of your least favorite. Polarizing funnyman Robin Williams turned 62 on July 21, which is almost hard to believe given his continued manic energy in person and on screen. Williams rose to fame as "Mork from Ork" on the ABC sitcom Mork & Mindy, which premiered 35 years ago this fall.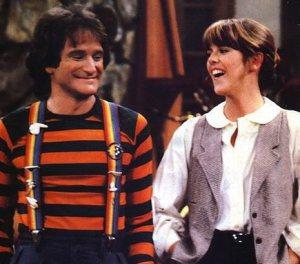 It was the request by an ABC executive's son that launched the new show and William's career as we know it. In 1978, the Star Wars was the biggest hit in cinematic history. The network exec's son asked him to "do a show about an alien," and thus, Mork from Ork's cameo on ABC's Happy Days became a new show.
Williams first appeared as Mork on an episode of Happy Days, a not-uncommon tactic to raise awareness of a new spin-off from an established show. While many fans feel that this is where Happy Days "jumped the shark," it did get Mork & Mindy started with huge ratings.
Robin Williams landed the role when, at the audition for producers, he was asked to sit down and did so backwards, "sitting" on his head with his rear end high in the air. This is a move fans will recognize as a classic example of "Mork" behavior, and it charmed the show bosses. Happy Days and Mork & Mindy creator Garry Marshall says that they cast Williams because he "was the only alien to audition."
It didn't take long for everyone's favorite Orkan to jump from the small screen to the big screen. He was cast in Robert Altman's 1979 Popeye as the titular sailor, a strangely subdued performance that still captured the essence of the cartoon. The movie wasn't a big hit, but it showed a cinematic presence that audiences and movie producers wanted more of.
Mork & Mindy was canceled in 1983 after a series of ill-advised shuffles of the show on ABC's schedule. Williams then did time in a string of forgettable movies that in retrospect had no idea how to harness the energy of the actor's improvisational genius. At long last, in 1987, Robin Williams was cast in the right role, as Army DJ Adrian Cronauer in Barry Levinson's Good Morning, Vietnam. Playing against Forest Whittaker and Bruno Kirby, he was finally able to let loose his crazed humor in a way that fit perfectly for the movie.
The huge success of Good Morning, Vietnam propelled Williams' film career, as he was subsequently cast in role after role that allowed him to combine both his comic gifts for rapid improv and his genuinely accomplished acting skills to great success. And those skills were come by honestly: Williams studied theater at the Julliard School with his roommate, Christopher Reeve.
Good Morning, Vietnam was followed by star turns in Dead Poets Society, The Fisher King, and Awakenings, his first completely straight role with no comic element. Both critics and audiences were impressed, and his hits continued into the '90s as a grown-up Peter Pan in Steven Spielberg's Hook and the voice of Genie in Disney's animated Aladdin. The high point of his career — and he's still in many movies every year — is his Oscar for Best Supporting Actor in 1997′s Good Will Hunting.
When he makes his return to television later this year as a zany ad executive opposite Sarah Michelle Gellar in CBS's upcoming comedy The Crazy Ones, we'll find out if his best TV work is already behind him or if he's poised for a renaissance – if audiences love it, Williams will be one of the few actors to appeal to TV watchers across generations.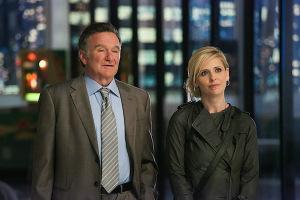 Author Bio: Alex Smith is a TV and movie blogger for Direct2TV.com who covers everything from reviews of new releases to retrospectives of the classics, profiles of actors, directors, and writers, and everything in between. He's been a huge Robin Williams fan since childhood, and has recently been rediscovering the pleasures of Williams' stand-up career. He lives and works in Washington, D.C.