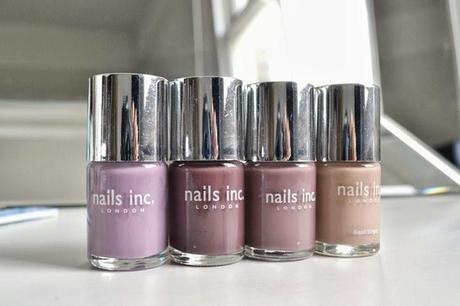 On Monday, berry and plum shades were having a bit of a moment, so today I pulled out some equally autumnal, but more neutral, tones for my October nails.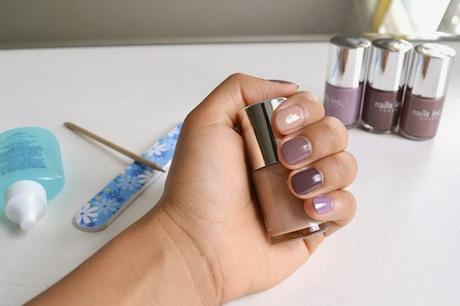 I have Basil Street on my index finger, a pale toffee color. This one's a bit different to what I'd normally wear – I actually got it free with Glamour magazine when they were doing a promotion – but I'm going to give it a chance. I tend to wear dark colours, so I want to step out of my comfort zone a bit.
On my middle finger, I've got Jermyn Street, which is a soft taupe. It is the classic 'greige' color and I love it!
On my ring finger is Palace Garden Terrace, which is a dark brown with a hint of purple in it. I rediscovered this while rooting around for Autumn polishes, and I think it's actually my favorite of the four. But I've just found out that it was a limited edition shade from the 2010 A/W collection. Boo!
I've got Lowndes Square on my pinky. It's a dusky grey-lilac... very pretty. It's quite muted, but still adds a little color.
...These are all pretty serious shades and they have a real autumn/winter vibe. They're great colours for "the office", or for when you want a subtler shade on your nails.
Do you prefer brights on your nails or do you go for more muted shades? What's your go-to shade for Autumn?
xx