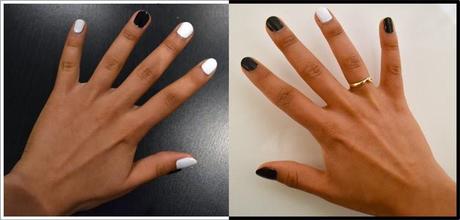 Before everything gets completely "Christmasified" - nails included (for me at least!) - I thought I'd share my current favourites.
I don't actually wear them together normally, but I do love the contrast here!
I know I'm a bit late on the tippex white trend, but I've loved it for so long, so I had to include. I actually think it's very winter-appropriate too. Snowy and all that...
Dark nails are also perfect for winter (or anytime of year if you're me), and this black is so, so pigmented. I actually only need ONE coat for full opacity. Great if you're super impatient like me! The white needs a bit more work, as you'd expect, but you can get opacity with two coats at a push.
These are both by Essie, called Blanc and Licorice. I'm really loving Essie at the moment, what with my homage to Wicked the other week.
...
Do you have any other Essie shades I should check ou
t? I'm building quite a collection!
xx