For a long time I've been looking at photos and blogs that feature nail stamping. I've wanted to try the technique but what if it's not for me?  The thought of spending a ton on tools that I didn't use wasn't appealing.  Amazon sells bundles of plates and kits from a company called Konad.  They are the premier nails stamping company.  The least expensive kits sell for around $13.  Then I saw a Salon Express kit at CVS and it was only $9.99.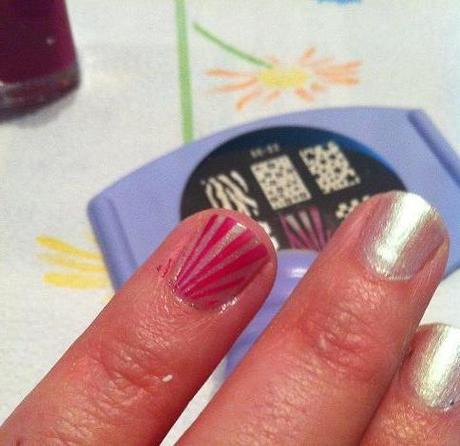 My First Attempt
The kit came with 5 plates, a plate holder, a double ended stamper and a scraper. The directions in the kit weren't great. Enter my fellow bloggers.  I did a search for nail stamping tutorials.  I found lots of great tips on blogs like
Nouveau Cheap
, Nailcicles, and
Swatch and Learn
.  Because of their tutorials and tips, I didn't have as many errors as I thought I might. I followed their suggestions for tools and set up and lots of other tips.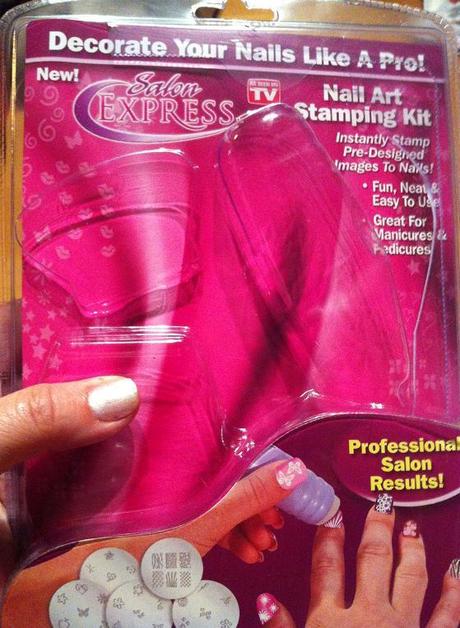 My impatience got the best of me. I was so excited to open the kit that I didn't think to get a photo before I opened it and pulled everything out.  This is the package and as I mentioned, I got it at CVS.  The list price was $9.99. The beauty of CVS is that I could use Extra Care Bucks for this purchase and I only paid $1.99 for it!
To stamp I also needed polish remover, a nail file, cotton pads, paper towels, a old gift card and something to use as a table cover (newspaper).  I also should have used some plain white paper to test stamp.  I didn't do that but I will in the future.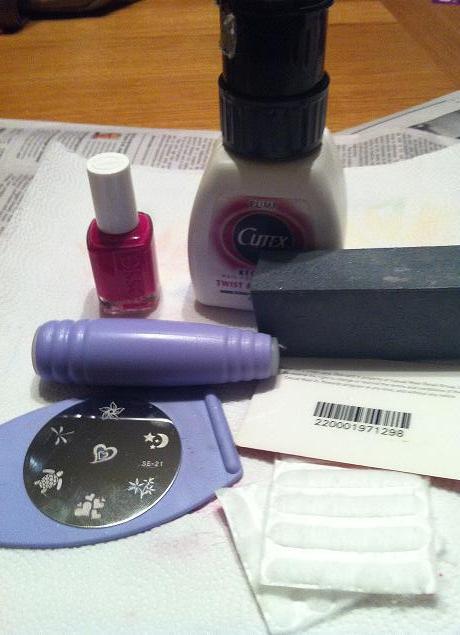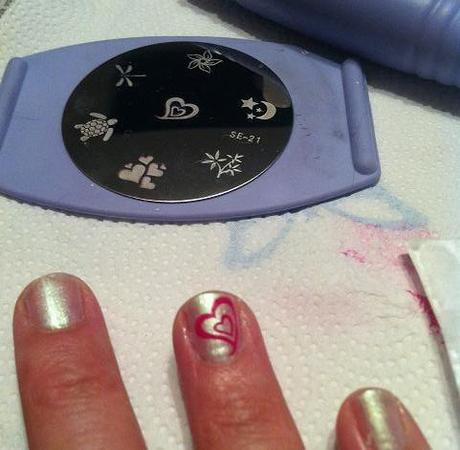 I didn't love the whole nail plates that came in the kit.  Also, I think that I need more practice and better color combinations to make them look great.  The fan design I tried first looked okay but I didn't love it enough to do every nail.  The designs I like best a small and allow lots of the base color to show through. I've heard that the kits sold at Sally Beauty and Rite Aid come with different plates.  I might get one of those.
The nail polish you use is a key factor.  It doesn't have to be expensive or a specific type but it needs to be thicker that most polishes. Trying them out is important.  That's where the paper comes in handy.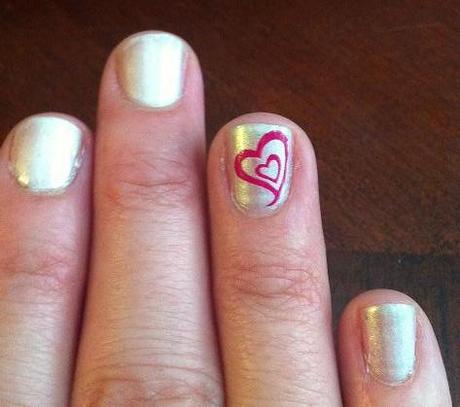 Base color - Sally Hansen Hidden Treasure and Heart - Essie in Foot Loose
I decided to just do one accent nail instead of my whole hand. I like the single heart. It's pretty.
Best Tips from Bloggers
Set up your area and supplies before you start stamping. 
Paint your base color and then a clear top coat.  If you make a mistake you can clean off your nail with a quick swipe and you won't mess up your base color. 
Buff your stamper with a fine grained nail file before you stamp. Just a few strokes.  It will help the polish adhere better.
Use nail polish that is thick.  You can use special stamping polish, older polish or polish with a thicker consistency.
Use a plastic scraper or an old credit or gift card.  It will keep you from scratching your image plate and give you a cleaner swipe.Which leads to a cleaner stamp on your nail. Test out the pressure you use. This will take practice.
When pulling the design from the plate, stamp straight down onto the plate and use firm pressure.
When stamping onto your nail, use a rolling motion to transfer the design.
Let your design(s) dry for a while before painting a top coat.
Only do one stroke of top coat over each design area.  This will create a shield but will help keep the design from smearing.
After the first layer of top coat dries, you can add another. 
The results were good and I'd like to try other designs.  I will definitely be doing more stamping in the future.  I'll be trying other color combos and getting some other plates.
Have you tried nail stamping before?  If you haven't, will you?