I wanted to do something simple, but cute since we've got a nasty virus going around the house and I don't have much energy at the moment.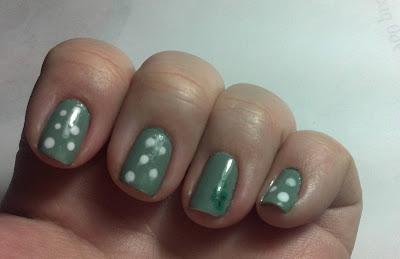 Sorry the picture isn't my usual quality, I only had time to take a quick pic with my DROID right after I did it before running upstairs to take care of a sick little one. If you can't quite see it, that's a 4-leaf clover on my ring finger.
Unfortunately, St. Patrick's Day has NOT been lucky for me so far. A bottle of bath oil that was sent to me for review apparently didn't have a real seal and got tipped and spilled everywhere. I saw it and began cleaning it up and somehow knocked my laptop off my desk onto my foot! As if that wasn't enough, the fall bend the power cord connector and I'm waiting for Hubs to check it out to see if it did any damage inside.
Ugh ... Murphy's Law on St. Patrick's Day is cruel irony :(
I hope the rest of you are luckier than I am today!