After two years of illegal detention in Russia, Ukrainian national hero Nadiya Savchenko has been released in a prisoner swap for two Russian soldiers captured by Ukrainian Anti-terrorism forces. Savchenko, a pilot in the Ukrainian air force, had been captured by Russian soldiers operating in Eastern Ukraine. She was spirited across the border into Russia and charged with the murder of two Russian journalists. Ironically, she was also charged with entering Russia illegally.
Ukraine's President Petro Poroshenko met with Savchenko after her liberation from Russian prison and return to Ukraine. He awarded her the title of the Gold Star of the Hero of Ukraine.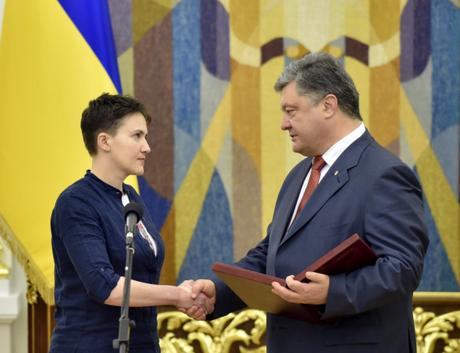 In his remarks the Ukrainian president said, " We have been worrying, praying, working actively and organizing protest rallies for long 709 days in order to make this day come true. The day when Nadiya Savchenko, hope and faith in our victory return to Ukraine. Just as we have brought Nadiya back, we will return Donbas and Crimea under the Ukrainian sovereignty."
Poroshenko emphasized that Nadiya Savchenko " has become a symbol of pride and unbroken spirit". "This is what Ukraine is. This is what a Ukrainian woman is. This is what an officer of the Ukrainian Armed Forces is. We are proud of Nadiya's behavior in captivity of the Russian aggressor."
Poroshenko added, " However, this is only the beginning, because we are waiting for the return of Yuri Soloshenko, Hennadiy Afanasyev, Oleg Sentsov, Oleksandr Kolchenko and many other Ukrainians retained in Russia and the occupied territories."
In a move likely motivated by the desire to see Western sanctions end, Russian President Vladimir Putin pardoned Savchenko prior to her release. In return, Ukrainian President Petro Poroshenko also pardoned the two Russian soldiers, Alexander Alexandrov and Yevgeny Yerofeyev. The two men, who admitted to serving in Russia's special forces, were shown on Russian state television arriving at Moscow's Vnukovo airport. Vnukovo, one of Moscow's three international airports, is where the Russian state fleet is based.

Given the statements of both men about their feelings of being abandoned by the government who claimed that they were operating in Ukraine without Kremlin consent, it is unclear how they will be treated. It is crime in Russia for citizens to acknowledge the war with Ukraine.
The relatives of the two Russian journalists killed had appealed to Russian President Putin to pardon Savchenko. On Wednesday (25 May 2016) the president met with Yekaterina Kornelyuk, widow of VGTRK special correspondent Igor Kornelyuk, and Marianna Voloshina, the sister of Rossiya TV channel sound operator Anton Voloshin to inform them that Savchenko had been pardoned and was being returned to Ukraine.
Putin thanked them for their appeals on Savchenko's behalf. Putin said that their appeal "was an expression of the hope that decisions such as this, motivated above all by considerations of humanity, will help to reduce the confrontation in the conflict zone."