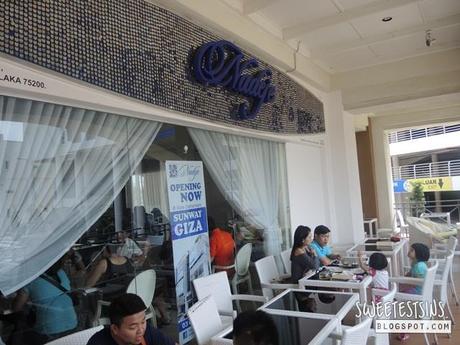 If you are following me on Instagram @yongwei318, you would know that 3 weeks ago, I made a trip to Malacca (or more fondly known as Melaka to the Malay community) over the weekend. It was my 2nd time in Malacca and I got to explore Malacca from a local's perspective this time round, thanks to my PIC, Joanne and her family for hosting me.
When Joanne asked me if there's any place I want to go to in Malacca, I replied, 'Nadeje Cafe' without any hesitation and she went, 'Of course, I guess so since Nadeje Patisserie Cafe is one of the most-visited place in Melaka that is famous for their Mille Crepe hence it is frequented by locals and tourists alike'.
There are a few Nadeje outlets in Malacca itself but we went to the one at Mahkota Parade, located opposite Dataran Pahlawan Melaka Megamall (more fondly known as Pahlawan to the locals). You could head there after shopping at Pahlawan.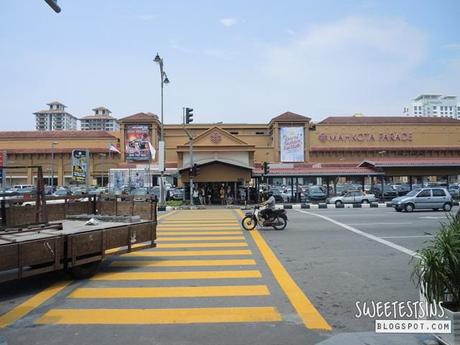 Mahkota Parade
After crossing the road, walk straight until you see the entrance of Mahkota Parade, turn right and you will see Starbucks. Continue to walk straight and you will see Nadeje.
We got there about 1pm on a Saturday and we were the 2nd in queue thus we didn't have to wait to get into Nadeje.
Upon entering Nadeje, this was the sight that greeted us.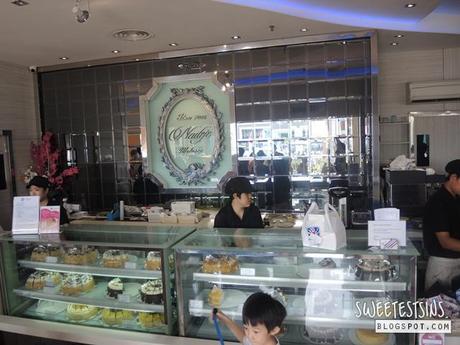 Nadeje Cafe Mahkota Parade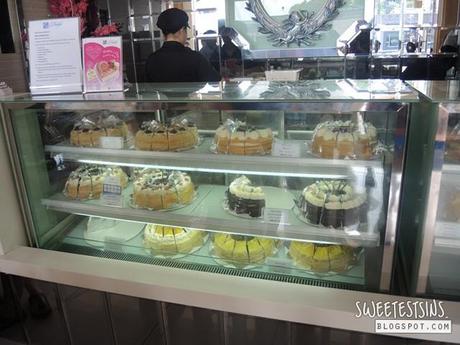 Nadeje Mille Crepe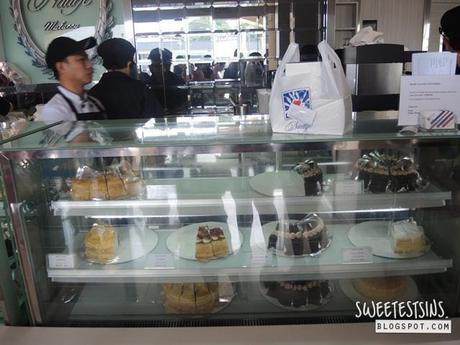 It was almost like a dream come true for a Mille Crepe lover like me! I guess the best way to describe how overwhelmed I felt was exactly how Hansel and Gretel felt when they came across the gingerbread cottage made with other sweets. 
Nadeje actually means 'hope' in Czech!
The sofa seats in Nadeje were perfect as a backdrop to take pictures against but they were all taken. ):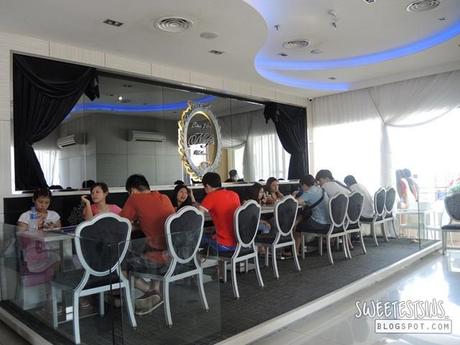 Nadeje has Mille Crepe cake in every possible flavor that you can think of.
The word 'Mille' means a thousand which best describe the thin layer of crepes stacked together with cream in between.
The more popular choices include Green Tea, Banana Chocolate, Double Chocolate, Berry Berry Strawberry, Tiramisu and Cafe Mocha. For a more local twist, try Malacca Mille Crepe made with authentic Malacca Brown Sugar (more fondly known as Gula Melaka).
Do note that not all of the flavours will be available on a daily basis, so it really depends on your luck.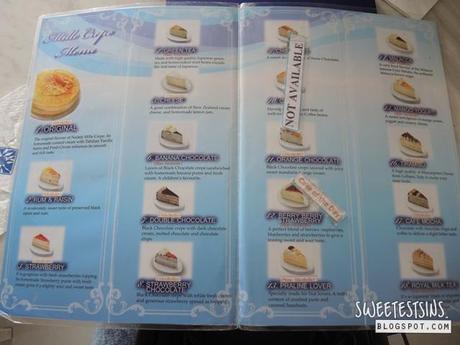 Nadeje Menu
Apart from that, there is a wide selection of drinks to choose from including tea, latte as well as Nadeje Special Drinks which I found to be rather interesting.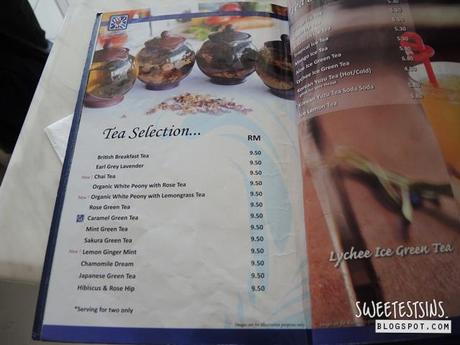 Nadeje Tea Selection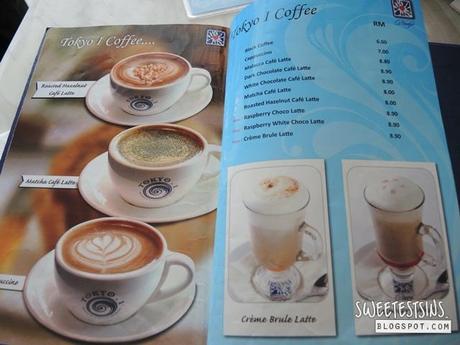 Nadeje Tokyo I Coffee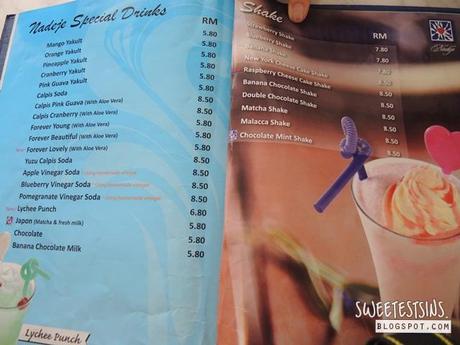 Nadeje Special Drinks and Shakes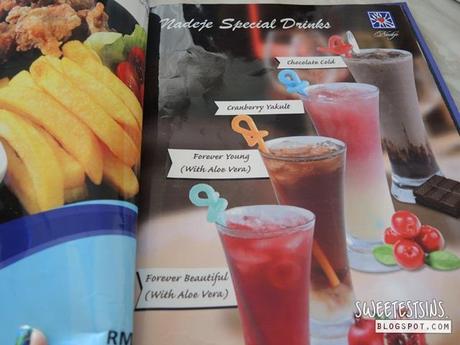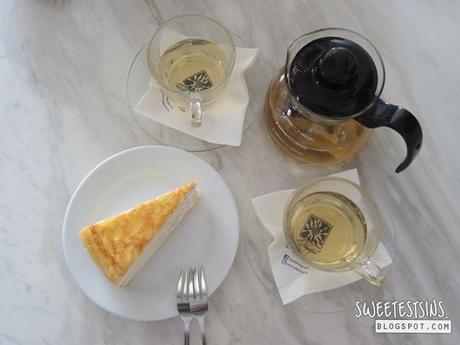 Nadeje Original Mille Crepe (RM9.90) and Organic White Peony with Rose Tea (RM9.50)
Call us boring but we settled for the Original Mille Crepe instead of one of those fancy flavoured ones. I always believe that if you want to know how good a pastry or ice-cream is, go for the original.  If the orginal one ain't good, I doubt the other flavours will be.
We ordered a pot of Organic White Peony with Rose Tea to share and we thought that the floral infusion goes very well with the Mille Crepe cake.  
Here's Joanne, my PIC whom was my tour guide for the day.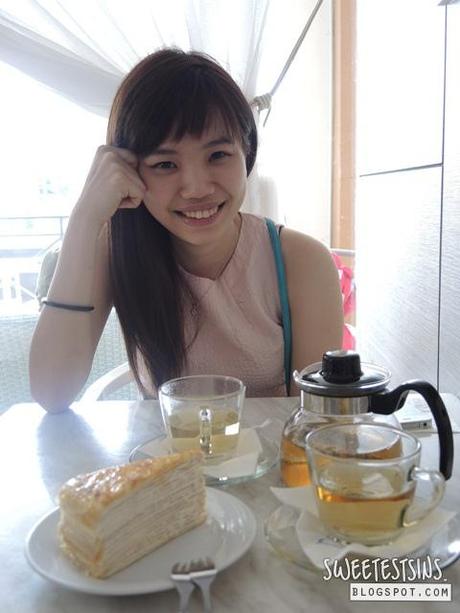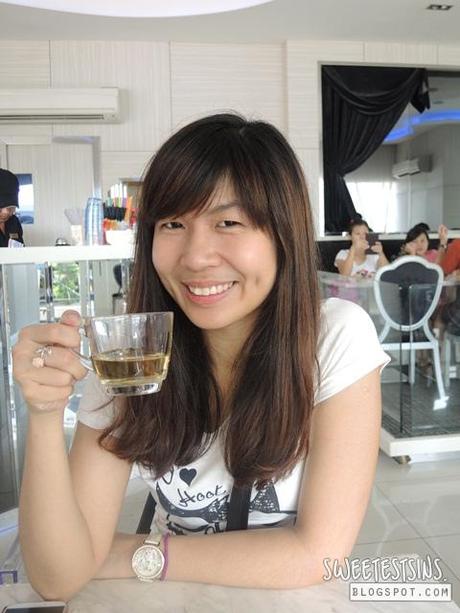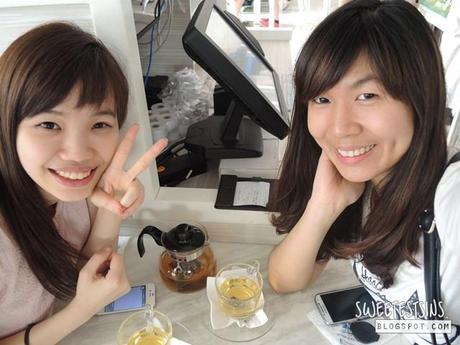 Joanne and me at Nadeje Cafe
While we were at Nadeje Cafe, we saw a few local young couples taking photos of their Mille Crepe along with a small plush toy in the background before uploading it to Instagram and Facebook which we thought was rather interesting.
Most of Nadeje's customers were couples and a few families. It was a good mix of both locals and tourists.
Here is the legendary Mille Crepe of Nadeje made with homemade custard cream with Tahitian vanilla beans and fresh cream.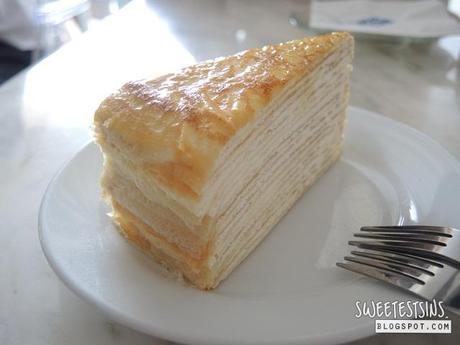 Nadeje Mille Crepe, RM9.90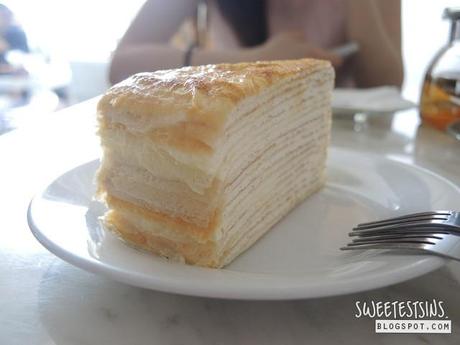 I still can't get how they manage to make the crepe so thin! I tried making Mille Crepe cake once but failed utterly because my crepe was too thick and I felt very sick of it after a few mouthfuls.
Nadeje Mille Crepe cake can be sliced through easily with a fork without making a mess. The crepe layers were soft and moist with very generous smooth vanilla cream filling sandwiched between each layer. As with every other Mille Crepe, Nadeje Mille Crepe has a caramelized top.
Nadeje Mille Crepe has got very generous vanilla cream filling, much more than Lady M's that towards the last 1/4 of the cake, we felt that the cream filling was a tad too much and we end up scrapping away the filling.
For the price and the experience, I think that Nadeje is worth checking out if you are in the area, especially if you are a Mille Crepe lover like me considering that we paid only RM19.40 (SGD 7.76), less than SGD 4 per pax for a Mille Crepe cake and a pot of tea. A Mille Crepe cake at Lady M Singapore would cost you SGD 8 at least.
Check out the sight that greeted us when we left Nadeje Mahkota Parade! We were lucky to escape from the queuing!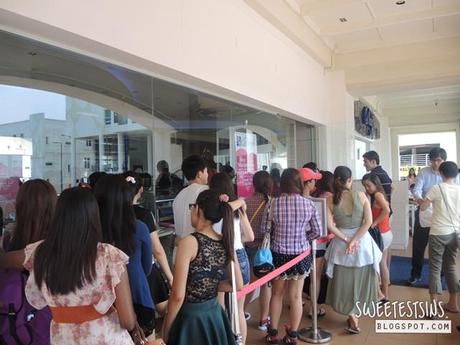 Nadeje Mahkota Parade 
G-23B, EG 4 & EG 5, Ground Floor, Mahkota Parade, 75000 MelakaOpening hours: 11am - 10pm 
+60 6-283 8750
nadeje.com.my 
You might also be interested in:
♥
Lady M Mille Crepes review
Photos featured in this post are taken with Nikon P7800, thank you Nikon Singapore for the opportunity to try out another camera apart from my all-time trusty EX2F!  
--------------------
CONNECT WITH
--------------------
SWEETESTSINS