I've had steak at cafes and restaurants and it tastes so good but I have never attempt to make it at home until recently. So it was time to see if I can make a perfect medium well steak.  
How to make the perfect steak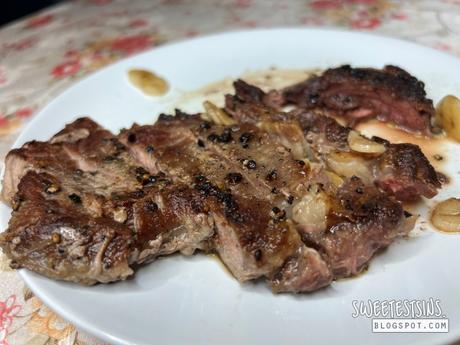 Making steak isn't as hard as you think. All you need is to figure out the right timing, the steak quality plays a part as well. I got
Master Grocer Grassfed Ribeye Steak
from Amazon Fresh. 
My steak turned out pretty good - seared exterior, tender and juicy on the inside. The last slice wasn't medium well and the steak is a little charred but in terms of taste, it is 10/10. 
Ingredients: 
Ribeye steak 
Salt
Pepper
Butter
Oil
Directions:
1) After patting the steak dry with a paper towel, coat both sides of the steak with salt and freshly grounded pepper.
2) Heat pan with oil over high heat before adding steak.
3) Cook steak for 1.5 minutes on both sides. 
4) Switch to low heat before adding a knob of butter and garlic slices.
5) Baste steak by lifting pan to tip it, allowing the fat to pool at the bottom.
6) Use a large spoon to scoop the fat and pour over steak. 
7) Place steak on plate.
8) Cover with foil and let it rest for 20 minutes. 
9) Remove foil.
10) Slice steak and enjoy!
If you haven't already know, I'm on YouTube. Do subscribe to my 
YouTube channel: PatriciaTee
 for videos on beauty, parenting, cooking and life in Singapore.
--------------------
CONNECT WITH
--------------------
SWEETESTSINS