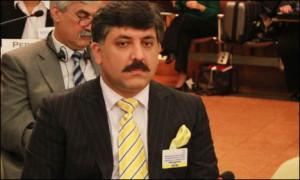 Sheikh Waqas Akram, former minister for education has once again submitted his fake academic certificates along with his nomination papers from NA-89 Jhang. He has represented this constituency for almost ten years after he was first elected as MNA in by-election in 2003 after demise of Maulana Azam Tariq. In 2003,  he defeated Maulana AlamTarambridgeiq who is younger brother of Maulana Azam Tariq.
In 2008, he was up against Mualana Muhammad Ahmed Ludhianvi chief of banned militant outfit Sipah-i-Sahaba Pakistan and won the seat by a margin 0f nearly 6000 votes. He served as Minister for education till 15th march 2013. During his time in Parliament he always criticized PML-N leadership for having cordial relations with leaders of a banned militant outfit. Surprisingly, he joined PML-N on 16th of March 2013 along with his brothers and supporters. Talking to the media on the occasion he said that he will work for establishment of a Unversity in Jhang if PML-N comes into power.
However, more surprise was in waiting. During the last days of parliament it was revealed that his academic qualifications are fake and he does not possess required qualification to become a parliamentarian. Sheikh Waqas Akram responded strongly to the news and claimed that his academic credentials are valid and verified by Higher Education Commission (HEC) and Interboard Committee of Chairmen.
University of Cambridge which is the only institution to administer A-Levels courses in the world declared that certificate presented by Sheikh Waqas Akram is fake and is not issued by University of Cambridge. Upon investigation it was revealed that verifications on degrees is also bogus.
Situation took an interesting turn when Sheikh Waqas Akram once again submitted the same certificates along with his nomination papers from NA-89 Jhang from where he is once again dreaming to be elected. Election Commission of Pakistan is currently persuading criminal cases against former lawmakers who used fake documents to reach inside Parliament and quite few of them has been sent behind bars as well. It is yet to see what action ECP takes on resubmitting fake degrees along with nomination papers.