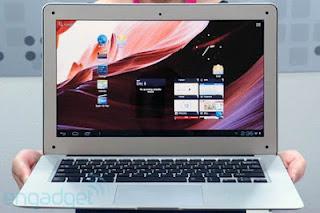 At the Computex show in Taipei, Taiwan, a laptop with a design similar to the Macbook Air and have an operating system Android ICS 4.0 exhibited. N2-A laptop is made ​​by a company called Thread Technology Company. 
This laptop is quite unique and interesting because the operating system on a laptop that is similar to the Macbook Air is using Android ICS 4.0 that is generally implanted into the smartphone or tablet. 

Laptop N2-A has a screen measuring 13.3-inch LED backlight, but it is also embedded processor ARM Cortex A8 1.2 GHz, 1GB RAM, and has an internal memory of 1GB. 

To support a wide connectivity, this laptop comes with USB 2.0, HDMI port, and SD Card slot. 
Battery of 4200mAh and a physical keyboard Full QWERTY should also complement the regular laptop laptop N2-A. 

For the price this laptop is priced at $ 149. 
Isn't cheap enough?
source