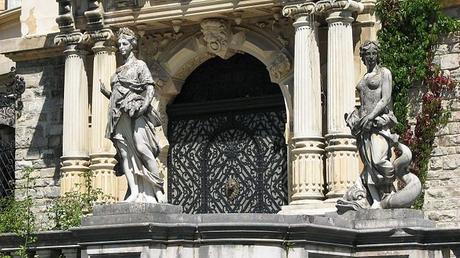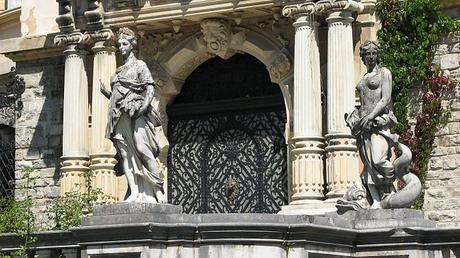 English: Peles Castle (Photo credit: Wikipedia)
Among the approximately 60,000 works of art from the Peles Castle in Sinaia include six Venetian mirrors, made by the masters of Murano Island. With heights of over three meters, the objects they made a long journey to Sinaia on the water, by train and the hay
132 years since the inauguration of one of the most beautiful monuments in EuropeOn October 7, 2015 marks 132 years since the inauguration of Peles Castle, one of the most beautiful and important monuments in Europe, unique in its historical and artistic value. Peles Castle was built at the initiative of Carol I, end of ceasing vast architectural project truly sovereign until his …
Peles Castle, the royal residence in Sinaia, built by order of King Charles I in the period 1875-1914, bears the mark in most of the contributions to Austrian and German architects and artists. Outdoor weather trends in architecture and in the interior, the king caused him to turn and Italian experts, known as accomplished artists and entrepreneurs in construction, with great experience. Raised and educated in an environment where artists were welcome and where art was prized, Charles's preference for homeland Renaissance, Italy, is natural as possible. According to the curators of the Peles Castle, Charles I passionately studied art history in his youth and early 1856, a trip to northern Italy, where he will visit Venice, Genoa and Milan. Later, with Queen Elizabeth will review peninsula during the holidays, but also during official visits: in 1883 in Genoa in 1891 at Monza, in 1892 in Milan, during 1892-1893 at Pallanza. In 1896 traveling to Venice in 1900 in Fiume, and in 1906 at Lugano. Often, during summer, the royal couple frequency famous seaside resort, Abazzia, near the border Austro-Italian, Croatian territory which is today.
Italian Art present in painting, sculpture, There are a few reasons why King Carol I will start from the earliest years of the reign purchase of art works and decorative arts in Italy. Wishing to establish their own collection of old masters, King appeals to a friend, avid collector and a fine art expert, Felix Bamberg (1820-1893). Passionate about fine arts phenomenon, Bamberg attended the big sales of paintings from Paris, London and Italy, from which ultimately benefited the king of Romania. By means of Bamberg, as a collector, not just intermediate Charles acquiring significant works, dating from the fifteenth century, excelling schools in Florence, Venice, Rome, and later works from the XVI century – eighteenth-century Genoese school, Neapolitan and Sicilian. Carol royal collection totals 214 works by European masters, among which more than half is the Italian painting. The Italian painting is represented at Peles copies of famous Renaissance artists: Fillippo Lippi, Raphael, Titian, Tintoreto, admirable achievements of artists from the late nineteenth century, and original works signed by authors and painter Correggio school Florentine Agnese Dolci. Sculpture is represented by Raffaello Romanelli and Aristide Petrilli. Italian ceramic art, marked by the importance of established techniques at European level majolicii technique is exemplified by pots, plates, tea service, created during centuries XVI – XIX. Manufactures of Italy – Faenza, Torelli, Capodimonte, Richard Ginori, Alberto Issel in Genoa etc. They were appreciated by Romanian sovereigns pair. Italian furniture is currently the Florentine cassone, cabinets, chairs and type Savonarolla Lombard, cabinets, chairs Venetian and Tuscan, ranging from the sixteenth century to the late nineteenth century, with an important role in setting ambient neo-Renaissance residence Royal Sinaia.
Mirrors Salon reminds one of the rooms in the Doge's Palace Also, Italian art has become a presence in the architectural design of the Peles Castle, especially after the arrival of Karel Liman in Sinaia , as chief architect in the years 1896-1914. The creations of artisans Venetian Renaissance art treasures, adorned palaces of the nobility of a complex that included Western Europe, from the palace of Henry III, to Constantinople, to the court of Suleiman I the Magnificent. King Carol I, lover and collector endorsed nice, did not remain indifferent to the charm exerted by chandeliers, mirrors, wall lamps and light dishes with elaborate shapes in a wide color range, worked in the Venetian lagoon and especially large parts sparkle, treasure miraculous alchemy born from stone, fire and human creativity, which gives personality lavish interiors, Neorenaştere Italian style, the residence in Sinaia. Incidentally, among the most spectacular collections of Italian art from Venetian glass pieces are Peles, from Murano, whose celebrity manufacture machining technique and coloring parts passed European borders. Thus, Salon Florentin, initially "great lounge" on the ground floor, the main hall for receptions, and the Hall of Honor, the main reception room of the castle and its adjacent corridors benefits from the contribution of decorative chandeliers of forty-two arms and ample mirrors with sophisticated shapes, with gables and profiling, framed by applying light, all adorned with flowers and leaves Mediterranean gardens, executed with astonishing virtuosity of colored glass and engraved medallions representing mythological scenes. In Salon Florentin, cast in bronze doors recall the sumptuous decor and incomparable art of Florence. Doors and frames the imposing marble fireplace Paonazzo famous monument is inspired by the Medici family. Made in the same period plans by Karel Liman, columns or Hall of Mirrors is the result recompartimentării body south of the castle by making reception halls.
How they were transported Venetian mirrors In the decades between the second half of the nineteenth century and the beginning of the twentieth century, art glass chemists evolve through discoveries that led to a huge expansion and the possibility of juxtaposing color variants of techniques, which broadens the range of means of expression. From cristallo, invented in the XVth century by Angelo Barovier and up to the most sophisticated combinations of shapes and colors of the modern era, Venetian artisans have created works of high aesthetic quality and visual variety. In this series belong to the six Venetian mirrors and crystal from Peles columns that adorn the room or hall of mirrors, one of the reception rooms of the castle. Their dimensions are impressive, at least three meters high by five meters, the largest of them, all made of one sheet. Delicate and fragile very real transportation problems have put a challenge even today if we think about distance and structure. According to the curators of the Peles Castle, the mirrors made in Venice for Peles Castle were transported on the Danube by boat in special boxes to Braila, Braila to Sinaia train and the station to Peles Castle Sinaia were transported the hay pulled by oxen. Peles Castle is home to some 60,000 art objects that were either inherited or acquired during the reign or received as a gift from different officials who visited the castle. The castle was designed as a museum and visited, just downstairs from the time of King Charles I. Visitors paid a fee, and the money was used to help the poor by Queen Elizabeth.
Castles in Romania that take visitors back in time
Peles Castle
is one of the most beautiful castles in Romania. Located in Sinaia mountain resort, Prahova Valley, Peles is a Neo-Renaissance castle built in the 19th century. It was built at the initiative of King Carol I of Romania (1839 – 1914). He
…