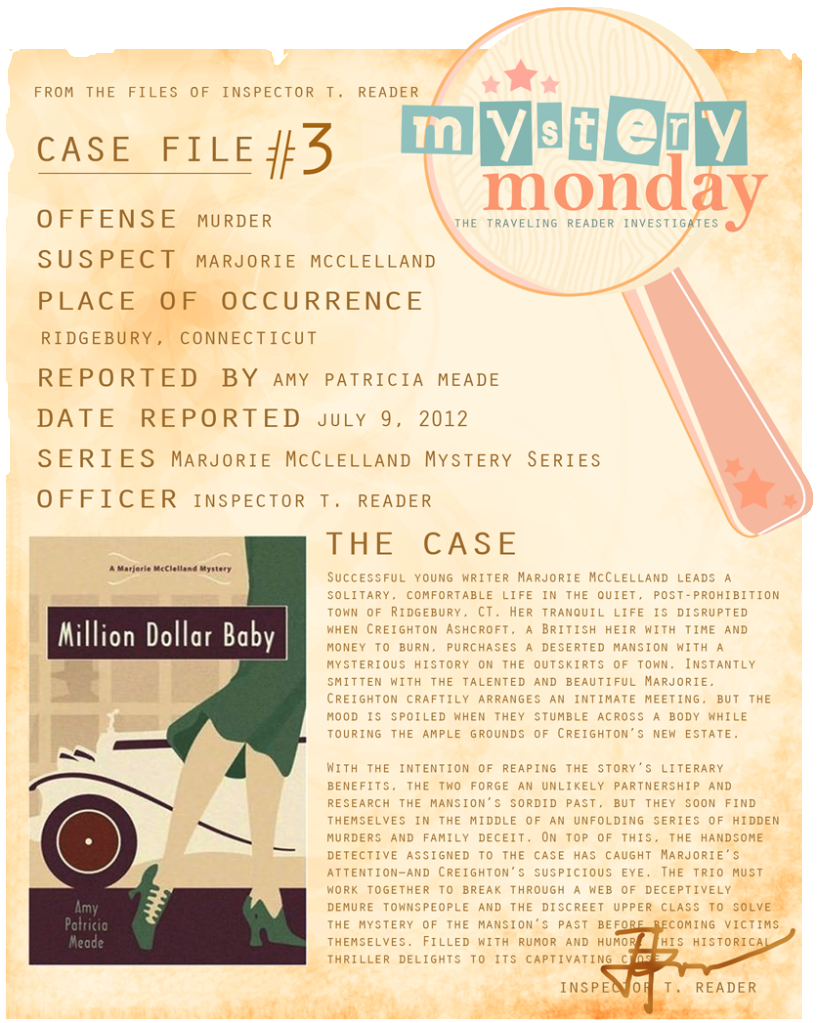 For any reader, it's fairly easy to get sucked into a new series just for the sheer joy of enjoying the characters so much that they cease to exist within the confines of a paperback and start leaping all over the page. And in the case of Amy Patricia Meade's cozy mystery Million Dollar Baby, oddly enough, it wasn't the main female lead – author Marjorie McClelland – that caught my attention but rather the rich, urbane and somewhat eccentric hero and reluctant sidekick Creighton Richard Ashcroft III. But before I get ahead of myself and spew adulation about the funny British debonair, I'd tell you the rest about the book first.
In post-Depression 1930's, Marjorie McClelland has just published her new book Death in Denmark when she met Creighton Ashcroft, who moved in to Ridgebury, Connecticut after leaving his multimillion business in New York in pursuit of some other things in life. Marjorie asked Creighton to be her editor as he "doesn't seem to be occupied much" with the latter agreeing not because he was the altruistic type but rather he finds the blond, green-eyed minx easy on the eyes. When the pair decided to check out Creighton's new crib, Kensington House, the duo stumbled upon the bony remains of someone who might have been murdered in the mansion grounds (making Marjorie immediately suspicious of the British millionaire). Apparently, the famed abode boasts not only of a (describe place) but rather a sinister history of murder or suicide as well (just take your pick).
MY VERDICT:
One word: fun. Because Creighton made it so. He was charming, witty, and a little bit of maverick that hours spent on staking out potential criminals seem like adventures in themselves. To be honest, he made Marjorie tolerable. Not that she was bad; She was actually a colorful character. She's smart, inquisitive and tenacious. However, her being kind of silly at times is something I couldn't really appreciate (it works well in other female leads I've read about though; maybe it's just hard to reconcile that idea with Marjorie McClelland). Plus, I can't believe how she liked the police officer over Creighton, granting that the former is way handsomer than Creighton. For me, it's not just about how handsome the guy is (though that will give you a better first impression); it's much about how he can be fun, smart, kind, and resourceful when necessary. And Creighton's cute, too, not to mention very witty (haven't I mentioned that yet?). While reading, I couldn't help thinking that maybe Marjorie needed prescription glasses in order to see that she and Creighton are more suited to each other (if their easy and at times prickly banter isn't evidence enough). Sometimes, one can't help but think that authors devise these "forks in the road" in order to make these female leads "redeem themselves" eventually.
On the other hand, I'd have to commend Amy Patricia Meade's elegant world-building of the 1930's Ridgebury community. I am not an expert on nor an enthusiast about the Depression era but the feelings evoked in the book somehow communicate how it was like living in a time when money has become a precious commodity many times over (I'd say it's pretty much like how America and the rest of the world nowadays is). People were scrambling to find jobs, even taking a part-time just to augment the family income. And the book was spot on about that. The secondary characters which we meet in this series are rather remarkable in their steadfastness despite the economic crisis they were all facing. In fact, they give a distinctive color to the book and ultimately, the series.
As for the mystery, it wasn't too easy to guess nor was it very hard to infer. I would have loved it to be just a teeny weeny bit complicated but since it has served its purpose then it's all good. I would love to read more about Marjorie's and Creighton's deductive reasoning in the next books of the series though. Nothing like a new mystery to hone an amateur detective's observation (and probably staking out) skills.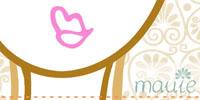 ——————————————-
Mystery Monday Logo and Art © The Traveling Reader, 2011. Book cover image © Amy Patricia Meade and Midnight Ink.
You can find out more about this book and the rest of the series on:
Series Info – Marjorie McClelland Mystery Series
Author's Website – http://amypatriciameade.com
Author's Blog – http://amypatriciameade.com/homepage-fade-slider/blog/
Twitter – @amypmeade
Goodreads – Amy Patricia Meade on Goodreads