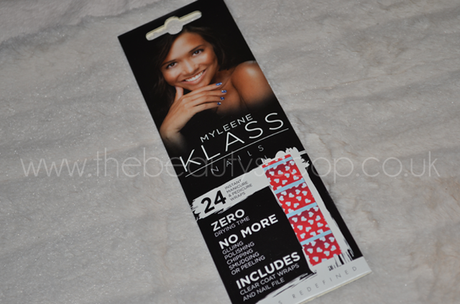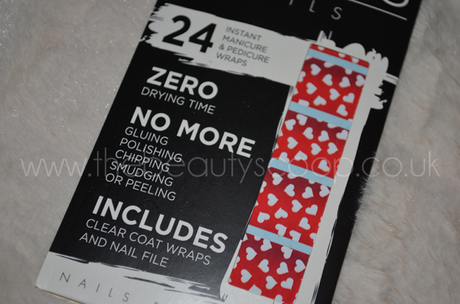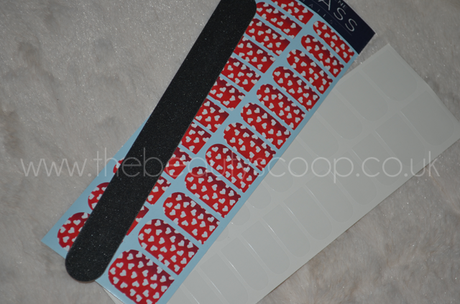 The pack contains a nail file, and a clear sheet of stickers too.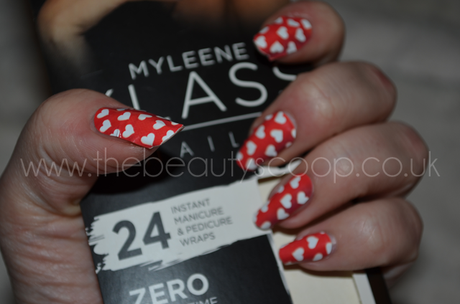 These were meant to make up my Valentine's day manicure, and I reaaaallly wanted to love them, but unfortunately they just don't work for me or my nails. I've had these kinds of things before, and honestly I've never had this much trouble with them.
For a start, they were too large for my nails, I really don't know who would have a thumb nail as large, or as wide as the biggest sticker in the pack, and whilst I know my nails are quite petite, I don't think they're so small that they wouldn't be catered for within a set of these stickers.
They say these can be used on fingers or toes, but in my opinion they should really make a separate pack for toes so that they can concentrate on getting better sizes for each, rather than trying to cram it all into one pack.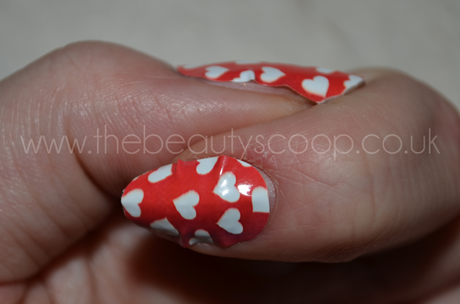 The stickers also didn't have enough stretch or flexibility in them to cater for my nails that have quite a curve to them, which meant that the sticker creased and folded at every opportunity, it hasn't even stuck down at all in some places because of this (and it's clearly visible too). This ultimately means that the nail sticker isn't properly stuck to my nail, isn't water tight and will probably fall off at the first trickle of water.
I also found that this caused the sticker to catch on my hair, even getting some stuck in it at one point - now these are meant to last for a few days and I can't imagine how much hassle it would be to have to do my hair on a daily basis with these catching on my hair in the process.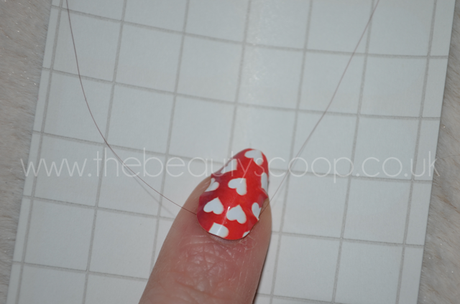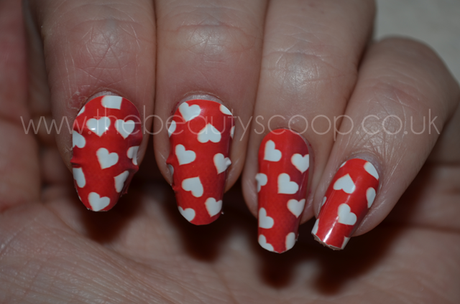 As you can see, it looks like I've literally just stuck any old stickers onto my nails - not a good look, and not something that I am used to with these as I've previously only had good experiences with them (I'm looking at you, Kooky Nails)!
Surprisingly it was my little finger that turned out the best (I say surprising because that was the first nail I did, and also because it's my smallest fingernail, and one that has a fair amount of curve to it too), although it wasn't without fault.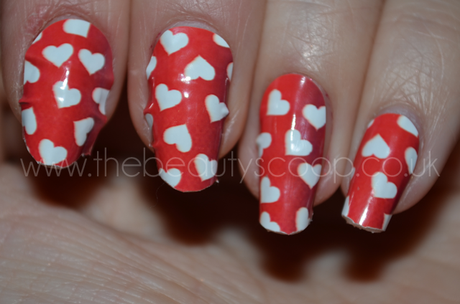 I'm wondering if I have a faulty set, or whether others have had similar problems with these as I surely can't be the only person in the world with dainty, curvy nails? I'm really disappointed as I was also sent a fabulous looking black and white polka dot set that I was really looking forward to wearing, not so much now though.
If you have fairly flat nails, I don't
think
 that there'd be such an issue as they can be cut down to size if they're still too big - although it would be a bit of a faff! I did like that these nail stickers came with a separate sheet of clear stickers to wear over  the patterned ones to protect the design and stop it from fading. Unfortunately I never got that far though.
Have any of you tried these before?
PR Sample - Views & small nails are my own!
This post originated at www.thebeautyscoop.co.uk