I'm sure you've all heard that Michelle Phan, one of the more popular YouTube gurus, has started a beauty subscription service called MyGlam. I began following MyGlam as soon as I heard about it because the thought of a once-average makeup lover handpicking beauty products peaked my interest. I have to admit, I've been somewhat discouraged by many of the beauty sample services out there and I'm dying to find one that doesn't leave me grumbling after opening it.
MyGlam sent out their first bag in December. Though I'd set up an account and tried to subscribe, somehow I ended up missing the December bag, which went very quickly. I kept my eyes peeled and the second more subscriptions opened I signed up and made it in for the January bag! I got mine last week while I was sick, but not having the energy to do a review and not wanting to cover everything with this nasty virus, I waited until now to share it with you all.
January MyGlam Bag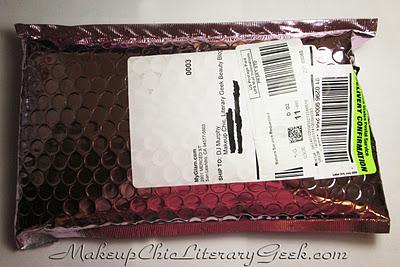 I don't know what the December MyGlam bag came in, but I love the flashy pink shipping envelope January's bag came in! Attention to detail always catches my eye. To me, this is glamorous packaging! The second Hubs put this in my hands I noticed how heavy and jam-packed it was and I was extremely optimistic that I'd love its contents.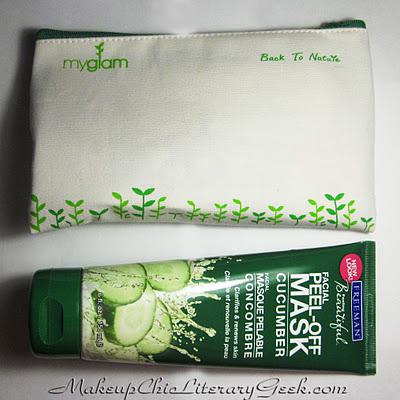 This is what was inside that lovely pink packaging. And yes, that is a full-size tube o the peel-off mask!
The January MyGlam Products
According to the January message, the theme for January was "back to nature" aka natural products. I have to admit, I was so excited to see this as a theme right off the bat! You probably already know how much I prefer natural and chemical-free products. Once I saw the list of products included this month, I was a bit disappointed in Michelle and her team. To me, if you're talking natural products even a natural-product-newbie knows that natural does not mean chemically products that include a few natural ingredients for show, it means products composed of natural ingredients.
With such a huge selection of amazing natural cosmetics companies out there, I really think Michelle and her team could have chosen better when it came to the majority of the products I received. It's important to note, MyGlam does not have separate sets of products that go out for individual subscribers. Everyone received the same products this month with the exception of TheBalm Shady Lady shadow
or
TheBalm Hot Ticket nail polish. I actually don't mind, but some of you might. I'm going to list the products I received below and discuss why some of them don't quite belong under the theme "back to nature" in my opinion.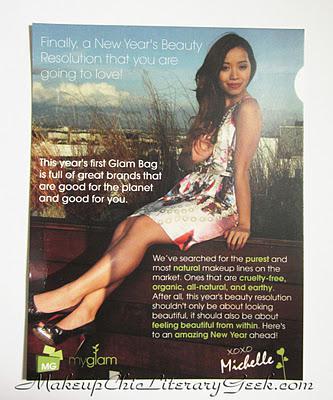 Here's the postcard inside the January MyGlam bag describing the theme.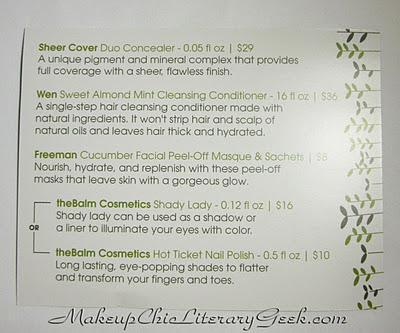 Here's the list of products in the January MyGlam bag. I received a Shady Lady shadow, not the Hot Ticket polish.
Freeman Peel-Off Cucumber Mask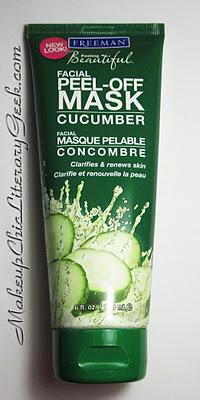 You probably recognize this as a drugstore skincare brand available at many retailers. The closest stores to me that carry Freeman according to their site are The Christmas Tree Shop and Bed, Bath & Beyond.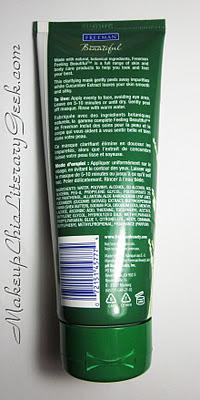 You can click on this picture to see the ingredients in this product.
"Back to Nature" or Not?
This is undeniably
not
a natural product! I'm not sure you could get any further from natural products as a matter of fact. This facial mask contains ingredients like fragrance, parabens, etc. Those are all huge red flags to other natural-ingredient lovers like myself. I am so confused as to why Michelle and her team would choose a product so full of synthetic ingredients viewed as harmful by the more natural community. While I didn't subscribe to MyGlam specifically expecting natural products, in my opinion when you create a theme a little bit of research should be involved to ensure you stick to it. The ingredients aside, I did give this a try and found my skin reacted really badly to it. I have very sensitive skin and find that anything that is super synthetic in nature tends to destroy it. I wouldn't suggest this for anyone with sensitive skin. It left my skin super dry, rough, and irritated. I only left it on for the suggested amount of time.
Sheer Cover Concealer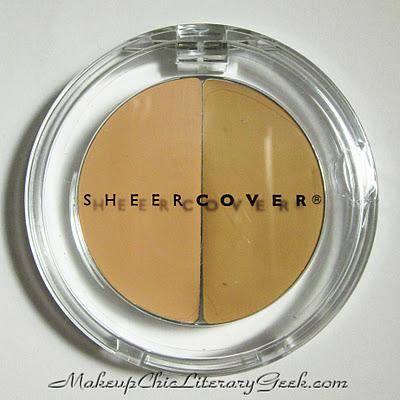 You may recognize this from one of the home shopping networks (can't remember which one). SheerCover has a number of different face products from concealer to foundation.
"Back to Nature" or Not?
I was excited when I heard a rumor that a concealer would be included in January's bag, but once I saw this I was a bit discouraged. SheerCover concealer duo is anything but natural. This formula's ingredients (which are incredibly hard to find and not openly listed on SheerCover's site) include the following:
Sheer Cover Duo Concealer:
Caprylic/Capric Triglyceride, Titanium Dioxide, Octyldodecanol, Candelilla Wax, Carnauba Wax, Jojoba Wax, Polyethylene, Dimethicone Tocopheryl Acetate, Allentoin, Ascorbyl Palmitate, Propylparaben, BHT.
May contain: Iron Oxides.
So as you can see, this includes a form of silicone and a paraben. Not so natural yet again. :( Also, my duo came in Light/Medium. Was there a darker duo sent out to other subscribers? I don't remember being asked my complexion when I signed up, but it's been a little while. This wouldn't work for someone with a very deep complexion.
TheBalm Shady Lady Shadow in Luscious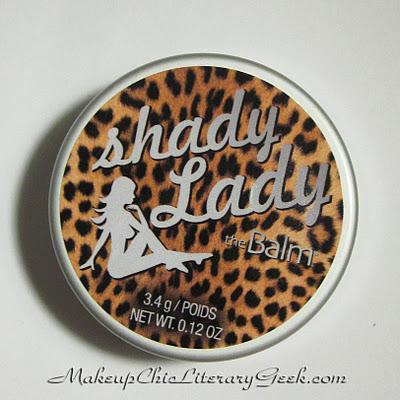 For those of you that haven't used TheBalm shadows yet, you're missing out! I was excited to hear TheBalm would be providing products for January's bag.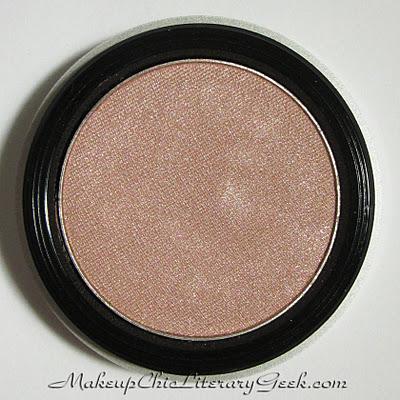 TheBalm Luscious Lani - TheBalm is super generous when it comes to the size of their shadows. The individual shadows (priced at $16 retail) are a whopping .12 oz (it should be listed as oz not fl oz in the list as this is measured in weight not volume) compared to MAC's .05 oz pans. They're huge! Luscious Lani is actually very similar to The Older Woman from TheBalm & The Beautiful palette--a dupe in my opinion. Luscious Lani is also only a teeny bit less pink than Stubborn from the Nude'Tude palette.
"Back to Nature" or Not?
Again, I want to reiterate how much I have fallen in love with TheBalm in the last year. The shadows are buttery-soft/smooth, easy to blend, and well-pigmented. That being said, the shadows just aren't natural. It was a little difficult to dig up the ingredients since they're not listed on the TheBalm's site, but here they are for Luscious Lani:
Ingredients:Mica, silica, polyethylene, synthetic wax, PTFE, isoeicosane, polyisobutene, dimethicone, sodium dehydroacetate, iron oxides CI 77491, CI 77492, CI 77499. May Contain: Boron nitride, kaolin, hydrogenated lecithin, caprylic/capric triglyceride, titanium dioxide CI 77891, Carmine CI 75470, Manganese Violet CI 77742, Ferric Ferrocyanide, Bismuth Oxychloride CI 77163, Chromium Oxide Greens, CI 77288, Ultramarines CI 77007.
As you can see, not all natural. They include synthetic wax, a synthetic resin (polyethylene), and silicone, etc. Again, amazing shadows (seriously, try them now!), but not on my list of natural cosmetics. 
Wen Sweet Almond Mint Cleansing Conditioner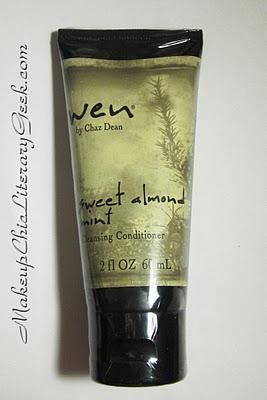 Wen by Chaz Dean - If you've ever watched infomercials late at night or if you're familiar with one of my favorite reality tv shows--Flipping Out--you've heard of Chaz Dean and his natural hair cleansing conditioner.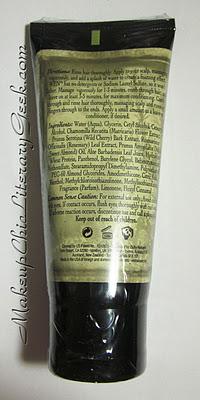 If you click on this image you can see the ingredients a bit better.
"Back to Nature" or Not?
Last but not least, of all of the products included in this "natural" bag, this is the only one that fits with the theme. While it does include synthetic fragrance (I hate when they ruin a fabulous product with synthetic fragrance) the majority of the ingredients are completely natural. Also, this "cleansing conditioner" does not include SLS or detergents of any kind--so much better for your hair! I'm looking forward to trying this. I have extremely thick, textured hair and a very sensitive scalp, so I'm always looking for better hair products!
Final Thoughts
If you hadn't guessed, I'm still a bit mystified as to how any of these products (with the exception of Wen) could have been chosen by Michelle and her team for their natural bag! There are so many amazing natural companies. There are obvious choices like mineral makeup companies, less obvious choices like Peacekeeper Cause-metics

(who donates all after-tax proceeds to organizations for women's causes), or even natural skin care companies like Weleda (one of my favorites!). And those are only a handful off of the top of my head. I feel as though I was so thrown off by the lack of natural products in this natural bag, I couldn't enjoy the products as much as I might have otherwise. I guess it drives me a little nutty because so many companies do what MyGlam did accidentally--take synthetic products with a couple of natural ingredients thrown in and call them natural because of the presence of those few ingredients. 
My issue with the theme aside, I like the products I received with the exception of the Cucumber mask, which did mean things to my skin. I loved that MyGlam chose real cosmetics over random hair oils and soap! I also can't believe how large the actual products I received were. We're talking full-size! Keep in mind, MyGlam advertises that it sends 4-5 full-size or deluxe-sample-size products every month. While other companies promise 5-6 products, I have yet to find another subscription service that sends out all full-size products in one month--it's worth only getting 4 products in your bag.
All in all, despite the one major issue I had with my bag, I am very excited to see what MyGlam brings to the table in the future. I think it has the potential to be one of the most popular beauty subscription services if MyGlam can maintain its focus on makeup and beauty products that are hot now. I also hope that we don't see the size of the products go down as subscription numbers go up. Time will tell! As of right now, I highly recommend giving MyGlam a try if you've been looking for a new subscription service. You can do so at www.MyGlam.com.