Many of my readers might know that i have converted a room in the house to a new office space for the design business and also to serve as a hub were i can write blog posts and plan projects.
It has taken a while to get it to the point i have now and the office is far from being finished, but i thought i would give my readers an update of my workspace at the moment: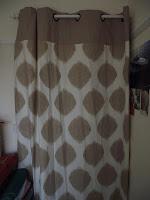 NEW DOOR:
Only today have i just got a new door for the office
(well its not a door but i acts like a door)
we removed the old door as it was not that good and it took up to much room, so we decided to put a curtain up instead as it would not take over too much space...
Cost:
Pole/ Fixings £10
Curtain £35

NEW WALL LAYOUT: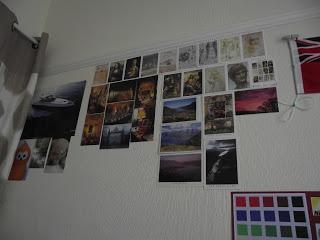 I have moved round the contents of my wall of inspiration and added  2 new boards that i have been using for graphic design ideas, these have helped a lot as i have had a rise in the amount of work recently and need to create more and more stuff for clients.
Having a dedicated space to design work can help a lot and bring so many more ideas and concepts that will help you in the long run.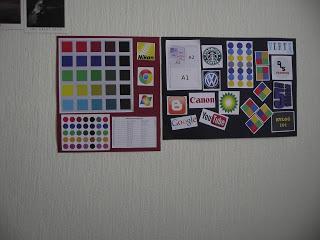 Top tips to anyone who needs to get inspiration for designs:
1. Surround yourself with colour 
2. Look at work that has been successful and look at how they created that product.
3. Never throw away anything you have made as it may be helpful in the future.
4. Read books and talk to people as it can help to gain ideas and concepts that will help with your design work.
LETTERS: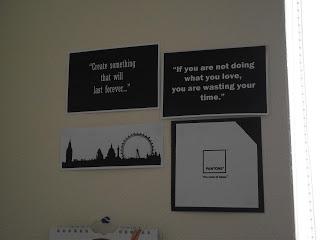 Typography is something that can unlock ideas and
display so much more than an image or photograph,
How a simple font can be used to show something in design is a amazing and it can be used in such a powerful way in modern design.
I have several books on the subject and use many quotes from history to give me inspiration when i need to start designing a product or graphic.
So the office is taking shape slowly and i am going to be doing a few more alterations to the furniture in the next few weeks so i will post another update soon.
Thank you for reading and supporting my blog. Don't forget to check out my other blogs on the new top menu on the main blog site.