Hello everyone,
I hope you all are doing well. Today I am going to share with you my current winter skin care routine with products I am using - all from BIOTIQUE. Since the weather has changed and the atmosphere has become cooler my skin turned dry overnight which otherwise isn't common for me as I do have oily to combination skin. As the season changes it is also necessary to change one's skincare routine and use products which are best suited for the current skin condition. Since my skin turned relatively dry with dry patches around my mouth I was looking for a good moisturizer and other products in totality which form a proper skincare regime for winters.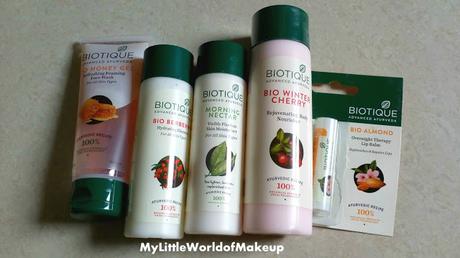 My Winter Skin Care Routine with BIOTIQUE
The products I have been using and I still am are from BIOTIQUE and I will sharing the product details and my skincare regime steps in this post.Please keep on reading to know more.....
I follow these steps everyday for best and effective results listed below:Bio Berberry Hydrating CleanserPRICE:  Rs. 175/- for 120MLThis product is a refreshing, non-foaming makeup remover and  is blended with berberry, red sandalwood, fenugreek, lodhra bark and almond oil to dissolve makeup and grime and leaves the  skin feeling soft and smooth.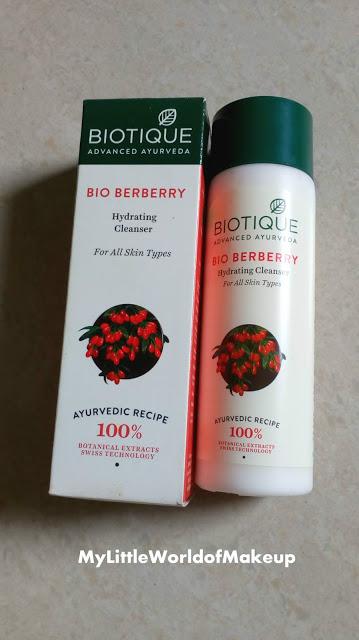 Biotique Bio Berberry Hydrating Cleanser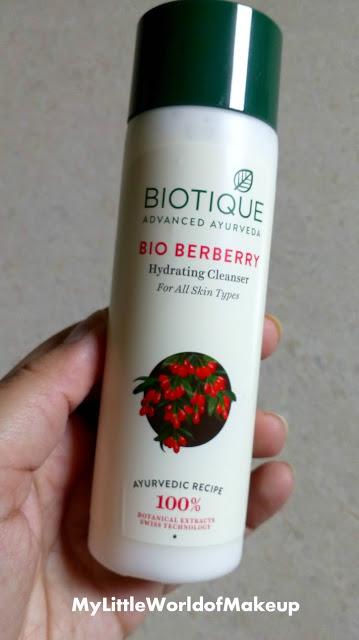 Biotique Bio Berberry Hydrating Cleanser
If you are like me and you apply makeup then this step is a must. The cleanser comes in a plastic bottle with a screw cap lid and has a small opening which dispenses the required amount of product.
I use a cotton round or you can use a makeup remover pad and squirt some cleanser onto it. I use it on my eyelids first to take off my eye makeup and it does a decent job. Make sure you do not let it go in your eyes or it may sting like the case with most cleansers.I then use it all over my face and wipe it off with cotton. It effectively removes all my makeup without any irritation and I have not faced any discomfort using it.It has a pleasent smell and does a good job overall in cleansing the face. Now if you are someone who does not use makeup, you can still use it as it cleanses the skin of any dirt,grime and pollution.After this I move on to the next step.
Bio Honey Gel Face Wash
PRICE:  Rs. 119/- for 100ML  and Rs. 179/-  for 150ML
This fresh-foaming, 100% soap-free gel face wash is blended with pure honey and extracts from the bark of the arjun tree, euphorbia plant and wild turmeric. It dissolves makeup and impurities, softens skin and helps lighten the complexion.
Biotique Bio Honey Gel Face Wash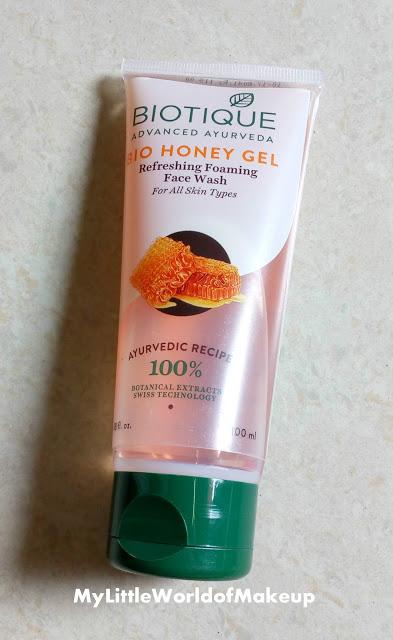 Biotique Bio Honey Gel Face Wash
The face wash comes in a squeeze tube with a green flip cap to dispense the right amount of product.However since the consistency of the face wash is liquidy you may end up squeezing more product hence one needs to be careful.The Face wash has a liquid gel like consistency and smells nice and floral which is the typical scent in most of Biotique products.You just need a drop everytime as it foams very well. It takes off all dirt from your face and cleanses the pores as well.I felt the face wash is hydrating but can also make your skin a bit dry and hence using a good moisturizer is a must which I am going to tell you about next.Overall I would say this face wash does a good job as a face wash and in my opinion is best suited for oily to combination skin throughout the year.
Bio Morning Nectar face LotionPRICE: Rs.199/- for 120ML This is a nourishing and brightening lotion is blended with pure honey, wheatgerm and seaweed. It replaces natural oils and replenishes lost moisture. Softens and brightens skin for a noticeably fairer complexion. Protects skin with SPF 30 UVA / UVB sunscreen.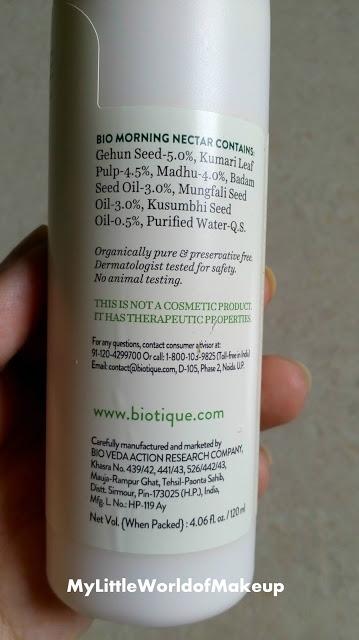 Biotique Bio Morning Nectar face Lotion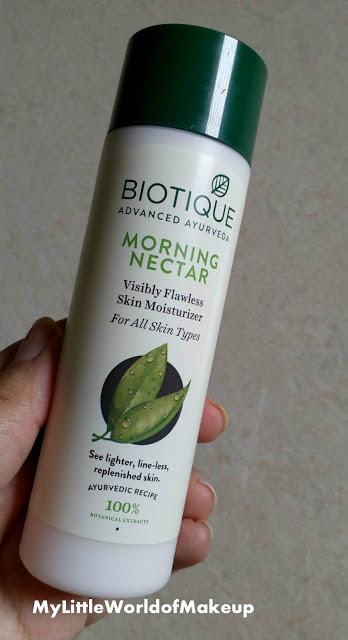 Biotique Bio Morning Nectar face Lotion
This face lotion is nothing but a moisturizer which can be used after you use a face wash.It is essential to always moisturize your face whether it is winter or summer. I generally use Aloe vera gel otherwise but now that my skin is dry I needed something which is hydrating and nourishing. I am happy as I found this product and it suits my skin the best. It has a lovely floral scent and absorbs well into the skin keeping it soft and moisturized. I feel this moisturizer is best suited for winter skin.

Bio Winter Cherry Body NourisherPRICE: Rs. 180/- for 190MLThis nourishing lotion is a blend of pure winter cherry, sunflower, safflower, musk root and almond oil, to supply moisture and nutrients crucial to body health and vitality. Soothes, softens and revitalizes even weather-roughened body skin, as it promotes elasticity, suppleness and moisture balance.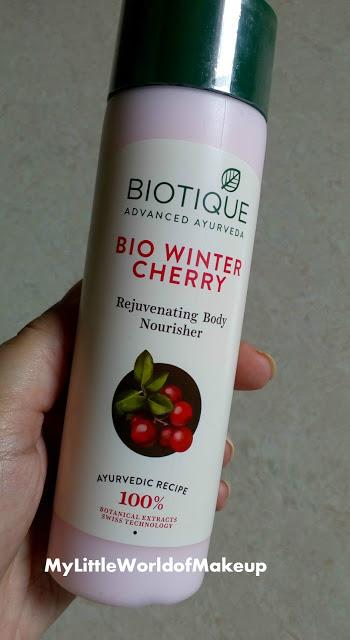 Biotique Bio Winter Cherry Body Nourisher
The body lotion comes in a plastic bottle packaging with a screw lid and the opening dispenses the right amount of product.It has a unique cherry cum floral combination of scent.The lotion is pink in color and does a great job of moisturizing the body. I use it before I sleep on my hands and especially legs which are dry most part of the year. It does seep well into the skin when massaged and leaves a moisture layer keeping it soft and shiny. The best time to use it is post bath when the body is a bit damp that way it will absorb well into the skin.Overall I love this body nourisher and recommend it to everyone.

BIO ALMOND Therapy Lip BalmPRICE: Rs.149/- for 5gm stick This soothing balm deeply nourishes and fortifies lips. Tone, texture and firmness are unproved overnight.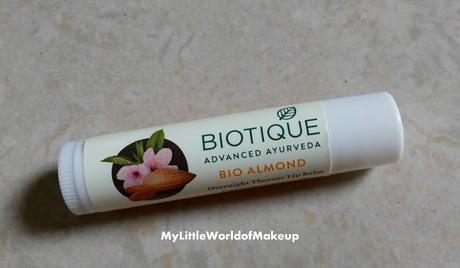 Biotique BIO ALMOND Therapy Lip Balm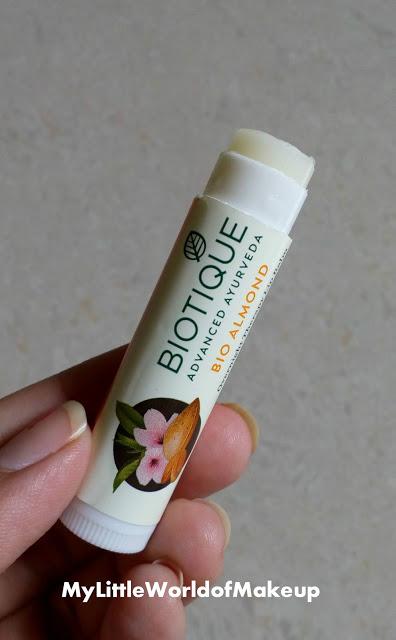 Biotique BIO ALMOND Therapy Lip Balm
I cannot tell you how many lip balms I have used in my lifetime especially after blogging since last 5 years  and there are a handful I can trust and will reach out to. As you may know if you have been reading and following my blogs that I do like clear lip balms any day to tinted ones.I always look for one which is moisturizing and feels smooth on my lips.This lip balm instantly became my favorite it is neither too thick nor thin but perfect on the lips and feels smooth when you rub your lips together which is a sign of a good nourishing & moisturizing lip balm. Almond is the best when it comes to lip moisturization and is a key ingredient in this lip balm. My lips are soft & chap free ever since I started using it and there are no complaints whatsoever. This is one of the best I have tried and a perfect lip balm for winters, do try it right away I highly recommend.All the Biotique products are exclusively available at www.biotique.comNow that I have shared about my skincare routine I am sure you may be convinced that these Biotique products are amazing & worth trying for sure. The products are 100% vegan and ayurvedic and hence there is no chance of side/ill effects on the skin. I have used Biotique products in the past as well and they fared well for me.If you are looking for a new winter skincare routine/products to try out for your skin this winter, this is the brand you should opt for and you won't be disappointed also they are budget and pocket friendly.You can read my other reviews on Biotique products HEREI hope this post was informative and useful to all those reading. Comment below with your views I would love to hear your thoughts about your winter skincare routine as well.Until next time... Take care xoxo

P.S
: This is not a sponsored post.The products were sent to me for consideration but that does not change my opinion about them.