I'm back with the second installment of my winter essentials series and today I'm talking you through my winter skincare routine! The change in weather can really take its toll (as I seem to be saying so much recently) so it's important to be kind to your skin in terms of moisturisers and cleansers.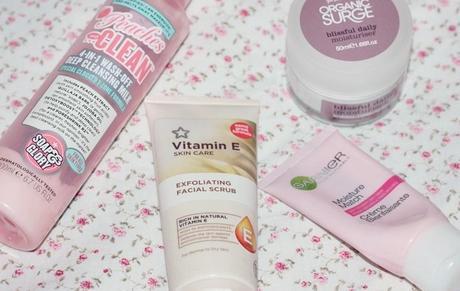 Keeping your skin clean and free of makeup overnight is important no matter what season it is, so any cleanser is great as long as it works well for your skin type. My cleanser of choice this winter is the Soap & Glory Peaches and Clean Deep Cleansing Milk which has been an on-and-off favorite for months, and the reason why I love it so much is that it leaves my skin looking so fresh and bright. It also has the nicest peach scent so it's an absolute must-have right now.
The cold weather means that your skin can get extra dry and flaky, and that's never a good look! I turn to my trusty Superdrug Vitamin E Exfoliating Facial Scrub when I need to smooth my skin out and also to keep any blemishes and blackheads at bay. This scrub is quite bitty which makes it great for removing dry or flaky skin and I love how clear it leaves my skin feeling after use.
When it comes to the winter months and colder weather, I can't stress enough how important a hydrating moisturiser is for your skin. My skin is fairly dry so I always need to use a rich moisturiser and the Garnier Moisture Match Goodbye Dry Moisturiser has been my cream of choice. I use this heavier moisturiser as my night cream as it does a great job of hydrating my skin overnight, although my oilier t-zone means that I need to avoid this formula during the day or else I'd need to deal with a super shiny face.
My winter day cream of choice definitely has to be the Organic Surge Blissful Daily Moisturiser as the lighter formula does a fab job of keeping my skin hydrated while still keeping the shiny t-zone at bay. Dry patches used to be an issue for my chin and cheeks but there's no need to worry about this now that I've got a proper skincare routine in place, hurrah!
What products do you have in your winter skincare routine?