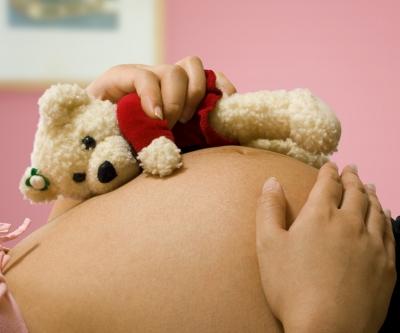 April 19th 2009 – my due date. Not long after 4am I woke with my waters leaked on the bed. I woke up my husband to tell him, but told him to go back to sleep and I would call him if I needed him. (My first labor I had a lot of contractions at home before it went into established labor so thought I had plenty of time). I rung my mom to let her know what was going on, and got out my ball to have a bounce, the contractions felt more like braxton hicks, they weren't painful at all, and they were irregular, so still thought i had plenty of time.
I went to the toilet and had awful IBS (or so I thought) the pains I had felt exactly like IBS, was only after birth I had realised it was my clear-out. I rung my mom so I had someone to talk too and she suggested ringing the labor ward to see what they would say. At this point my contractions were anything from 4 minutes apart to 11. 6am rung in, to be asked to go in to get checked over.
I woke up my husband and my mom came over. When my mom got here about 6.30am she said I needed to go to the hospital there and then. The husband wanted some breakfast, only to get a telling off by my mom.
I got in the car and the contractions were tighter and I couldn't sit down because of the pressure. We sped to the hospital; I got out of the car, went onto the car park floor on all fours and had a contraction where my waters went fully.  Luckily a midwife was just starting her shift and helped me up.
I had another contraction just outside the entrance doors. We made our way into the lift; just as the lift doors opened I had another contraction and went onto the floor on all fours. More of my waters leaked and I could feel something between my legs, this is when I clicked that my baby was coming.
I walked into the first room and a midwife pulled down my trousers and helped me onto the bed. I had one more push and her head was out.
All I remember next is sitting there on the bed with my baby's head out; I took off my hoody and had a sip of water.
I handed the cup back to my husband and they pressed the emergency buzzer, I couldn't believe I hadn't noticed things weren't right and I was sipping my water. My bed got laid flat; I had two midwives pulling my legs back, one at the business end and one applying pressure to my belly.
A midwife yelled to me," baby is just a little stuck I need you to push as hard as you can"
I pushed, I cannot remember how many times and it felt like forever, I pushed as hard as I could. I remember she came out and I didn't hear anything, I asked why she wasn't crying and they said she was ok. I knew she wasn't – she wasn't crying.
A rush of doctors came in all crowding my baby, I couldn't even see her
I knew then that something had gone wrong but I had no idea what
The midwife said her heart was beating she just wasn't breathing
I sat in silence a bit dumbfounded, a bit shocked – praying
I was still trying to take in that I just had my baby and then she let out a gargled cry. I was so happy, I hadn't a clue what just happened but she cried. Words can't explain the rush of relief that washes over you. I had cuddles with her and sat on the bed waiting to be stitched. She was born at 6.53am and weighed 8lbs 5oz.
A midwife explained to me that I had experienced shoulder dystocia, babies shoulder had got wedged under my pelvis.
It wasn't until I got home that I knew how lucky we both were. I dread to think if I was 2 minutes later to the hospital what would have happened.
I am just thankful that the midwives were so quick thinking on my arrival as they saved my baby anything happening.
This inspirational post was written anonymously by a mom who is a member of my Facebook mums group. I have full permission to share her story. If you can relate to this post and would like to share your own anonymous post please contact me.

You can read many more Inspirational Stories of hope and courage on the blog.

You could help us share the blogs love to helping others by sharing via the social sharing buttons bellow.