Planning for a holiday abroad can be a chore in itself, trying to remember everything you need whilst keeping things organised and in order can be rather stressful! I'm one of those people who makes lists, that way I can keep track and just cross things off as I go, rather than attempting to recite everything and probably ending up forgetting my passport and keys! I've pieced together my 5 holiday essentials, both for me & for Abbie, here's what I chose!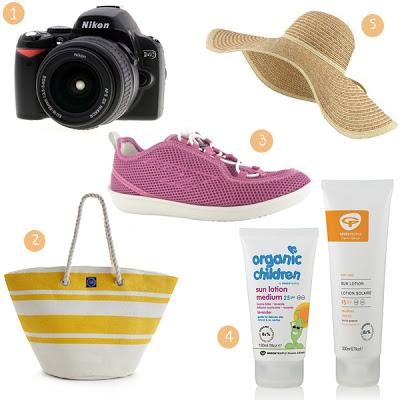 1. Camera
Capturing holiday memories is essential, take a few memory cards with you too, it's better to take 'too many' than not enough! Especially if its uour little ones first time abroad too, you won't want to miss a thing!
2. Beach bag
Something light but big, it doesn't have to be very organised, just able to fit everything in!
3. Pool shoes
I'm always so scared around pools about falling over, flip flops are great for the summer but not very practical when it comes to being wet! Investing in some pool shies will keep you from having an embarrassing falling over moment!
4. Sun Lotion
I tend to burn in the sun, then peel, then I go a nice shade of brown, even with loads of sun lotion on! I know a lot of people don't want to wear it as they think they won't tan, it just stops your akin from bring damaged in the long run!
5. Oversized Summer Hat
They are actually quite a big fashion trend at the moment, but also very practical and safe, they shield your face and head from the sun without getting tan lines from your sunglasses!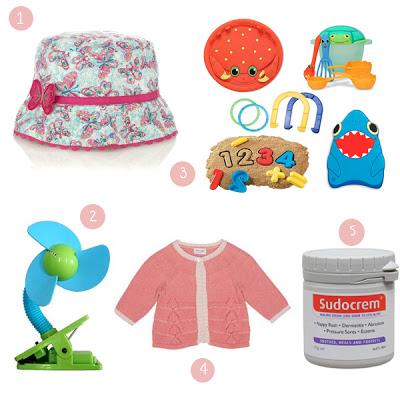 Abbie
1. Summer hat
Babies heads are so fragile, especially when it comes to the heat, a hat is essential to keep the sun off it as much as possible, of clurse theull be smothered in sun lotion too! But you can never be too cautious!
2. Fan
Definitely a fan as she's not too great with the heat as she's still young, it would definitely help in getting her to sleep if it can be attached go the pram! Any way to keep her cool! 
3. Toys
You probably don't need many, just a few favourites and possibly some books too, babies like repetitiveness so they won't get bored of the hungry hungry caterpillar!
4. Cardigan
For those cool evenings, it might be scorching in the day but by nighttime it can be rather chilly!
5. Sudocrem
The hot weather mixed with wearing a nappy all day isn't very nice, nappy rash is probably going to occur so it's a good idea to stock up on it before you go!

Of course the givens are clothes and nappies etc but that goes without saying! :).
What is your number 1 essential?
*Disclaimer - This is a sponsored post, visit my PR page for full details