Top 5 Hair Products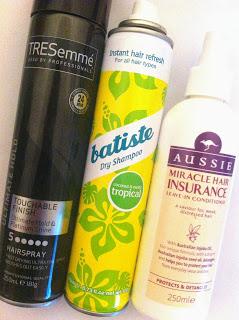 Hey guys today I am going to tell you what products I love to use for my haircare routine! First up on the left, I have Tresemme Hairspray in Touchable Finish which is the strongest hold before the Freeze Hold bottle. I love this hairspray as my hair is very thick and heavy, this product holds my hair perfect throughout the day and is easy to brush out! A must have for any handbag, in my opinion.
Second I have a staple product in my bag which is Batiste Dry Shampoo- Tropical. I love this product for the mornings where you just can't get time to wash your hair. It dry's up your hair and leaves it feeling fresh. I am not overly keen on this scent, but it wears throughout the day. I prefer the original or the cherry scented Batiste. If you haven't tried dry shampoo (unlikely!) give this baby a try!
Last in the picture as I mentioned in my previous posts is the Aussie Miracle Hair Insurance. I love this product, I wont ramble too much about it but it's a product I repurchase on a monthly basis and I couldn't live without it.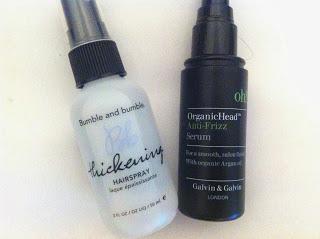 The next two products I use in my hair routine are the Thickening Spray by Bumble and bumble & The oh! Organic Head Anit-Frizz Serum. I received the sample of the thickening spray from a magazine and I was unsure of it at first. I use this product before I dry my hair and spray it evenly around my roots, it keeps my hair thick and healthy while adding volume. I wouldn't buy the full size product on a regular basis as it's quite pricey! The Anti-Frizz Serum by Organic Head is my first ever hair serum experiment. I have never been interested in serums as I was unsure of how to use them and what the benefits were. I use this product on the ends of my hair if I am going out, before I blow dry it. This product stops me having those fly away hairs and prevents my hair from going static. This product is a steal at £2.66 in Morrison's stores just now!
Thanks for reading guys!

x