I've had this photo saved as a draft post for quite a while now so it's probably about time I actually get the post written up! I'm sure you've all heard plenty about Bioderma over the past year or so and after much deliberating, I finally ordered myself a bottle when Escentual were taking 30% off French Pharmacy brands a few months ago. Before I ordered my bottle of Bioderma I'd been using the L'Oreal Skin Perfection 3 in 1 Purifying Micellar Solution and I have to be honest, I haven't seen very much difference between the two. Apart from the price tag of course, as you can pick up a 200ml bottle of the L'Oreal Micellar Solution for just £2.48 (currently on offer in Superdrug). Compare this with a 250ml bottle of Bioderma which retails for £9.99, and I think you know which one I'll be repurchasing. I'll just give you a quick run down of my thoughts on the Bioderma Sensibio H2O and how it compares with the L'Oreal Micellar Solution..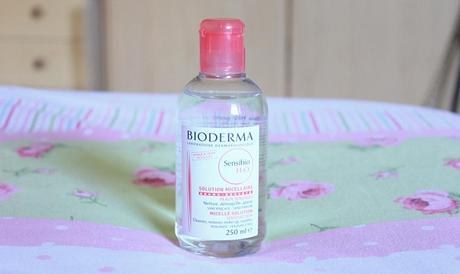 ♥

In terms of the actual solution, both products are clear waters which have the slightest hint of a scent which makes them both great for use on sensitive skin. Good thing that's what both of them are formulated for..


♥

Both products come in plastic bottles although I do prefer the design of the L'Oreal bottle as it's taller but slimmer which makes it easy to store away in my box of everyday products.


♥ 

In terms of ease of application, both are easy enough to use as you just pour a little bit of the solution on a cotton pad and swipe across your face. 2 cotton pads are usually enough to remove all of my face and eye makeup and this is true for both the products.


♥ 

Now down to the nitty gritty.. the removal of makeup. I think both of the micellar solutions are very similar in terms of makeup removal as they both dissolved my makeup without any difficulty. I'd say Bioderma did a slightly better job of removing my mascara but the L'Oreal solution was able to get the job done after another quick swipe or two. Both products are great to use in the mornings or whenever your skin needs a good freshen up as they both leave your skin feeling nice and clean.


♥ 

Both of the micellar waters left with my skin with no oily residue but I'd say that the L'Oreal solution actually left my skin feeling a bit more soothed and toned which was lovely as it does the job of a toner too. Multi-tasking products are always very welcome in my life! I found Bioderma to leave my skin feeling slightly dry which isn't the best as I already suffer from dry patches on my chin and cheeks.
All in all I'd highly recommend giving the L'Oreal Micellar Solution whether you've already tried Bioderma or are just looking for a cheaper alternative to the French pharmacy brand. Of course Bioderma feels like more of a luxury product in comparison to the L'Oreal version but in terms of makeup removal and improving the condition of your skin, I'd definitely recommend L'Oreal as it does the job very well and is so easy to get a hold of in the UK!
Have you tried Bioderma or the L'Oreal Micellar Solution? I'd love to know what you think of the two.