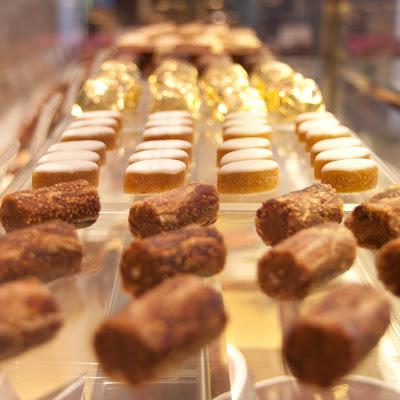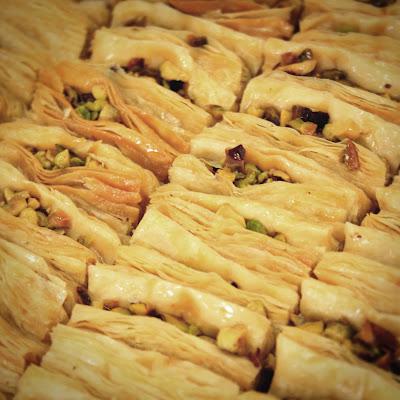 I miss sugar. I've left it like an alcoholic leaves a drink. Precariously, I walk this sugar-free tightrope between poisoned pleasure and healthy pain, and every so often I fall. Arabia is obsessed with sugar. I see it every day in a multitude of disguises - each one more entrancing and beautiful than the last. Some forms are traditional, peculiar to the area, and some are more recently embraced from other cultures, and perfected in a unique Arabian way.
One cannot visit the Middle East without entering a sweets shop.  The concept here is totally alien to someone like me. Here, sweets seem as valuable a commodity as spices and gold. Shops are adorned like palaces. Chocolate boxes are too beautiful to discard after eating the contents. Arabic sweet stores put the best French Patisseries to shame. It's not just cakes and pastries here - sugar has been twisted and melded in ways some could not even imagine. I am beginning to think the mythical Willy Wonka must have been born of this place.
First, there is baklava, baclawa, paklava. An ottoman invention, some say - now claimed by many cultures. Many would link it most strongly to Lebanese cuisine, and in Dubai, the Lebanese bakeries are where you will find the best examples. You may think you have tasted baklava before, but it has not truly been sampled until it comes with the entire ambiance of a Lebanese bakery that cooks on site. The perfumes are intoxicating - rose, cardamom, orange blossom, saffron, toasting nuts and pastry crisping in the ovens. I went to the factory of Al Samadi last year, and have only since then begun to love these sweets. You will often find baklava's sibling, kunafa in the same place - crispy vermicelli dough with sweet, marshmallowy cheese and a toxic orange hue from the soaked saffron sauce. Among the best places are Al Samadi in the Dubai mall, Al Reef bakery in Karama, and the Turkish Baklavaji Sweets near Mall of the Emirates.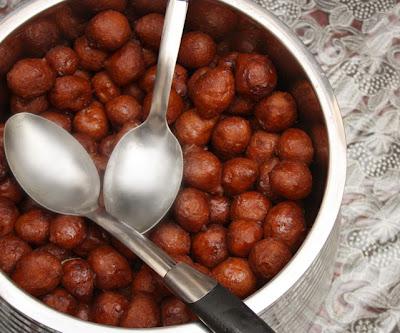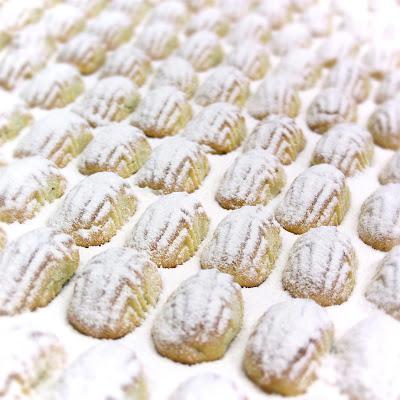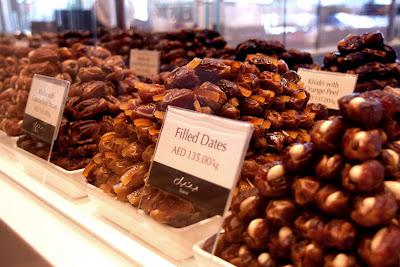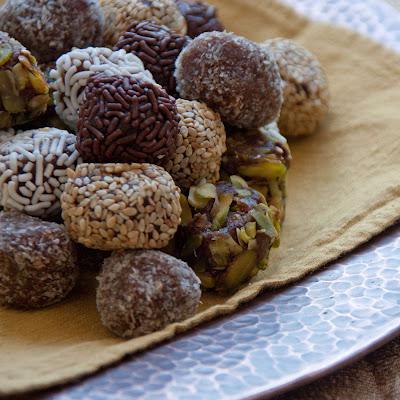 Secondly, we have doughnuts. I'm not talking Krispy Kreme here, but the relation of the Spanish churro. Serious, serious doughnut. There are many versions according to which cuisine you prefer, but personally I like the local lgeimat, and the Persian zlebia or zolobia. Lgeimat are ping-pong ball sized saffron infused crispy treats served with copious bedrizzlement of date syrup. My best lgeimat experience was at the Cultural center in Bastakiya, but some say it can be bettered at Global Village. Zlebia come in many shapes and forms, but the ones I love are the bite-sized sticky rose-scented pellets at Abshar on the beach road - a sweet shop attached to a bakery and a restaurant, with metre-long Iranian flat bread, chocolate flavoured Persian fairy floss, and many different forms of Shirini Tar (moist sweets) and Shirini Khoshk (dry sweets)
Ma'amoul (or mamoul, or mammoul) are the next treat to seek out. These are like a five-star fig newton, crumbly semolina pastry, sweet soft date filling, and pressed into moulds as beautiful as the islamic fretwork you will see on the surrounding mosques. They are everywhere - in the supermarket bakeries, placed next to your coffee on a saucer. Try them all, make them yourself. Personally, I love Vivel's ma'amoul (all over Dubai), but I have yet to have a bad one anywhere. You will find the moulds all over if you wish to make them at home - I have yet to try this for myself however. (Another great recipe here for babousa, and my own cheat's version of baklava here)
Ma'amoul of course, brings me to it's innards - the date. Dates grow on trees in my front yard. The variety available is greater than the spread of apples on offer. Red ones, black ones, yellow ones, dry ones, juicy ones, sticky, sweet, fragrant, pungent, bitter, filled, stoned, chopped, mushed, squeezed, pureed or juiced. You can buy them at the supermarket, but treat yourself, and go either to the date stall just outside the fish market in Deira, or wander into the shiny sparkling halls of Bateel. Here, this tiny fruit is to be treasured, and arrives packed in jewelry boxes. The date is paid the attention a great winemaker would pay a grape - each type desired for its own unique character. They also have some of the best date dhibs available.
There are other delectable treats to look out for - halva, a fragrant, semi-sweet tahini based dessert, presented either in tubs to be spooned out and partnered with pita bread, ice cream or simply a mouth, or in bite-sized morsels for melting toasty sesame on the go (there is also non-tahini halva or halwa available). You can't leave the turkish delight behind either. Here, it's not jsut the squishy rosy pillows, but also comes in mint, saffron, orange blossom or nut-stuffed and coconut-rolled versions. Again, Vivel is the shop of choice for me. And, if you don't think you can cope with all that exotic flavour, then you might just like to see what Dubai can do with an ordinary chocolate shop. Patchi, Choco'a and Arabesq will literally blow your sugar-lovin' mind.
And next time you indulge, please pay me a thought, walking my tightrope, and simultaneously falling off my wagon. Ahh well, there's always nuts...