Post a Day 2011 came up with this topic suggestion which has inspired me.  Describe a perfect meal. What will you eat? Who is there? Are you outside, or inside with a view? A view of what? It can be an imagined place and meal, or a real experience you want to have someday.
A perfect meal depends on where you are and who you are with, but not always, in my opinion, the food you eat, although that goes a long way to add to the event.  My favorite place to eat is outside on my patio, so for this reason I have chosen to describe a perfect romantic meal.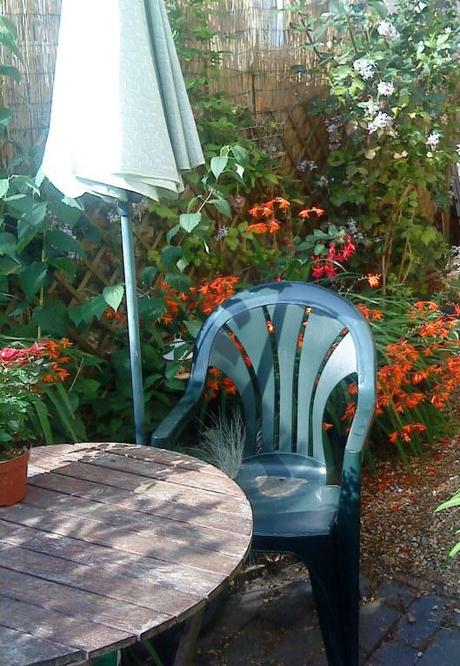 The patio is south-facing and after a long hot day, it is a tranquil place to sit and absorb the surroundings.   Amongst the various pots, there is an
Castor Oil plant
tucked in the top corner of the house, and white Japanese Anemones, an Olive tree, Oleander, together with Jasmine, flank the house wall.   Montbretia, Fuchsia, Choisya, Philadelphus and a Compassion Rose produce a blaze of color on the other side.  All this creates a tropical air and in the warmth of the evening the heady perfume wafts around.  As the sun goes down, so the solar lights begin to brighten and candles add to the ambience.  I leave the kitchen door open and a selection of
Diana Krall
, Sade and
Morcheeba
is playing gently in the background.
I have difficulty in eating a large three course meal, these days, much preferring a starter (or sometimes two starters) and a dessert.  This does cause a dilemma for me, as I think a special meal should consist of three courses, eaten slowly throughout the evening.  I get around this problem by serving a light, delicate but delicious starter of home-grown tomatoes, beefsteak if possible, marinated in Olive Oil and sprinkled with chopped chives from the garden.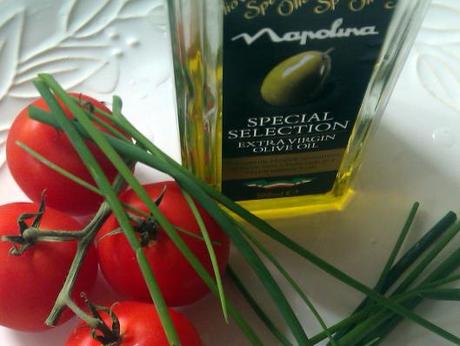 After a short interlude and a nice glass, or two, of Soave or Pinot Grigio,  I will serve chicken baked on a bed of butternut squash and chilli. This is a Jamie Oliver recipe and never fails.  The squash is finely sliced and placed around chicken breasts which have been tossed in sliced red chillies, fresh marjoram or oregano and plenty of fresh ground black pepper.  With double cream carefully poured around the squash, avoiding the chicken, seasoned with grated nutmeg and drizzled with olive oil, it will bake gently in the oven for 25 to 35 minutes.  I will bring it to the table on my favorite large white plates, accompanied by french beans from the garden.
If I was told I could only eat one thing, it would be blue cheese, such as St Agur, grapes and french bread, or crackers.   This is what comes next on the menu.  I love the combination of the taste of sweet grapes and the strong tang of St Agur.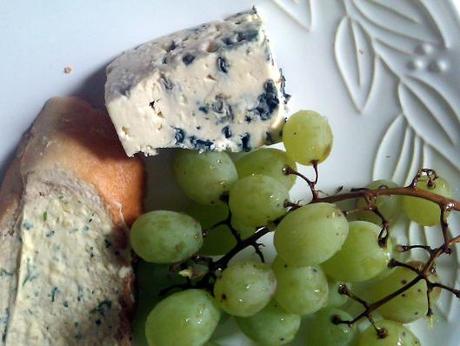 If there is still room for more, then the final course will be vanilla ice cream with Amaretto poured over it, or a big bowl of fresh berries and creme fraiche.
There will be no shortage of wine, and if it is a really special romantic evening, then I will produce a bottle of the finest Verve Clicquot.
Ah! Who is here with me? Now that would be telling, is this real or a dream?