Ten days into October and I am already out of my monthly budget. Ten items and $$$ spent.... really ????
I am coveting these, which are now 40% off till Monday. Will have to work out the numbers and return a few from the following in order to make these babies mine.....unless otherwise, if someone wants to give me an early Thanksgiving/ Christmas gift....HUH too much pressure !!
Anyways, for now have a look at what I have already bought.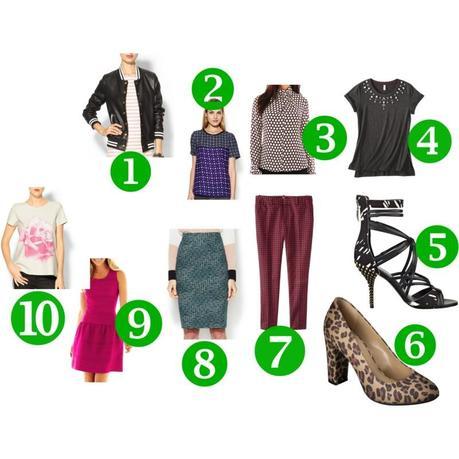 Worthington dress
- I had been yearning to buy a pink dress that could transition well into the fall. My hunt        seems to over, I say this coz I haven't received it yet. I am impatiently looking forward to wearing it with the black jacket
( 1)
 , which should be in the mail soon. 

Juicy Couture P
otter's Pot top
- With leather being seen everywhere on the runway, it's the new black. I am not the kind who would wear  a flower painted white leather top, but this one, I am willing to give a shot. 

Worthington top

- Another feminine silk blouse .......... is all I need to call it a day....LOL !!!

Hive Honey black letterman jacket
-  A varsity leather jacket, ahem ahem !!! I hope it looks as adorable in real as it looks in the picture. 



Merona pants
- I have never been able to find a trouser to fit right on my less curvy .......ok, a flat ass. I was all apprehensive of  this one too, but  my inhibitions disappeared, the minute I tried them. They fit me like a glove, as if they were tailored keeping in mind the less curvy ladies. 

GUESS sandals
 - Okay , now what do I say of them ?????  They are trendy, sexy and comfy. What more can you ask for  ????

Wide high heel shoes

- Found guilty of owning another pair of leopard pumps. The Banana Republic one's, that I already own have worn out a bit and are not the most comfortably desirable shoes. Moreover I could not pass on 

these

 , especially when they were marked down to $10 in the store.






Xhilaration Juniors Jeweled Tee

- A girl can never have enough of this basic tee. 

Tile Print Grace Skirt by Walter

 - I haven't bought any pencil skirts in a while, mainly because I own quite a handful of them which don't really find much use in my non-professional wardrobe. But this one  
appears casual enough to be worn on any regular day. 

Crepe Printed Zara Top by Walter at Gilt
- Another silk top.....okay I can explain this. I bought this one to go with the above skirt. A lil matchy-matchy but still on-trend with the print-mixing going on.  
Don't forget to leave a message at the bottom of the page to let me know what you think of my October buys. Feel free to suggest what to keep and what to let go. 
Thanks for stopping by 
   Connect with me 

        SAUMYA